Bologna is a wonderful Ialian city with a lot to offer to all its visitors. Discover the best things to see in Bologna, off the beaten path things to do in Bologna, where to eat in Bologna, and where to stay in Bologna from David Angel from Travel With a Little One.
This insider's guide to Bologna is part of the free travel guides series on this blog.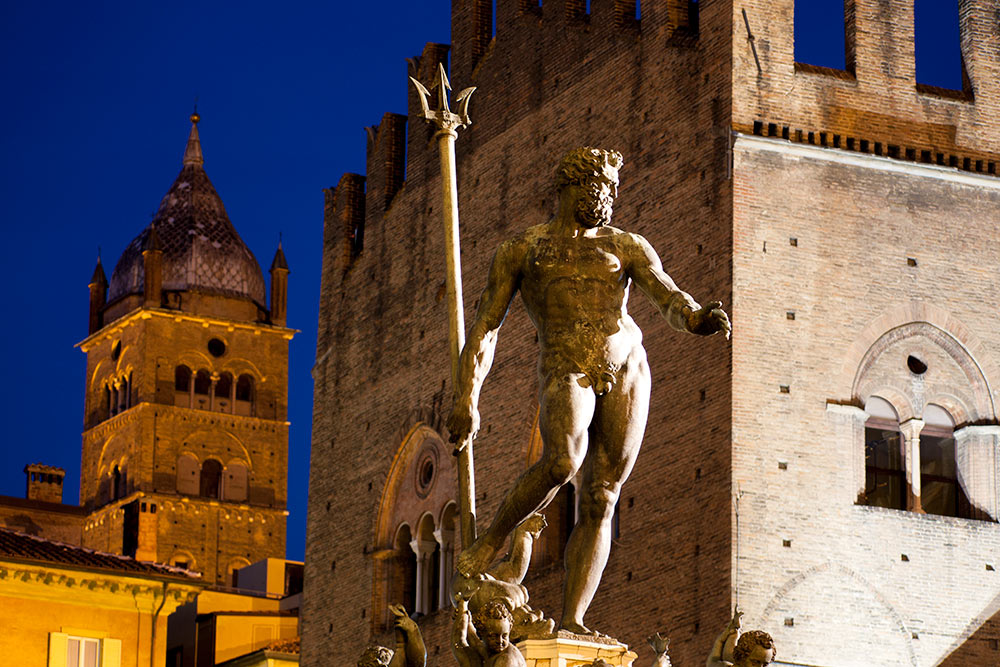 The insider's guide to Bologna with the best things to do in Bologna, Italy
Bologna is one of the great gastronomic cities of the world. It gave the world the ragù meat sauce that most call Bolognese, not to mention lasagne, mortadella and tortellini pasta.
It's also a great historic city, with the oldest university in the western world and several fine Gothic churches.
Bologna has several nicknames – 'la dotta', the learned; 'la grassa', the fat; and 'la rossa', the red, which refers to its left-leaning politics, but could equally refer to its many red-brick buildings.
We think it's an exceptional city to visit, up there with the best in Italy and, for that matter, Europe.
Included in this free Bologna travel guide:
Best of things to do in Bologna Italy

Piazza Nettuno and the Neptune Fountain
San Petronio Basilica
Torre degli Asinelli
Basilica di Santo Stefano
Food Shopping in the Quadrilatero
Bologna's Porticos

Off the beaten path things to see in Bologna

Gelato Museum
Biblioteca Salaborsa
Bologna University
Museo per la Memoria di Ustica

Where to eat in Bologna
Where to stay in Bologna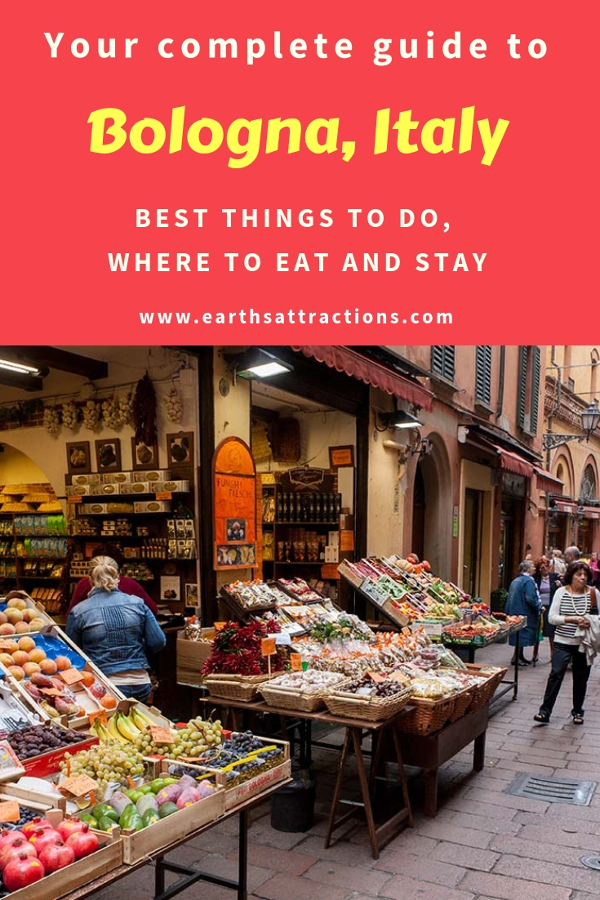 TOP ATTRACTIONS IN BOLOGNA – THE BEST THINGS TO DO IN BOLOGNA, ITALY
Piazza Nettuno and the Neptune Fountain
Piazza Maggiore is the main square in the heart of the city, and its extension, Piazza Nettuno, is home to the fountain of Neptune, one of the great icons of Bologna.
The statue and fountain were completed by 1565 by local sculptor Giambologna. It's one of the best things to photograph in Bologna, and looks especially good at night when it and the surrounding buildings, including Palazzo Re Enzo and the Cathedral, are beautifully floodlit.
It's also one of the best free things to do in Bologna, do make sure you include it on your Bologna itinerary.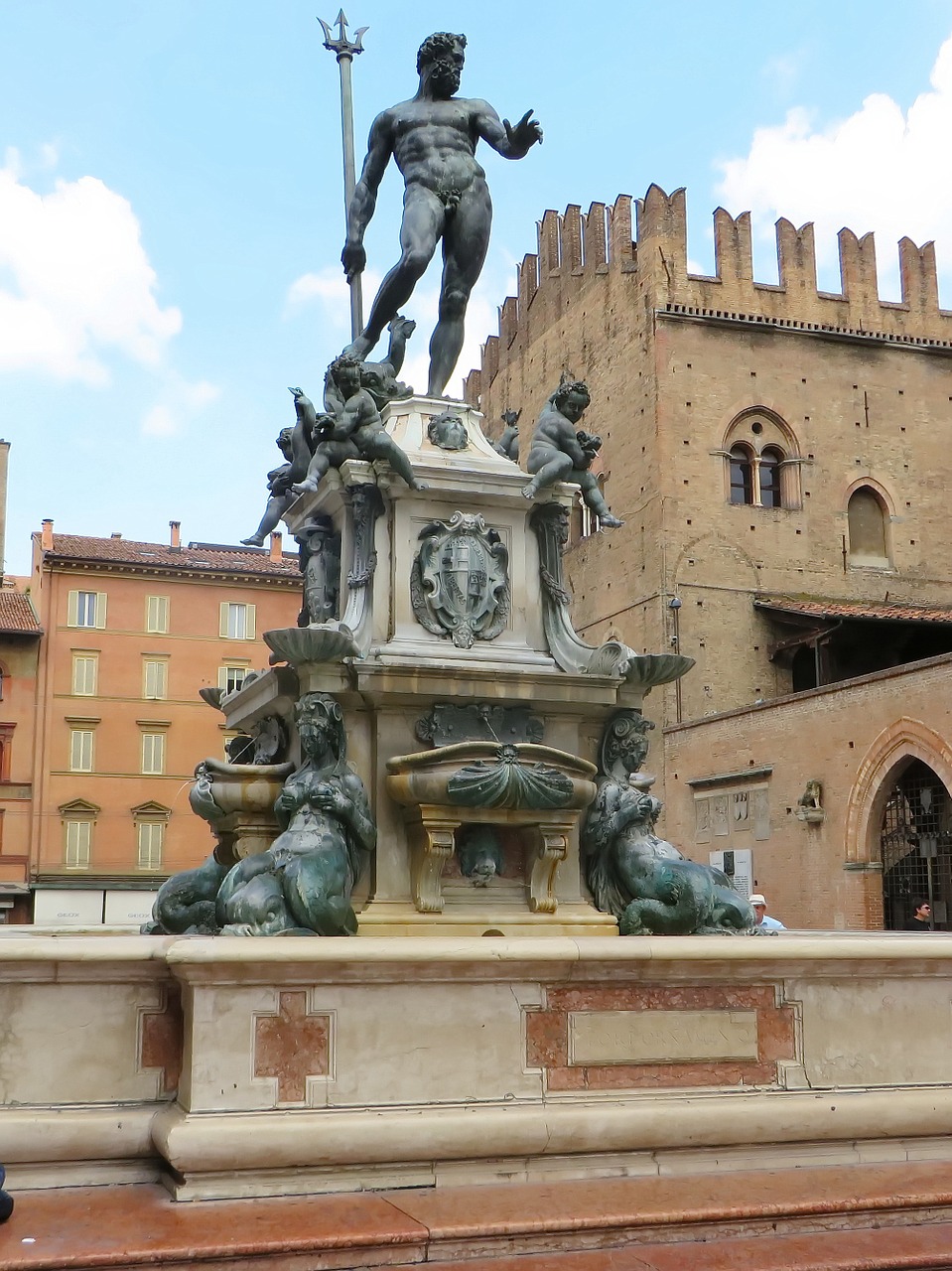 San Petronio Basilica
The list of top things to do in Bologna continues with The Basilica dedicated to local saint Petronio that dominates the southern side of Piazza Maggiore.
It's a vast building, and if the local church authorities had had their way, it would have been much bigger. However, the Vatican got to hear of their ambition to build the largest church in Christendom, and suddenly the funding for San Petronio dried up.
Although it was never finished it's a hugely impressive church, a big brick edifice not dissimilar to some of the basilicas in Venice. It has 22 chapels, some with magnificent statuary and artworks.
Torre degli Asinelli
Bologna has two red brick medieval towers leaning above the rooftops, and you can climb the taller of the two, the Torre degli Asinelli.
The 498 step haul to the top will get the thighs working and are payback for that amazing dinner you had the night before.
However, it's not all penance – you're rewarded with one of the best views of the city from the rooftop, looking over Piazza Maggiore and the skyline, most of which hasn't changed since medieval times, towards the hills to the south.
Basilica di Santo Stefano
The Basilica di Santo Stefano isn't one church, it's actually four. It's a complex of small, charming churches, three of which date back to before the eighth century AD.
The square outside is also one of the most beautiful in Bologna – so this is definitely one of the cool things to do in Bologna.
Food Shopping in the Quadrilatero
Bologna is food heaven, and the best place to experience it is in the Quadrilatero, a small grid of streets between Piazza Maggiore and the Asinelli and Garisenda towers – it's also one of the best touristy things to do in Bologna.
This is the place to go for small family delis, specialising in fresh pasta (Atti) or cheeses and sausages (Tamburini). The streets are lined with stalls selling fantastic fresh produce, and there are also two covered markets nearby – the Mercato di Mezzo and the Mercato delle Erbe.
I could have spent days – and a small fortune – in this tiny area. I would probably have been carrying a couple of extra kilos at the end of it too.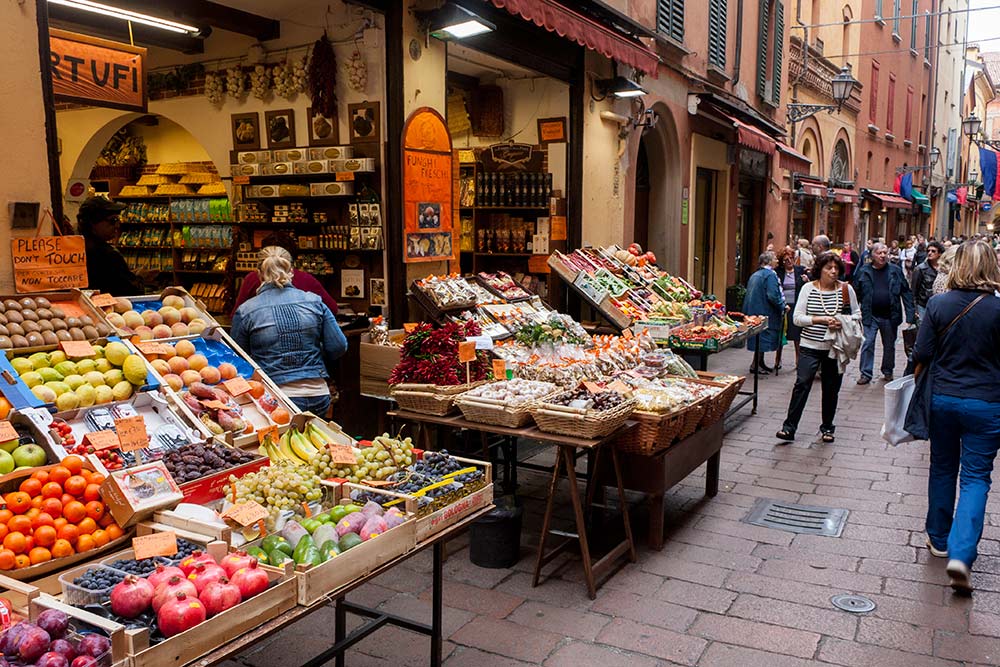 Bologna's Porticos
Bologna's porticos (one of the best UNESCO World Heritage Sites in Europe), or arcades, are everywhere in the city. They're a distinctive feature of the city, and there are over 40 km (25 miles) of them in total.
One of them is the world's longest, 3.8 km long, climbing the hill from the city centre to the Santuario di Madonna di San Luca church at the summit. One of the city's other nicknames is 'la pianeta porticata', the porticoed planet.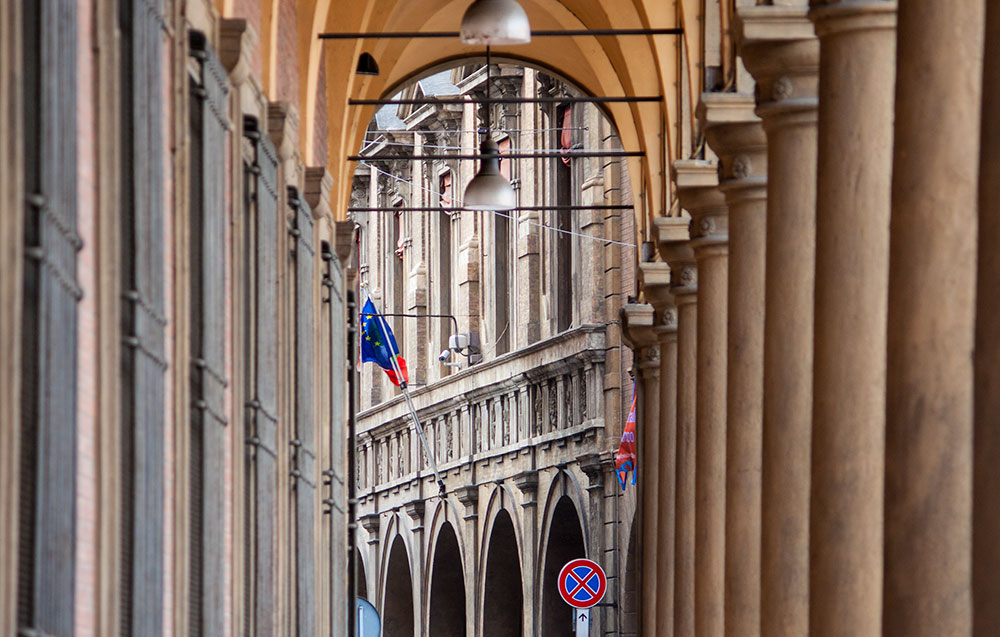 OFF THE BEATEN PATH THINGS TO SEE IN BOLOGNA
Gelato Museum
The list of non-touristy things to do in Bologna starts with.. .ice cream 🙂 Bologna is food heaven, and that goes for every course on the menu.
After feasting on ragu and other delicacies, why not go along to a museum dedicated to gelato? It's just beyond the airport at Anzolo dell'Emilia, and is also home to a gelato university, no less.
You can learn all about its history – its origins date back to Roman times, when ice from Vesuvius and Etna was flavoured with honey and eaten. You can also to learn to make it yourself and, of course, taste it.
Biblioteca Salaborsa
It's not exactly off the beaten path in Piazza Maggiore, but it's somewhere that visitors all too often miss. It's in a beautiful red brick building, the Palazzo d'Accursio, in the corner of the square.
Inside you'll find a beautiful ornate public library in what was once the city's stock exchange. It also has a great café, and there are no better surroundings where you can kick off the day with a double espresso and pastry than this.
Biblioteca Salaborsa is definitely one of the best quirky things to see in Bologna.
Bologna University
If you are still wondering what to do in Bologna, let me tell you that there are still a few gems in Bologna to include on your Bologna bucket list.
Bologna University is the oldest in the Western world, and was founded in 1088. It has an incredible list of former staff and alumni, including Dante Alighieri, Nicolaus Copernicus, Guglielmo Marconi and the great film director Michelangelo Antonioni.
You can visit various parts of the University, which is located in the east of the city centre. The best place to start is the Palazzo Archiginnasio, its former headquarters. The 17th century Anatomical Theatre is a must-see, a beautifully carved, ornate room surrounded by statues.
Museo per la Memoria di Ustica
This memorial seldom gets mentioned in articles on Bologna, but it should as there's nothing like it anywhere in the world. In 1980 an airliner bond for Bologna crashed into the sea near the island of Ustica, off northern Sicily, killing all 81 on board. The crash has never been fully explained, but the most likely scenario is that a terrorist bomb was responsible.
The installation is one of the most powerful I've ever encountered. Most of the aircraft has been reassembled, with 81 lights above and 81 black mirrors with loudspeakers behind.
It's a very haunting memorial – for me, the only one that has ever come close is the Memory Void in the Jewish Museum in Berlin.
WHERE TO EAT IN BOLOGNA
I'd go so far as to say that Bologna might just be the best city I've ever visited for food and eating out. There are many great places to eat in Bologna!
The streets around Piazza Maggiore and Piazza Nettuno, especially to the north and east, have plenty of restaurants to choose from. You need to book at some places while others will probably need a booking.
Most specialize in la cucina Bolognese, and some have other strings to their bow, such as Ristorante Ciacco, which also serves fish dishes.
Ristorante Grassilli is another great Bolognese restaurant, just around the corner from the Torre degli Asinelli. We can also recommend the Osteria Buca Manzoni and Trattoria Valerio.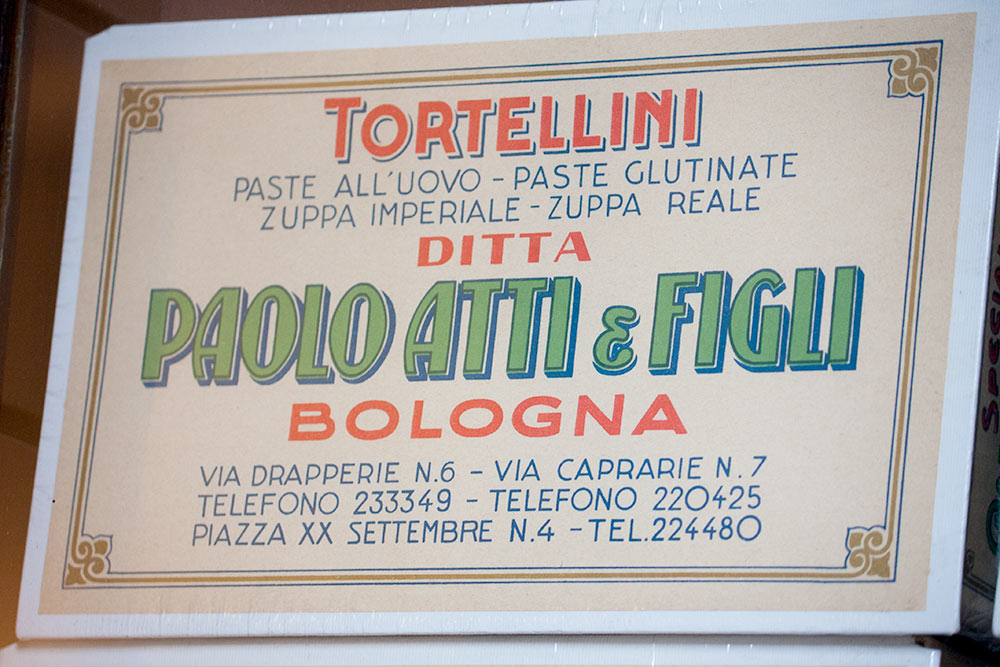 WHERE TO STAY IN BOLOGNA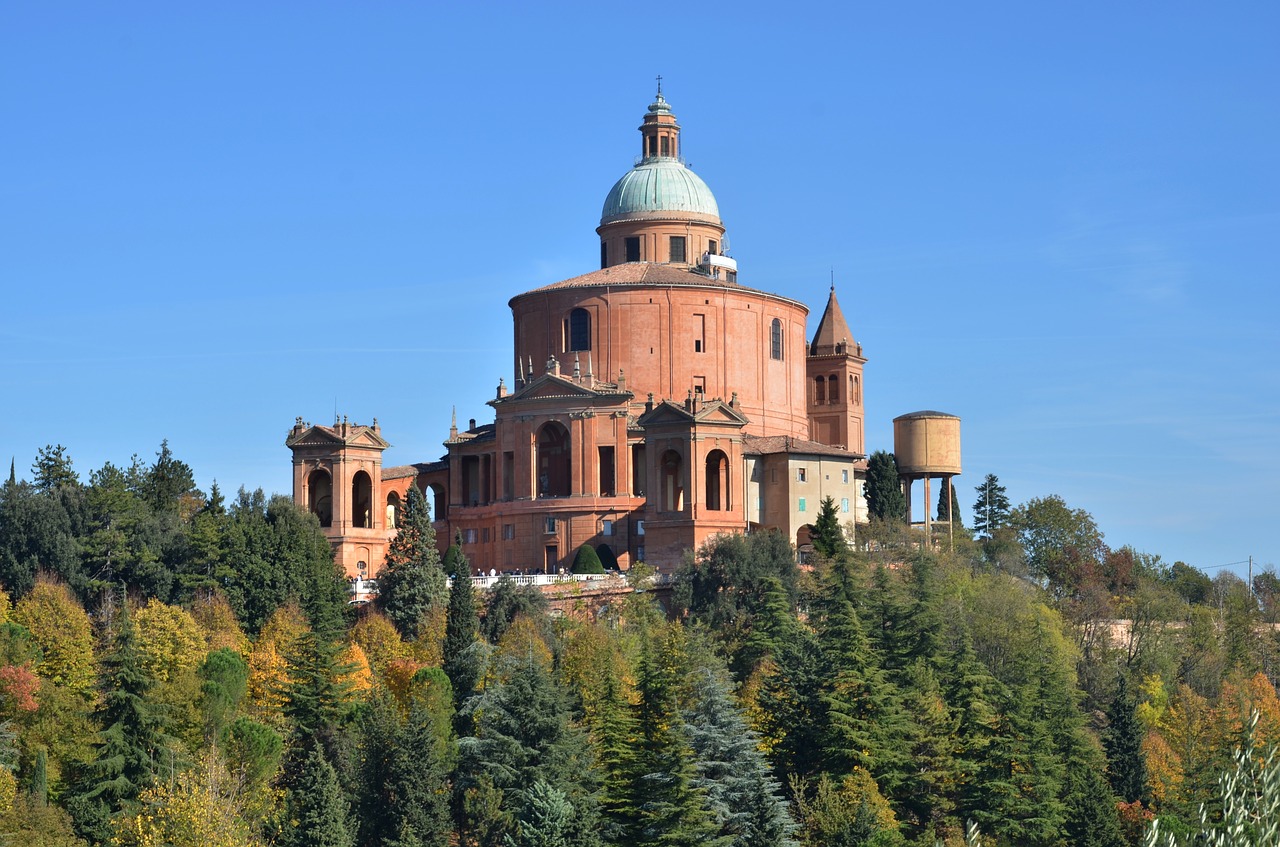 This Bologna travel guide is not complete without presenting you some of the best places to stay in Bologna. In fact, there are plenty of great accommodation options in Bologna.
The city centre is very compact, with many sights no more than a few minutes' walk from Piazza Maggiore, so it makes sense to base yourself close by if possible.
One of the most popular hotels in Bologna is the 2-star Hotel Centrale, located on Via Zecca, a few minutes from Piazza Maggiore.
Many rate it one of the best 2 star hotels they've stayed in and someone I know suggested it deserves to be at least a 3-star. The rooms at the top have great views over the rooftops of the city.
Hotel Panorama is a 1-star hotel a little further away from Piazza Maggiore – about a 5-minute walk. It's one of the best bargains in the city, especially if you're booking a single or double room – the latter only comes to 50€ a night, which is an excellent rate.
Also in the centre, Al Cappello Rosso started out as a tavern in 1375. It's now a 4-star hotel in a historic building but many of the rooms are very modern in design. There are some really striking ones, including the Olivetti typewriter themed one and 'Into the Garden'.
Conclusion:
This guide to Bologna can be used when planning your trip to Bologna. You can find in this article things to do in Bologna for free, what to do in Bologna in a day or even discover what to see in Bologna in 3 days or more. The monuments recommended can be used when deciding what to do in Bologna on Monday (a day when many sites are closed in Europe).
About the author
David has been a professional photographer, art director and writer for twenty years. He's originally from Wales and currently lives in Australia with his wife and son. He is the owner of delveintoeurope.com and travelwithlittleone.com. Follow his travels on Facebook, Twitter, and Instagram.
Discover more interesting places to visit in Italy from our articles: