Rooftop Bars: Melbourne has plenty of them so if you are preparing a trip to Melbourne, make sure you include some of them on your itinerary. If you want to relax after each day exploring the city, then heading to one of the bars with a view in Melbourne is the perfect way to end the day. Discover Melbourne's best rooftop bars from this article!
All the amazing rooftop bars in Melbourne included in this article are recommended by Campbell from highlands2hammocks. As you'll see, each one has something special: one is for those visiting Melbourne on a budget, another one is a hidden bar in Melbourne and so on, so read on and decide what rooftop bars in Melbourne you want to include on your Melbourne itinerary.
We've already shown you the best things to do in Melbourne along with off the beaten path places to visit, top hotels and restaurants to try and we've also presented you a 2 or 3-day itinerary for Melbourne.
Also, you need to know that Melbourne is one of the top 10 safest cities in the world – which I am sure it's reassuring! – and it houses one of the most visited museums in the world!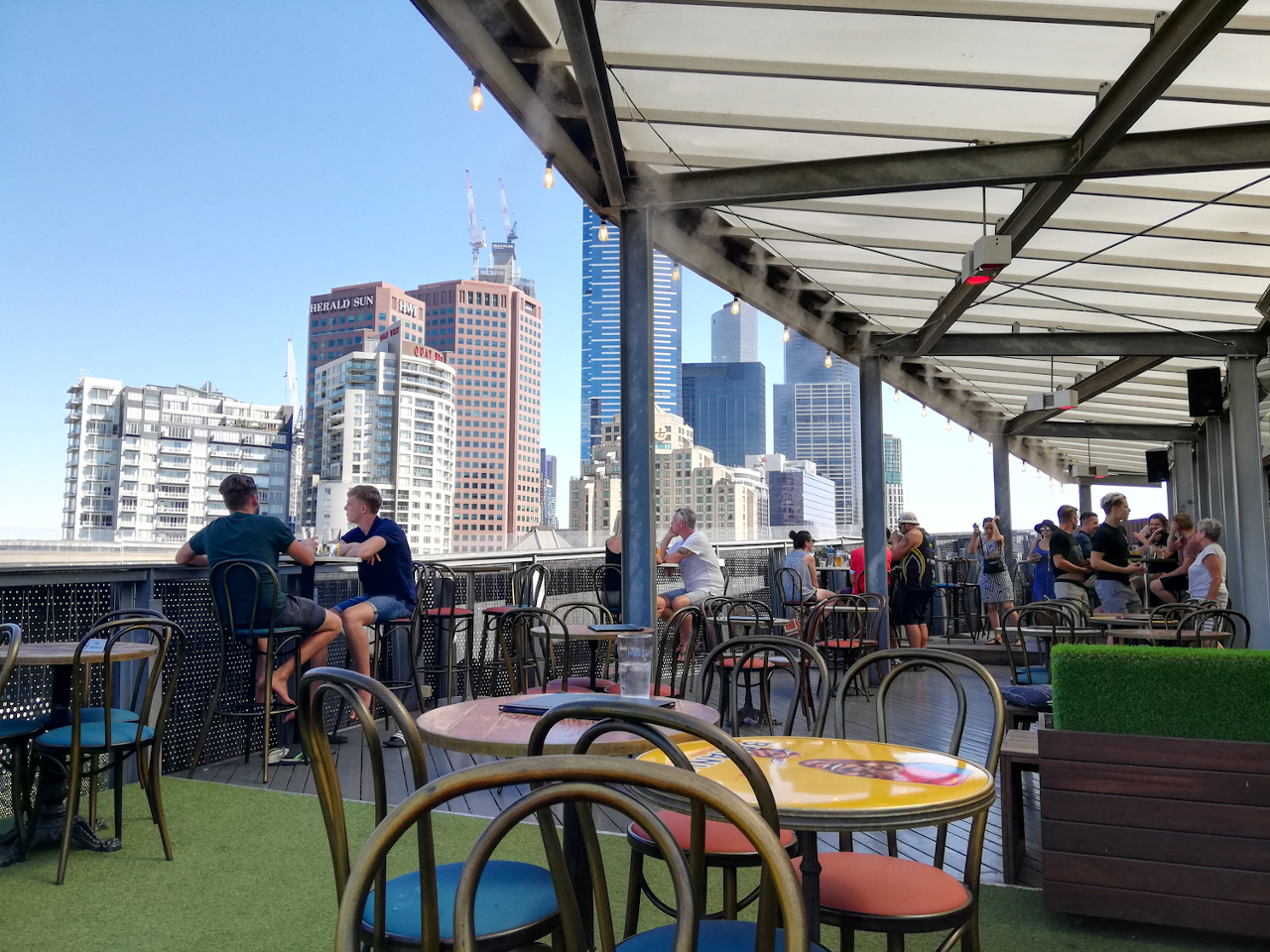 The largest city in the state of Victoria and the ex-capital of Australia, Melbourne is one of the most popular cities to visit in the country.
It is easy to see why it is so popular with backpackers and travel-makers alike due to its incredible number of beautiful sights, its fascinating history, and its vibrant social scene. In fact, Melbourne is such an enjoyable city that it was the proud owner of the title of the "Most Liveable City in the World" for 7 years running.
On a warm day, the best thing to do in this amazing city is to visit the many unique bars and delicious restaurants spread all across the city, and to cheers to your time in Australia.
Make a day of it and visit the huge number of thriving rooftop bars that Melbourne has to offer and you will soon see why it is a city to remember.
Melbourne's Best Rooftop Bars
Good Heavens Rooftop Bar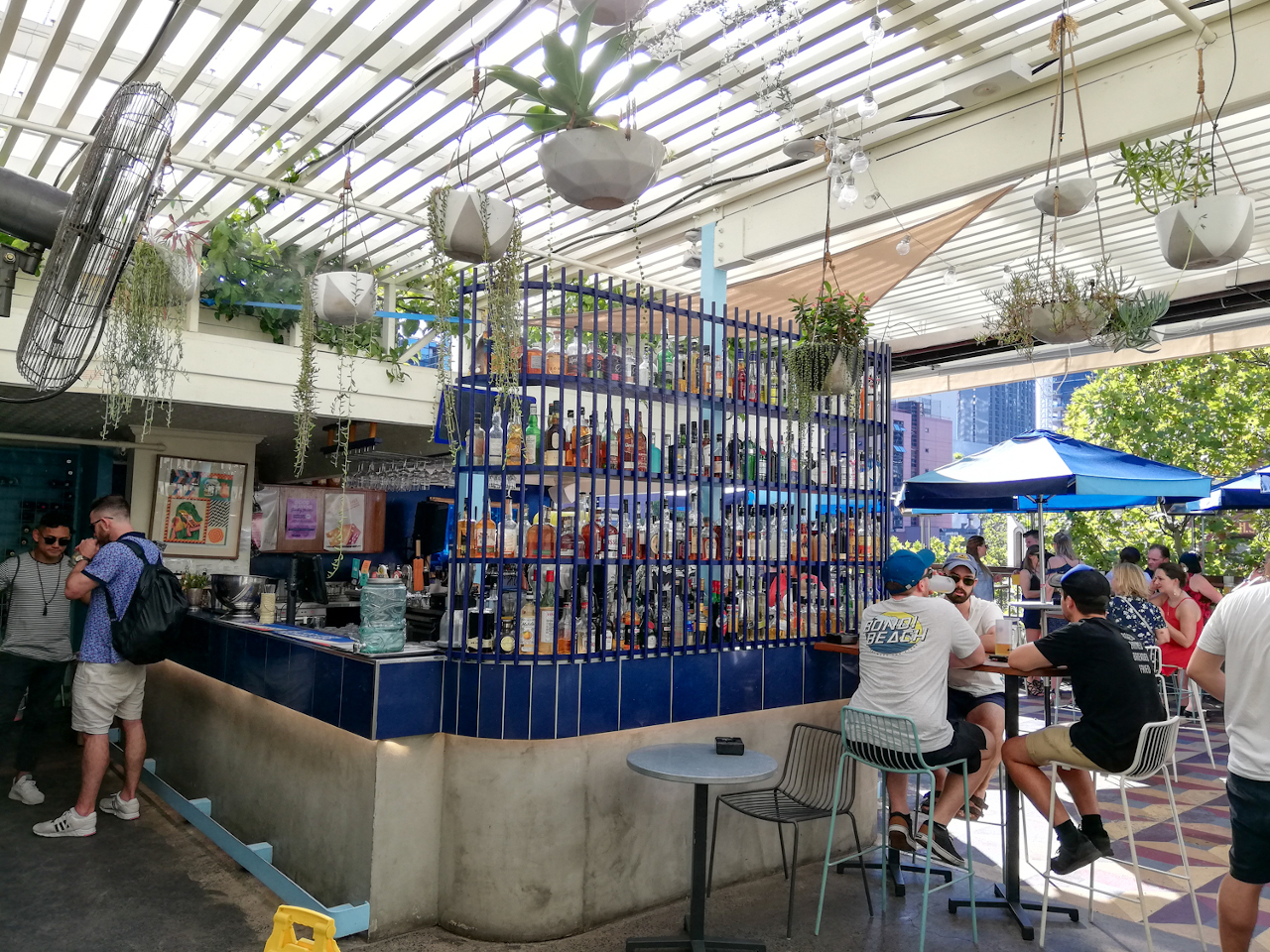 High above the buzzing, multicultural streets of Chinatown, Good Heavens is an obvious stop off during your visit to the Central Business District of Melbourne.
Whether you are making a day of visiting the best rooftop bars in Melbourne or are just taking a break shopping along Bourke Street, this is the perfect place for you.
With a great central location on Bourke Street, Good Heavens Rooftop bar offers unique 80's inspired cocktails as well as popular craft beers and delicious Australian wine.
Visit this bar during the hours of 4pm – 6pm, Monday to Thursday and soak up the happy hour deals on offer during that time.
In addition to this, Good Heavens is a popular stop-off for Sunday Brunch, with hard to beat Mimosa deals and bottomless drink combos. Book in advance to avoid disappointment.
If you are feeling peckish, this bar also serves food from 12 – 3pm, Friday to Sunday. Offering only lunch and light bite options, it does not have the widest menu available, however, with Bourke St right below you, you will be sure to find something in the area.
If you are looking for food outwith these hours you can head downstairs to Fancy Hanks and you will be able to choose from their delicious menu instead.
Address
level 2
79 Bourke St,
Melbourne
VIC 3000
Opening Hours
Sun – Wed \ 12pm – 11pm
Thurs \ 12pm – 12am
Fri – Sat \ 12pm – 1am
Transit Rooftop Bar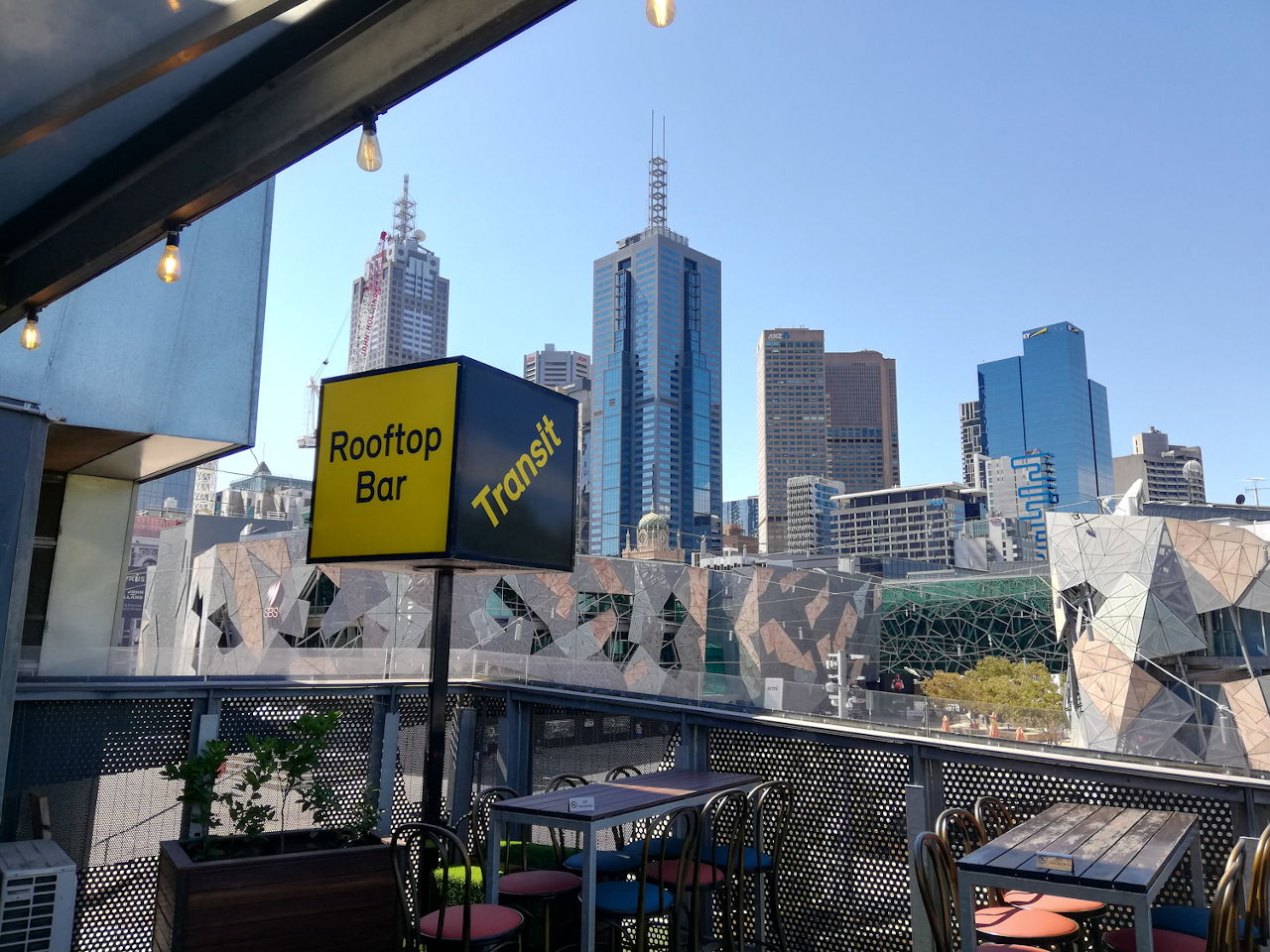 Located in Federation Square and overlooking the Yarra River, Transit Rooftop bar couldn't get much more central in Melbourne.
Federation Square is frequently the centre of attention when it comes to the summer months, with free events taking place here such as the Christmas markets, the live showings of the Tennis Open and other promotional activities throughout the year.
At night, the bar comes to life with contemporary drinks and live music as locals and tourists rub shoulders for a night to remember.
The stunning view from the outdoor balcony shows lit buildings across the Yarra River and along its banks. Sit under the outdoor heaters or cool off with a drink in hand and celebrate another day in Melbourne.
Transit Rooftop Bar sells cocktails starting from $18 and a bottle of wine can be purchased for $48. You can choose your drink from a huge range of concoctions on offer or simply state your own recipe and have the expert staff make it just the way you like.
There is also a range of beers and ciders available as well. If there is a large group of you, or if it is a special occasion, the rooftop bar can be hired out for functions events and live gigs.
With Flinders Street Railway Station across the road as well as many trams, this bar is very accessible within the city centre.
Address
Level 2,
Transport Hotel Federation Square,
Melbourne
VIC 3000
Opening Hours
Sun – Thurs \ 12pm – 11pm
Fri – Sat \ 12pm – 2am
Rooftop Bar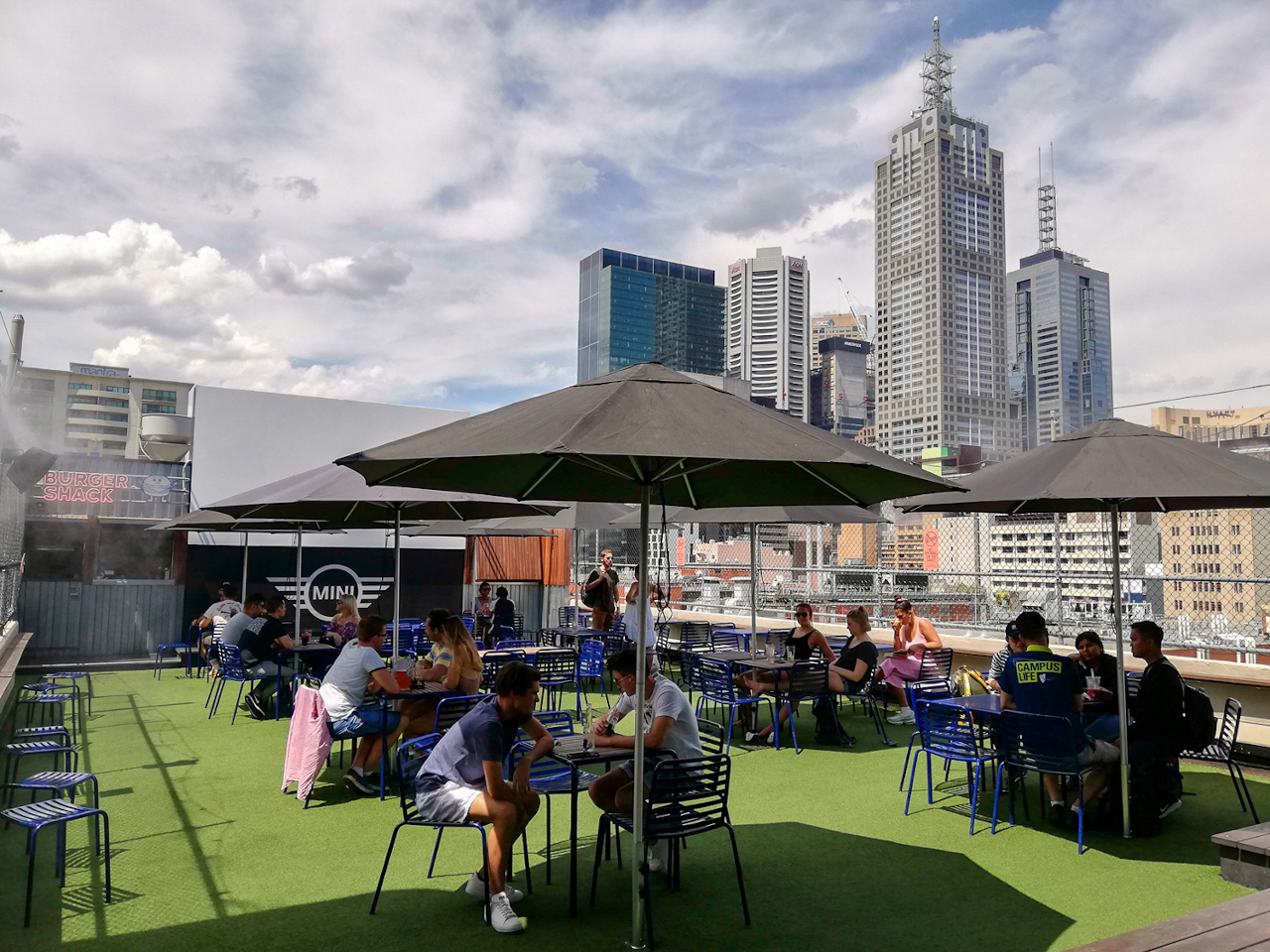 Also situated in the Central Business District of Melbourne, high above the colourful and vibrant streets below is the rather whimsically named, Rooftop Bar.
Open every single day from 11am till 1am, whether you are wanting a break from the midday madness or somewhere to end the night, this is a brilliant spot to enjoy the Melbourne social scene.
Once the sun has set, this rooftop bar also doubles as an outdoor movie theatre, showing both new releases and old classics.
In the warmer months of December and January, the seating area will open at 9pm with screenings starting at 9.30 pm. These times and reduced to half an hour earlier in February and again in March to suit the lighting.
There is a large food and drinks menu to meet your needs, the best deal on the menu being a burger and a beer for just $18. Put all of this and you have a night that you are not going to forget any time soon as this is one of Melbourne's best rooftop bars!
Address
Curtin House, 7,
252 Swanston St,
Melbourne
VIC 3000
Opening Hours
Mon – Sun \ 11am – 1am
Goldilocks Rooftop Bar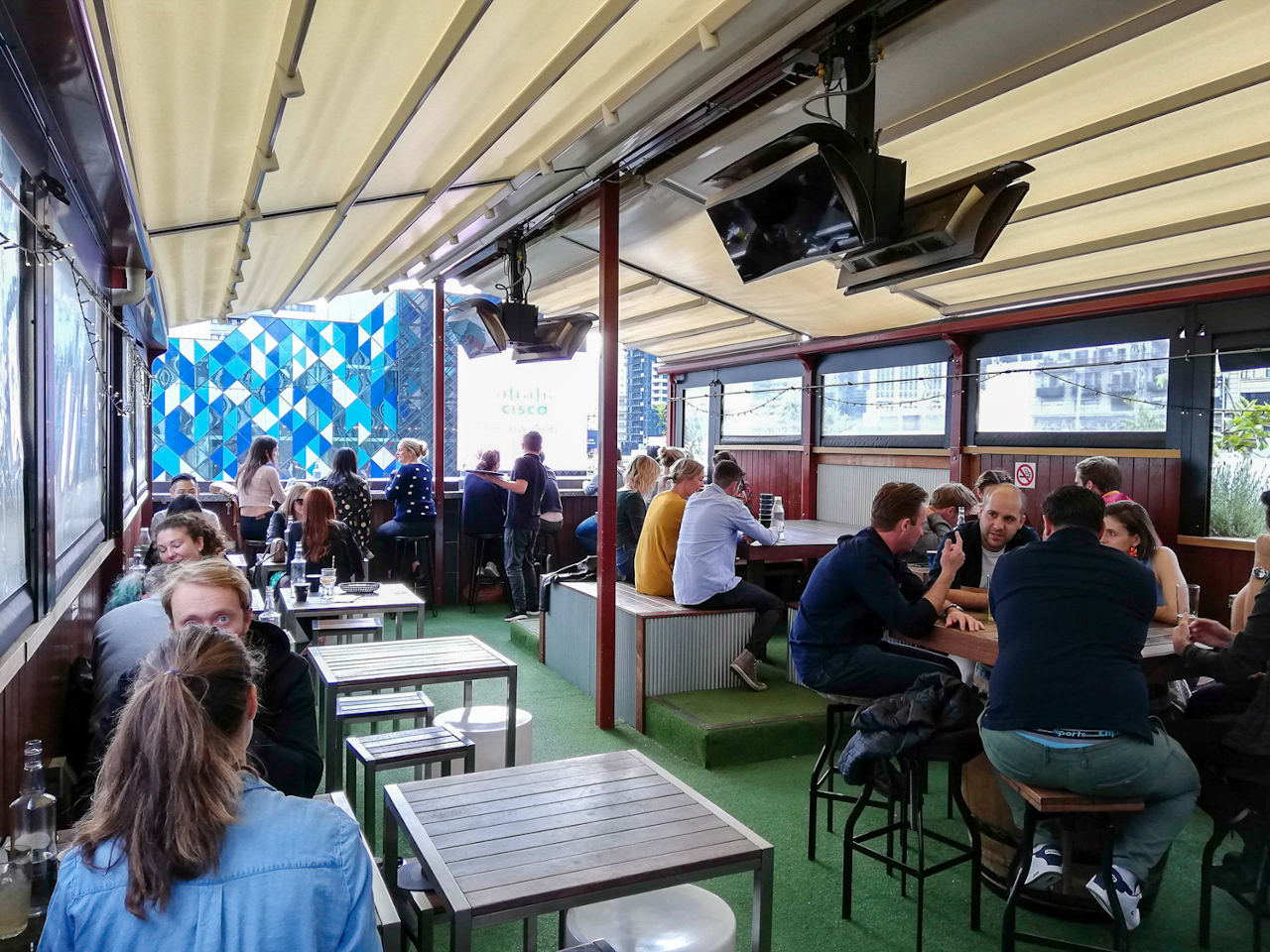 Also located on Swanston Street, the Goldilocks Rooftop Bar also doubles as one of Melbourne "hidden bars". Out of sight and very easy to miss, the door to Goldilocks bar is so small you have to be looking for it to even notice it is there.
Turning off of Swanson St or entering through the hidden back entrance on Stevenson Lane, you will need to catch the lift to the top floor and walk the rest of the way.
Goldilocks is a small bar with a spectacular view of the city below. It features a retractable roof for shelter from the rain or the sun and is a very intimate rooftop bar with only room for about 30-40 people.
The fairytale design of the bar also reflects its name, as Goldilocks features fake grass for flooring, as well as tree and flower decorations all over, making you feel right at home in the woods of the Three Bears.
With a wide range of cocktails available, both classic and inventive Goldilocks exclusives, there will surely be something to suit your tastes.
Nevertheless, Goldilocks bar also offers a wide range of craft beers and Australian wines for everyone else so it that is why I am including it on this list of best bars with a view in Melbourne. If you are feeling peckish you can even try some of the Asian food on offer, such as dumplings and noodles.
Address
264 Swanston St,
Melbourne
VIC 3000
Opening Hours
Mon – Sun \ 12pm – 1am
Imperial Hotel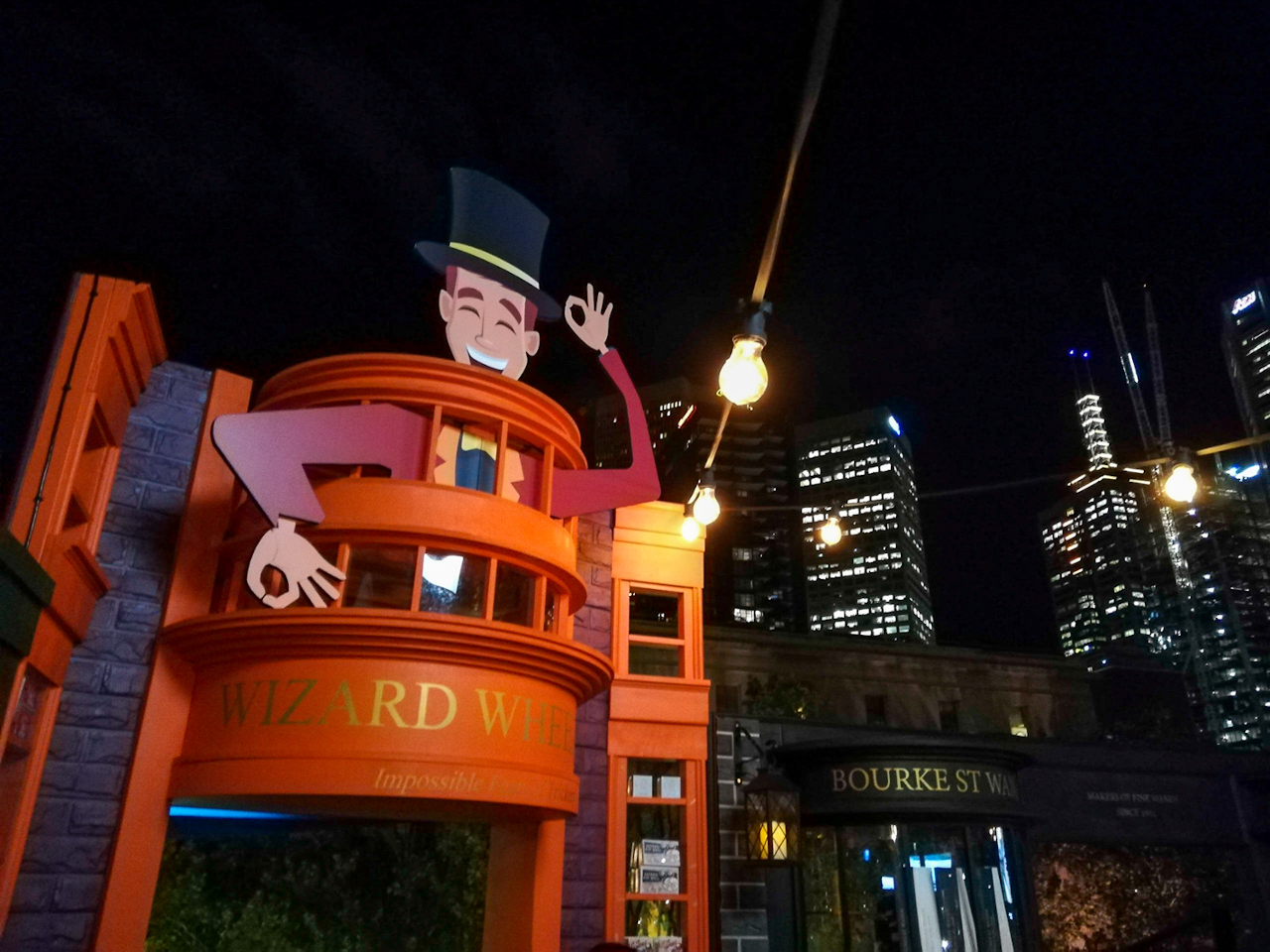 One of the most unique rooftop bars in Melbourne has got to be the one sitting on top of the Imperial Hotel on Bourke Street.
Frequently changing themes, the summer of 2019 saw this rooftop bar turning into a Harry Potter fan's dream bar, with decorations to reflect the magical lane of Diagon Alley.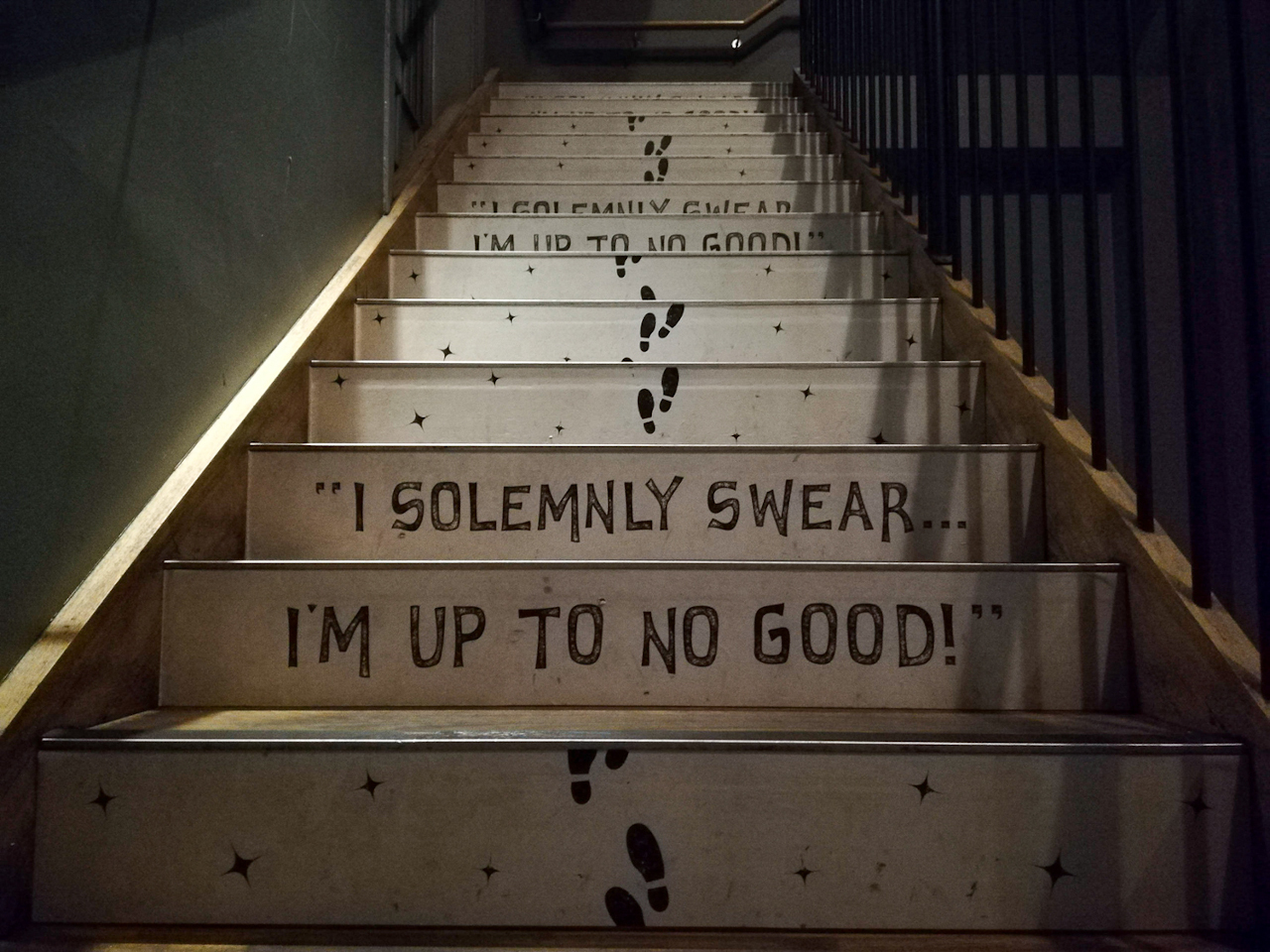 Although this decor no longer sits on the roof of this hotel, this rooftop bar is known to frequently change its choice of theme so you may be lucky enough to catch its return.
In the meantime, the Imperial Hotel offers beautiful views of the original Parliament Building of Australia and features a wide range of entertainment, from a giant tv screen for sporting events on the roof to open mic comedy shows down the stairs in the bar below.
Swing by at the weekend and make the most of the bottomless brunch culture that Melbourne is so famous for, with unlimited drinks and a swathe of delicious food to pick from.
Address
2-8 Bourke St,
Melbourne
VIC 3000
Opening Hours
Sun – Thurs \ 11am – 12am
Fri-Sat \ 11am – 1am
Asian Beer Cafe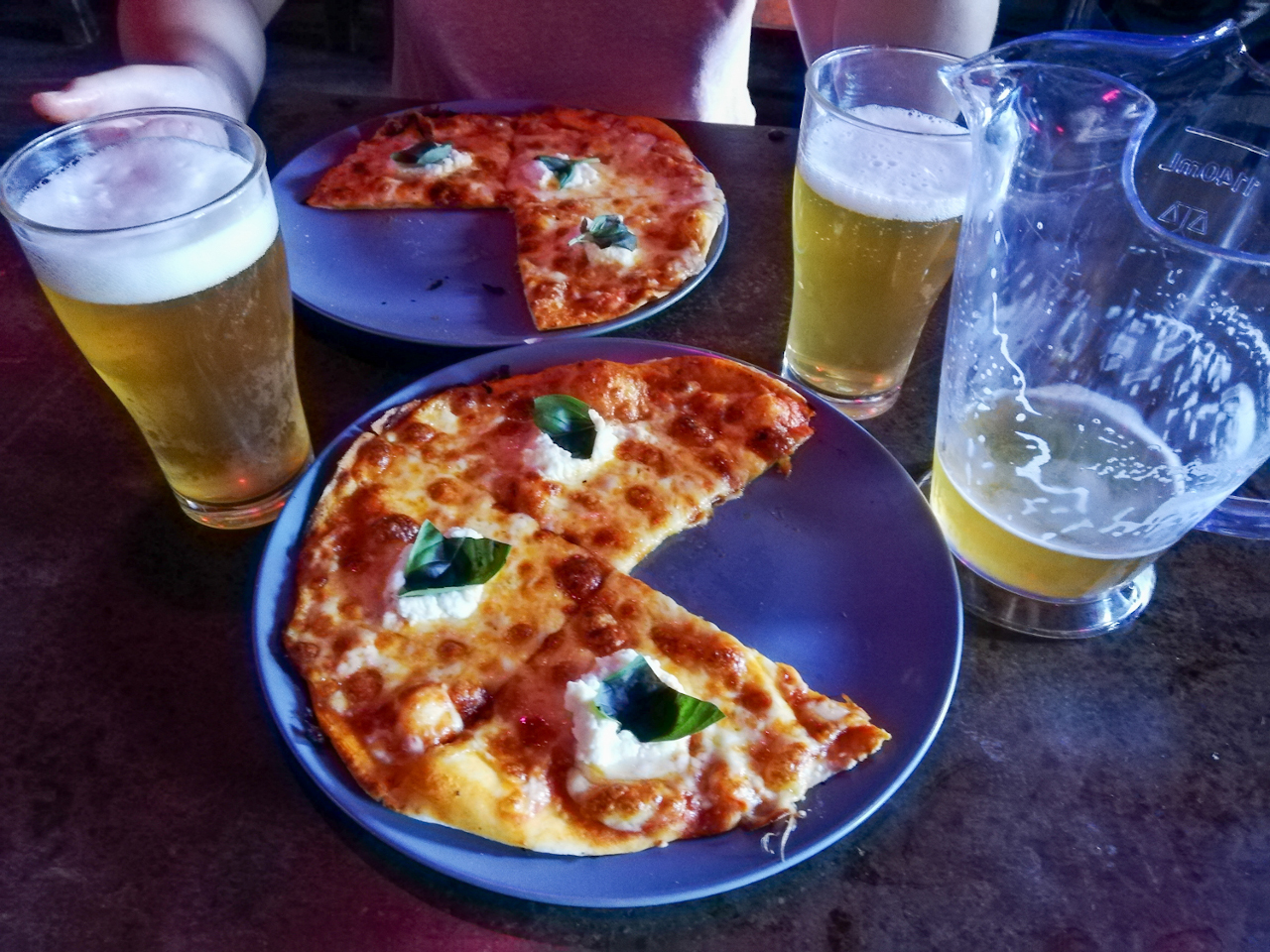 One for the more budget-conscious travellers, Asian Beer Cafe was without a doubt our favourite watering hole in Melbourne.
The vibrant neon lights and lively music of this bar/club make it our number one suggestion for anyone visiting the city. Although it is not strictly a rooftop bar, the large balcony area still offers a beautiful view of the city below.
Situated inside the Melbourne Central shopping centre, on the 3rd floor beside the other bars and restaurants, Asian Beer Cafe offers the best happy hour in the city. From 4-8pm every day of the week you can buy super cheap drinks from just $6 for a spirit, $9 for a jug of beer and $10 for a cocktail.
When it comes to food, this bar just gets better and better, as it offers a huge choice of cuisines, such as pizzas, burgers and (of course) a range Asian food to choose from. During happy hour, you can get a delicious pizza from here for just $5!
Address
211 La Trobe St,
Melbourne
VIC 3000
Opening Hours
Mon – Sun \ 11am – 1am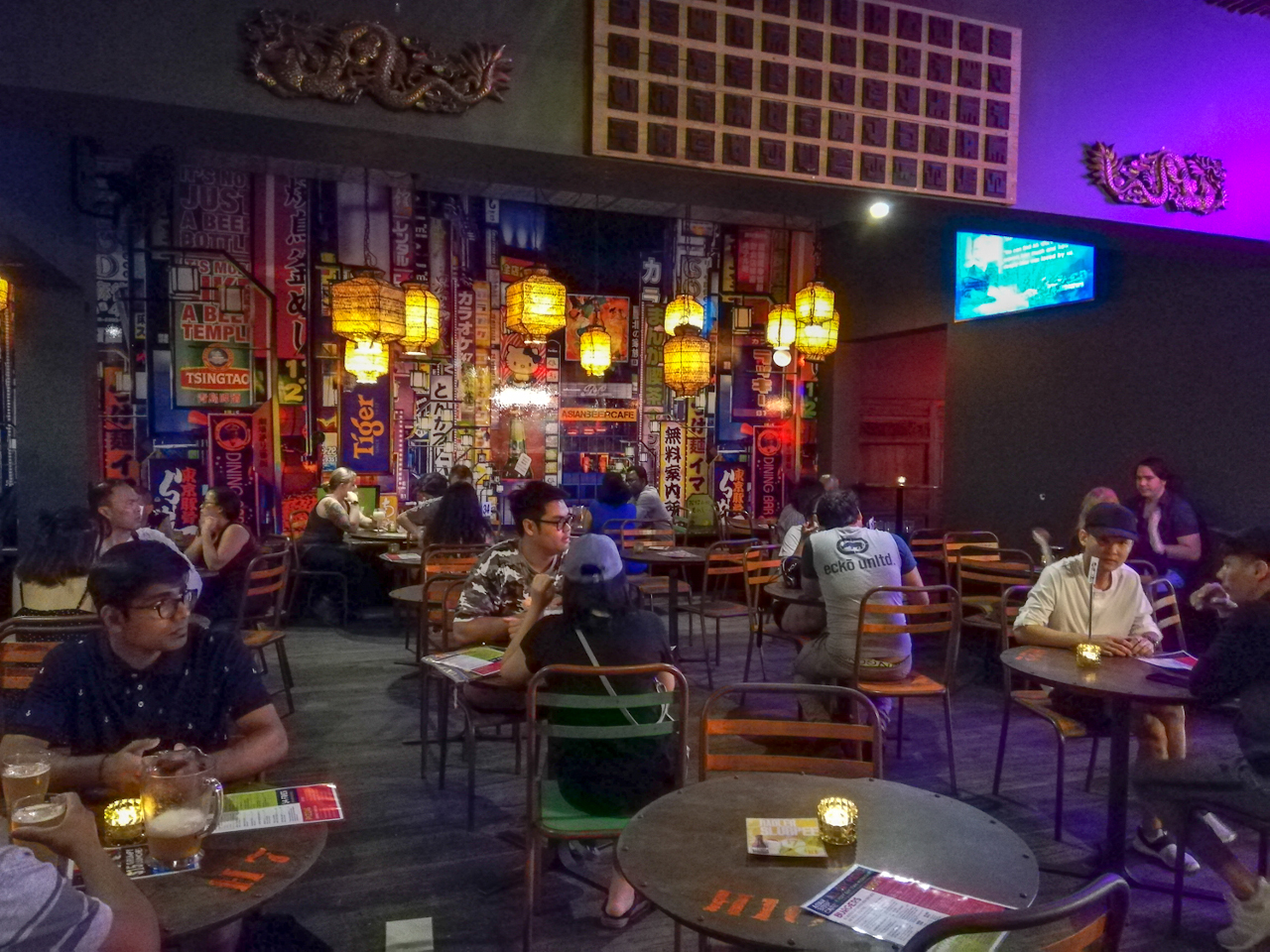 So there you have it, the best rooftop bars that Melbourne has to offer. It is up to you whether you visit them all in a day or spread them out and relax, either way, you are going to love your trip to the big city.
Be sure to make the most of your time in Melbourne and catch the free tram around the centre of the city for easy access to these amazing bars.
Author bio
Gemma and Campbell are two Scots on the run from a 9-5 lifestyle.
After years of planning, they finally quit their jobs and set out to find their place in this beautiful world.
Currently in Australia, they are living in a camper van and touring the epic Australian coastlines, which shows just how much they love adventure travel. They love promoting this kind of travel to their fellow wanderlusters on their blog highlands2hammocks.co.uk.