While Dubai is one of the most luxurious travel destinations in the world, there are plenty of free things to do in Dubai that you'll love!
So, if you are planning a trip to Dubai on a budget, read this article as it presents you the best places to visit in Dubai for free.
These amazing free attractions in Dubai – some you won't believe can be visited for free! – will offer you the chance to see many faces of this UAE emirate. You'll find included on the list of amazing things to do in Dubai for free museums, souqs (markets), instagrammable places in Dubai, stroll ideas, Dubai beaches, and more free activities in Dubai.
So, when planning your Dubai trip and choosing your airline tickets, make sure you include as many of these best places to visit in Dubai for free on your itinerary!
Let's see the list of the best free places to visit in Dubai!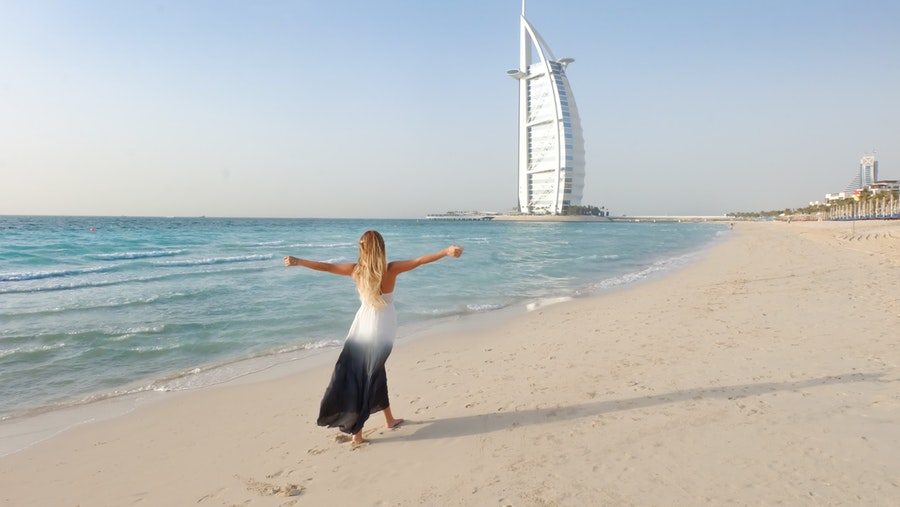 Best time to visit Dubai
The weather in Dubai is very hot. And, if you don't really like the heat, then it's going to be a problem. so you have to know the best months to visit Dubai
Yes, the air conditioner is used everywhere – taxis included – so you'll be OK. But, if you want to take outdoor walks, you should probably avoid the month with the highest temperatures, especially if you come from a part of the world that's not used to the temperatures and humidity (as is our case, for example, coming from Europe).
The best time to visit Dubai is from November to March (some say this period could be stretched to October to April).
Now, let's see how to cheap travel to Dubai and do many things for free!
Dubai on a budget: The best places to visit in Dubai for free
Admire the Dubai Dancing Fountain next to Burj Khalifa
Perhaps the best of the free things to do in Dubai, this fountain is iconic for the emirate and can be admired for free.
There are daily shows – both in the afternoon and in the evening. The Dubai Fountain shows are at:
1 PM and 1.30 PM from Saturday-Thursday,
1.30 PM and 2 PM on Friday
every 30 minutes daily 6 PM -11 PM
This is one of the best instagrammable places in Dubai – night and day – and the fountain has several soundtracks, the Dubai Dancing Fountain becomes one of the best places to visit in Dubai for anyone visiting the emirate.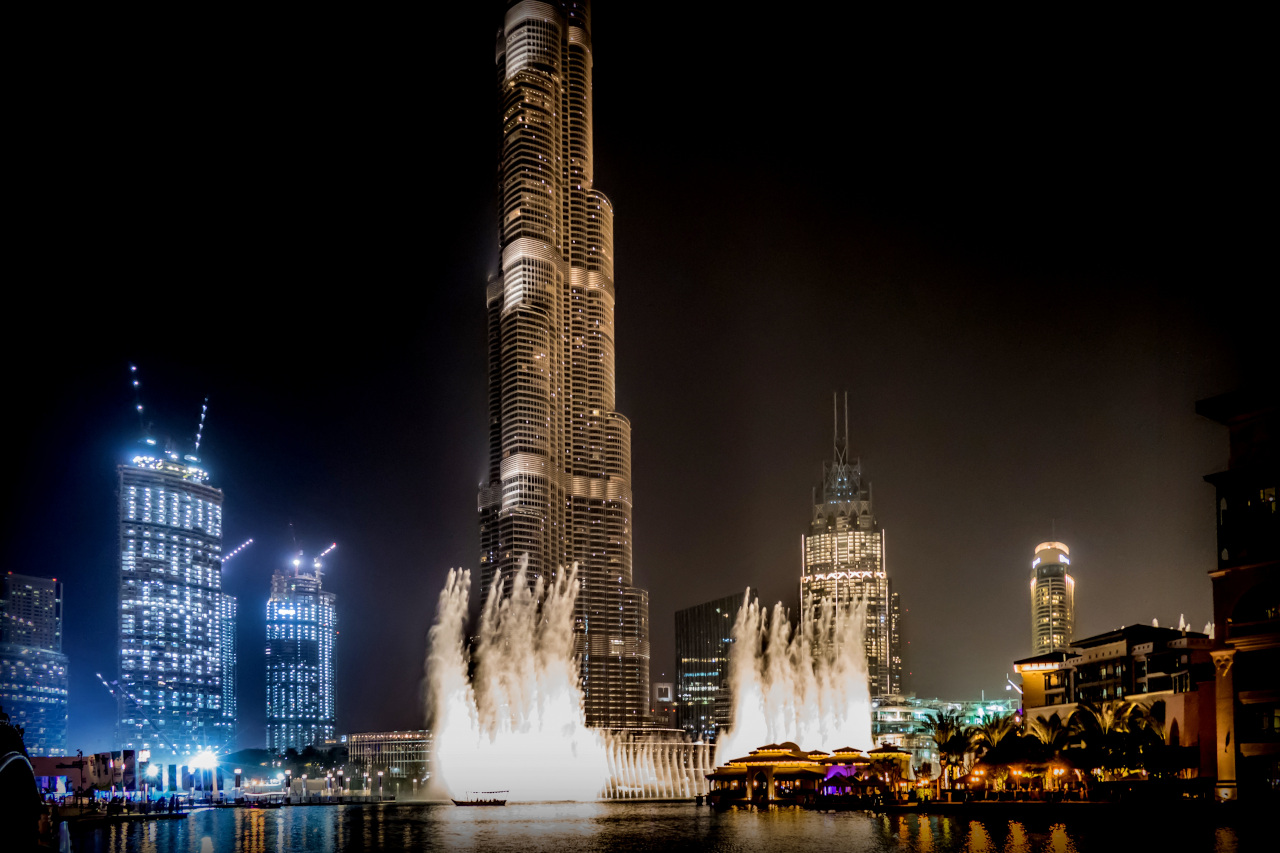 See Flamingoes at Ras Al Khor Wildlife Sanctuary
In our local's guide to Dubai, we presented this amazing Dubai attraction.
If you are a birdwatcher, then this is the perfect place for you. Families will also have a great time here so it's no surprise that this place is the second one mentioned in this budget guide to Dubai!
You can admire numerous birds including the imposing pink flamingoes. Visit the sanctuary between November and April – the best months to visit Dubai as the temperatures are not as high during this period.
Ras Al Khor Wildlife Sanctuary has free access daily between 9 AM – 4 PM except on Friday when it's closed.
There are plenty more birds to watch and flora to see – the flamingoes are just the most famous ones. So you won't regret visiting this sanctuary.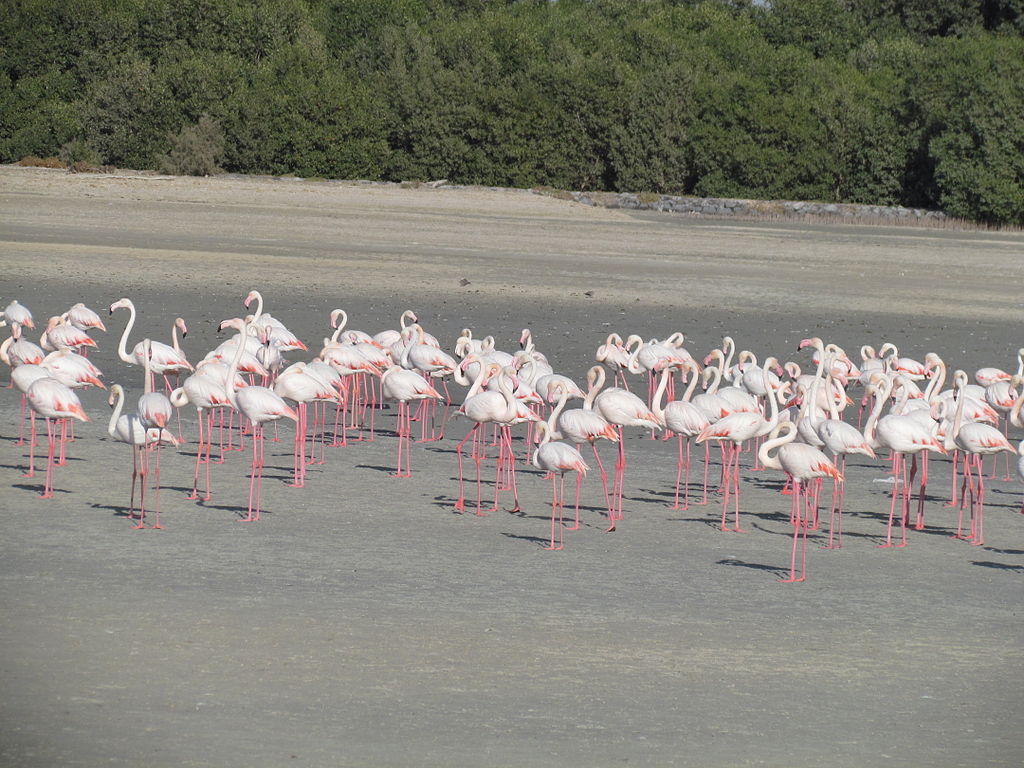 photo by Vicharam licensed under the Creative Commons Attribution-Share Alike 3.0 Unported license via Wikipedia
Gold Souk
One of the best places to visit in Dubai for free is visiting the souks – traditional markets where you can find numerous items.
If you can only visit one of these souks, then check out the Gold Souk. Here you'll find authentic gold jewelry, as well as silver jewelry and various gemstones.
And, if you are in Dubai on a budget, then you can just check out the souk without buying anything. It's still worth a visit!
Spice Souk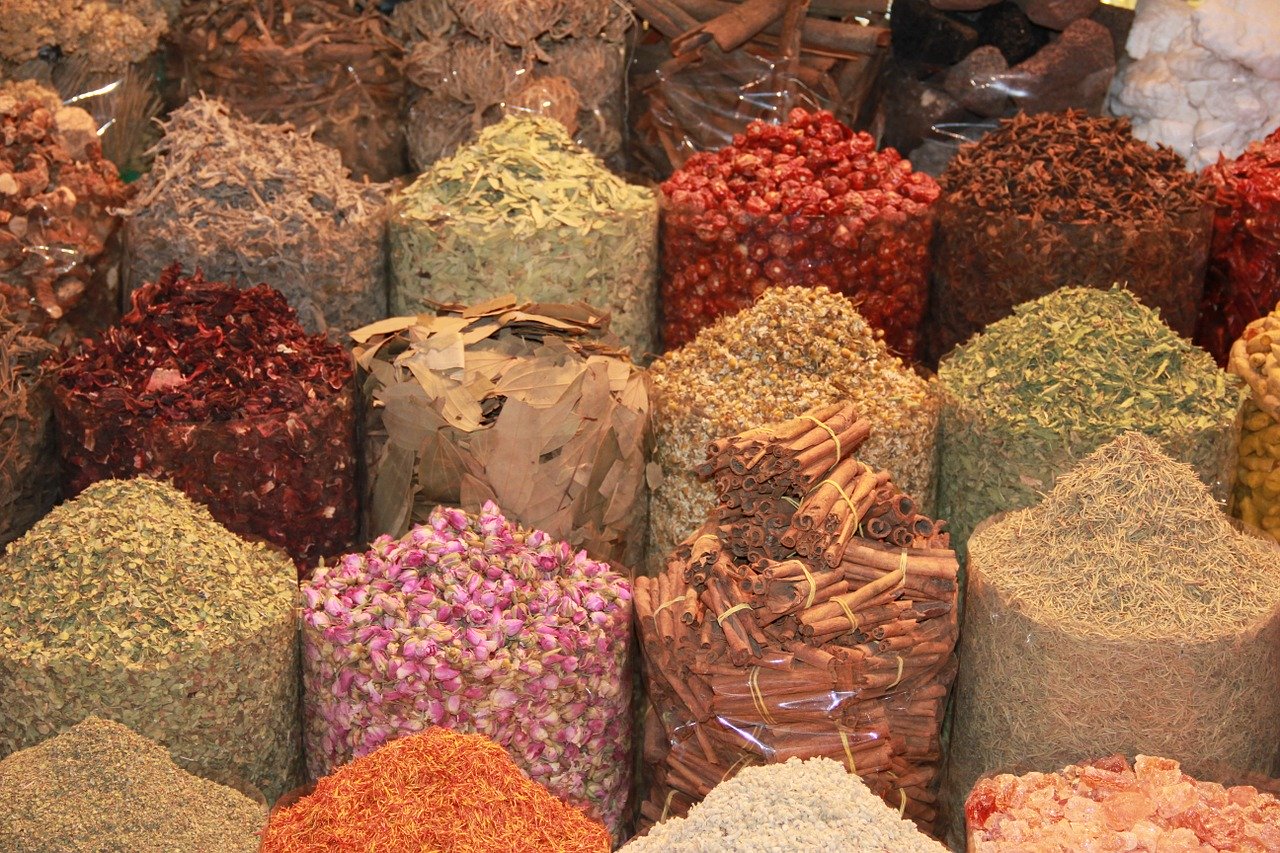 As you continue to explore Dubai on a budget, you'll notice that next tot he Gold Souk you'll find the Spice souk.
The flavours will enchant you and visiting this souk will give you the chance to at least admire some great souvenirs and spices!
It'll be very tempting to resist buying something, but it will also be an interesting and even, perhaps, unique experience if you've never visited a spice market.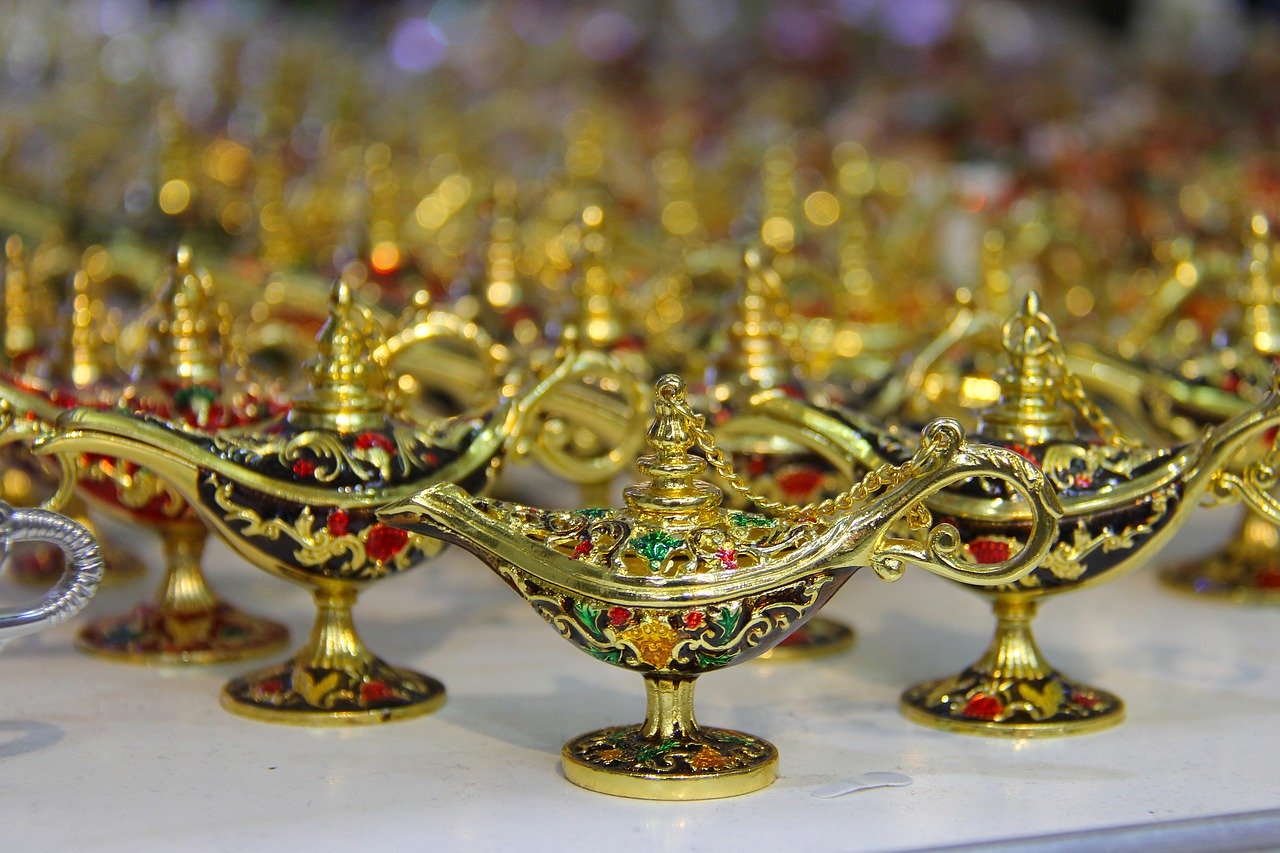 Head to Kite Beach
Also featured in our previous guide as one of the best things to do in Dubai, as it turned out, Kite beach is one of the fantastic places to see in Dubai for free.
You can spend a day here – or just take a long walk: the choice is yours. While you can rent beach loungers, you can also bring your own umbrella and towel and choose a place to stay on the beach.
Kite Beach is one of the perfect places to relax in Dubai.
Madinat Jumeirah and Jumeirah Beach Residence
I'm sure you know Jumeirah Beach Residence from the various Dubai pictures out there. What you may not know, is that it is home to one of the oldest souks in Dubai – Madinat Jumeirah.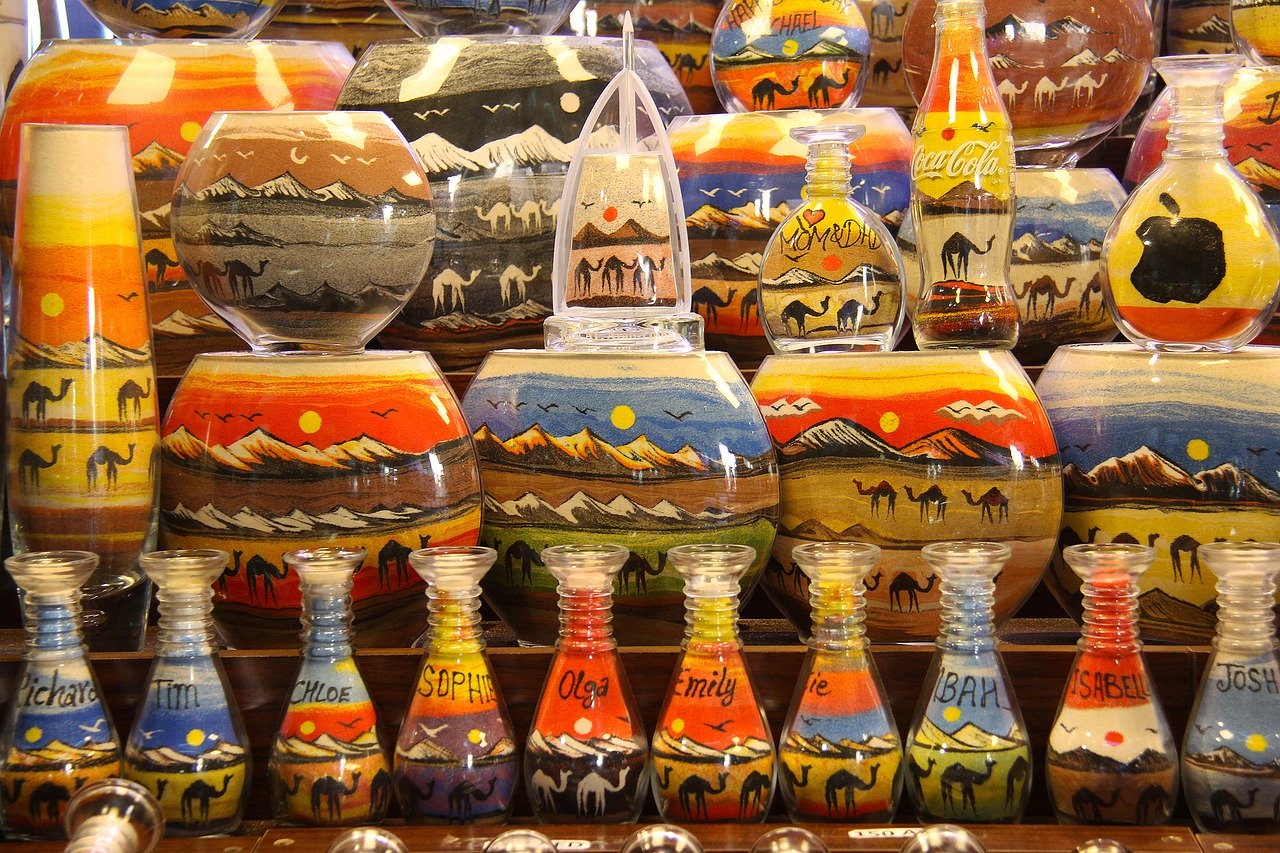 You guessed – it's one of the best places to visit for free in Dubai. The traditional souk was modernized and is now included in this modern resort.
You can visit its alleys, admire the beautiful wooden ornaments and the special products in this market – handmade products and accessories, souvenirs, and more. I say admire, as this is a budget guide to Dubai, so the idea is to include free things to do in Dubai. You can obviously buy anything you want, if you want!
After your visit – and maybe talks with the local merchants – you can take a walk in the area.
If you visit at dusk, you'll have the chance to see how everything is lit up for the night.
It's also one of the top instagrammable places in Dubai.
Moreover, it offers great views of the Burj Al Arab Hotel, both during the day and at night. So, no matter when you go, this is one of the best photo spots in Dubai.
Jumeirah Beach Residence has also a wonderful beach. Yes, this is one of the great free activities in Dubai so make sure you don't miss a day at the beach here!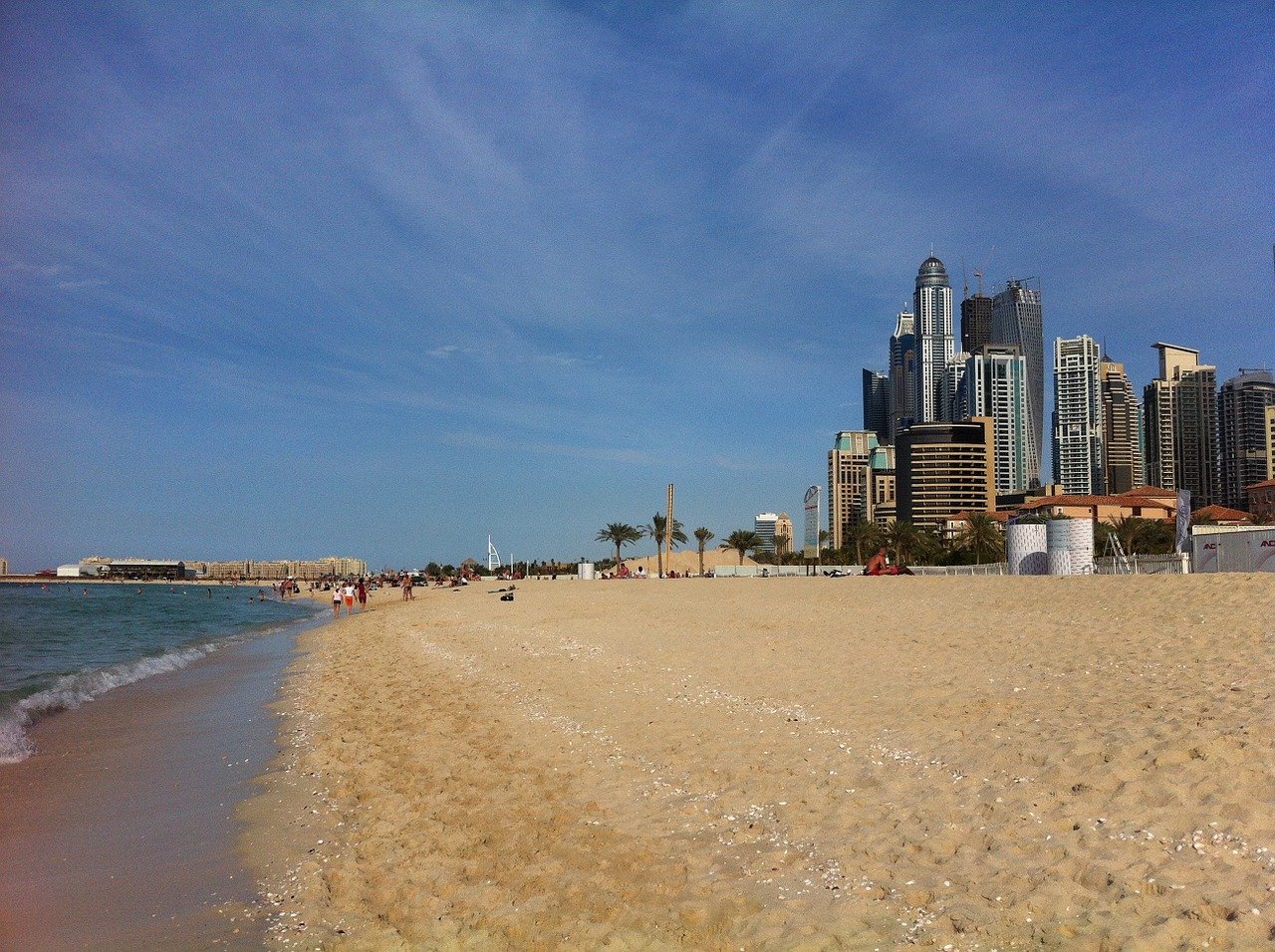 Burj Khalifa
Burj Khalifa is one of the landmarks in Dubai and one of the top places to visit in Dubai for first-timers.
It's the tallest building in the world and you simply cannot miss it, especially as you can admire it for free. If you want to get to the top floor and maybe have dinner at the restaurant there, that will cost you – but looking at this imposing construction is free.
Plus, you can't miss the opportunity to take great pictures as this too is one of the best instagrammable places in Dubai.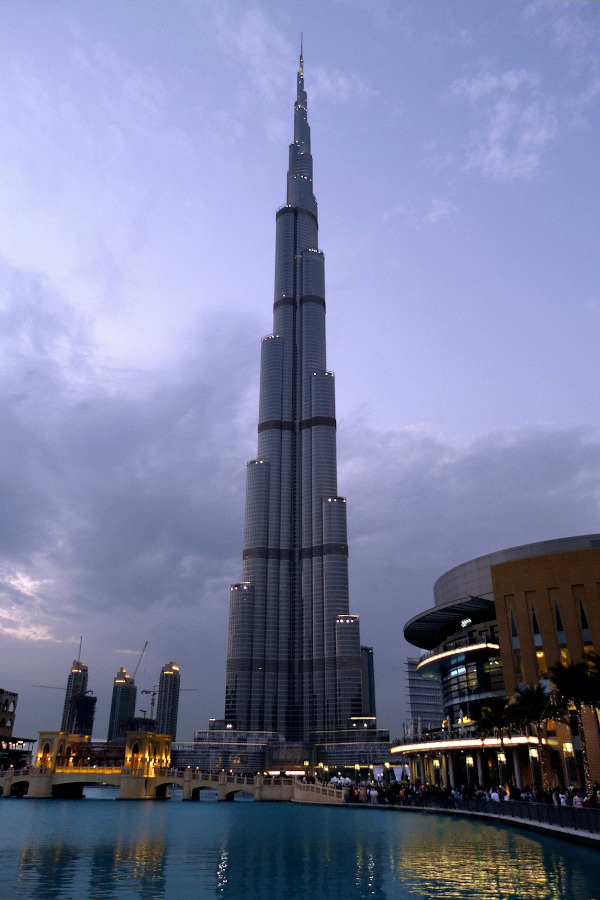 Dubai Mall
One of the popular tourist spots in Dubai, this is also free to visit. Dubai Mall has more than 12 million square feet which means it is the largest shopping mall in the world.
As you can easily imagine, there are plenty of things to see here. Expect high-price stores, but visiting them is free. As you have numerous brands and all types of shops – from jewelry to clothing and books, and beyond – you'll have what to discover. You can also do window shopping and let's not forget about seeing the interior aquarium.
When you leave the mall, head toward Souk Al Bahar and you'll have one of the best views of Burj Khalifa.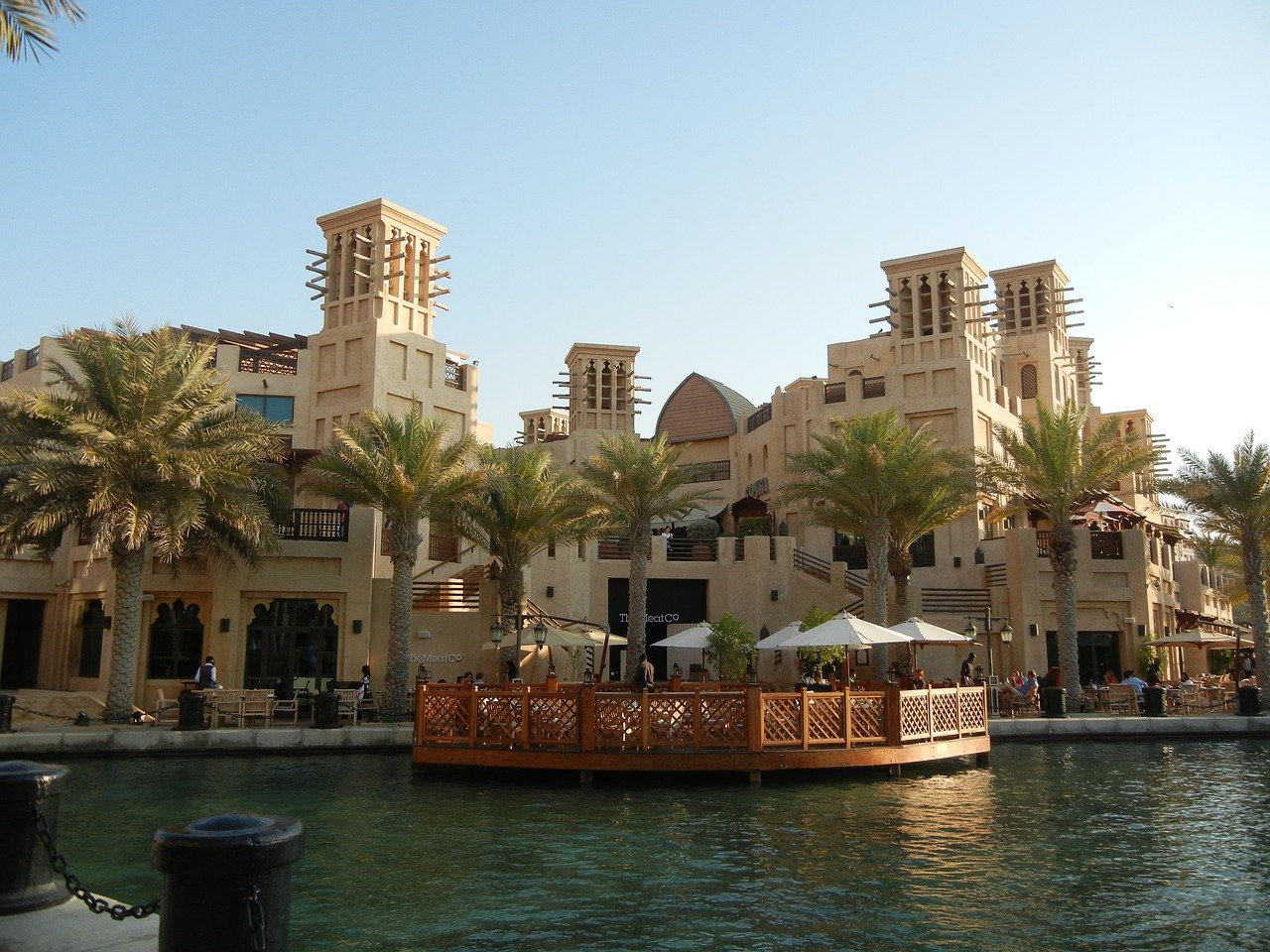 Souk Al Bahar
As you are in the area, check out the Souk Al Bahar, and Arabian market that will make remind you of Old Arabia. It's connected to Dubai Mall via a bridge over Burj Lake. Crossing this bridge will allow you to get beautiful views of Burj Khalifa and The Dubai Fountain.
At this souk you can find a wide variety of products, from tapestries to clothing, from jewelry to books, and more.
Burj Al Arab
As my husband says, you may not afford to stay at this hotel if you are visiting Dubai on a budget, but you should definitely take the time to see Burj Al Arab.
This self-proclaimed 7-star hotel is one of the most iconic things to see in Dubai and a famous building worldwide and, of course, one of the best things to see for free in Dubai.
Visit at dawn or dusk to capture amazing views and take pictures with impressive colours! You may even see if from the taxi on your way to your hotel – as my husband did on his first visit there – but you should also get in the area by yourself – maybe taking a walk in the evening – to admire it.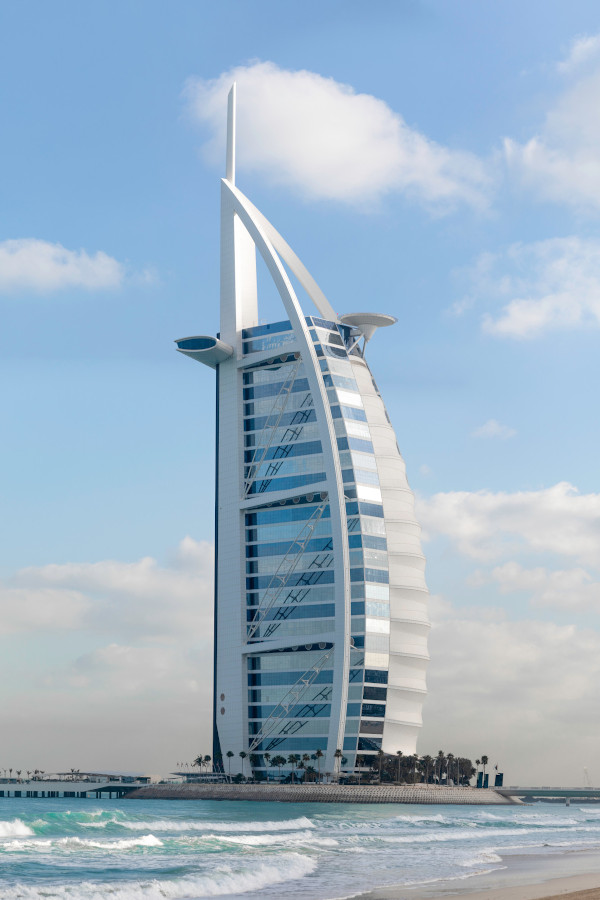 Al Fahidi Fort and Dubai Museum
One of the Dubai landmarks is the Al Fahidi Fort. Constructed in 1787, this is considered the oldest building in Dubai, so it is definitely worth a visit.
Its architecture is quite different than that of the new skyscrapers and modern hotels and attractions, so check it out!
The fort is home to Dubai Museum – which is one of the cheap things to do in Dubai. The admission fee is only 3 dirhams (1 dirham for children under 6 years) – which is less than a dollar.
As the museum offers the chance to learn more about the emirate's past and way of living in different areas, and as there are numerous exhibitions are focusing on different occupations and periods. With so many free things to do in Dubai for free, you may want to start thinking of booking your flight to the Emirates now.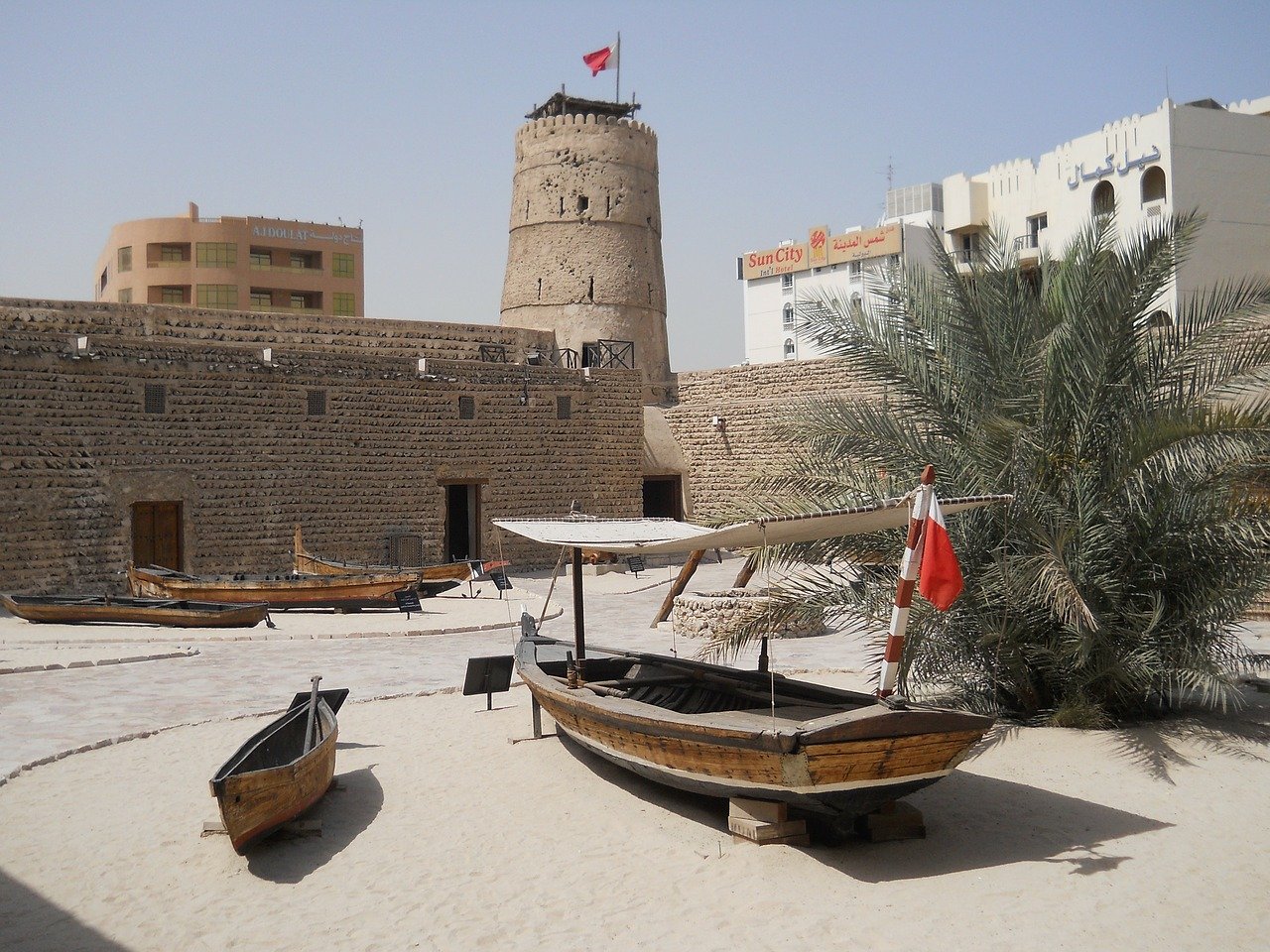 Explore Al Fahidi thoroughly – and visit the Coffee Museum for free
If you are in the area visiting the fort, you should also walk along the streets of Al Fahidi. The old merchants' houses were renovated and turned into cafes and museums.
You can find here the interesting Coffee Museum – free admission.
Check out XVA Gallery
Located also in the Al Fahidi neighborhood, this is the place to go if you want to see contemporary Middle Eastern art in Dubai.
This is quite a cool free place to visit in Dubai – and you can go every single day from 10 am to 6 pm.
As the exhibitions change regularly, you will be sure to see always something new and interesting.
Camel Museum
Camels are used a lot in this part of the world. If you want to know more about them, then you should check out the Camel Museum.
Located at Al Shindagha Historical Area, Bur Dubai, this used to be the stable for camels and horses for sheiks. The animals were trained in the courtyard.
Nowadays, this museum is a great place to visit if you want to learn more about camels. You'll find here useful information about camels' biology and use over the years.
This is also one of the great places to visit with kids in Dubai – so don't miss it, especially as is it one of the cool things to do in Dubai on a budget.
Dubai Frame
OK, this is not a free attraction per se, but hear me out.
It's one of the newest attractions in Dubai, and from the top, you can see the old Dubai and the new one, on each side of the frame. Yes, that costs (but this is cheaper than the option to go on top of the Burj Khalifa. The latter is higher but pricier.)
But, if you want to get a picture of the Dubai Frame for free, you can if you get to the edge of Za'abeel Park.
If you have some money to spare, the entrance to the park is only 5 dirhams – aka USD 1.4. And you'll be able to take better – and closer pictures of the frame – plus enjoy the Zaabeel Park.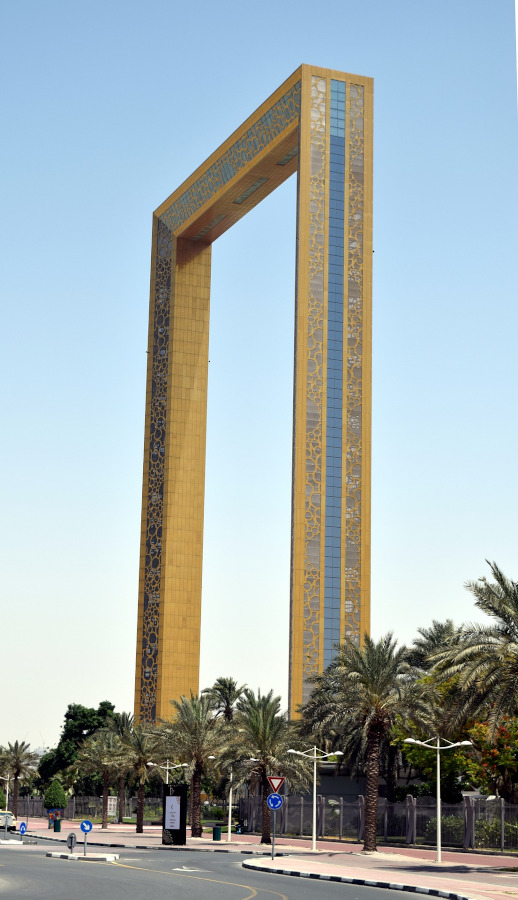 As you can easily see you can reply with a decisive "YES" if you ever hear the question "Cheap travel to Dubai?" as it is possible to visit Dubai on a budget.