Vibrant by day and even more so after dark, Barcelona's long been renowned for its thriving nightlife. Classy bars, rustic tapas joints and underground after-parties provide for hours of authentic, Spanish amusement.
Barcelona's nightlife can best be summed as "randomly eclectic," as it's a city in which the best-laid plan is not to have one at all.
The most exciting nights are the ones where you find yourself stumbling from bar to bar in any given neighbourhood and, in typical Spanish fashion, going with the flow.
If you feel like spending the night bouncing around in the same neighbourhood, Jamboree and Café Royal are rustic and classy (respectively) and centred in the always bustling Plaza Reial right off La Rambla.
Craving top 40? Head to the Eixample and dance until the sun comes up at Hyde Club or if you're in the mood to walk along the beach and chill at an outdoor patio while listening to House music, then CDLC or Opium Mar is ideal late-night options.
And don't forget to check out Gracia neighbourhood, a very local, Catalan part of town with trendy bars and clubs, this area is always bopping, every night of the week especially on Calle Verdi which is the main street in the Barrio.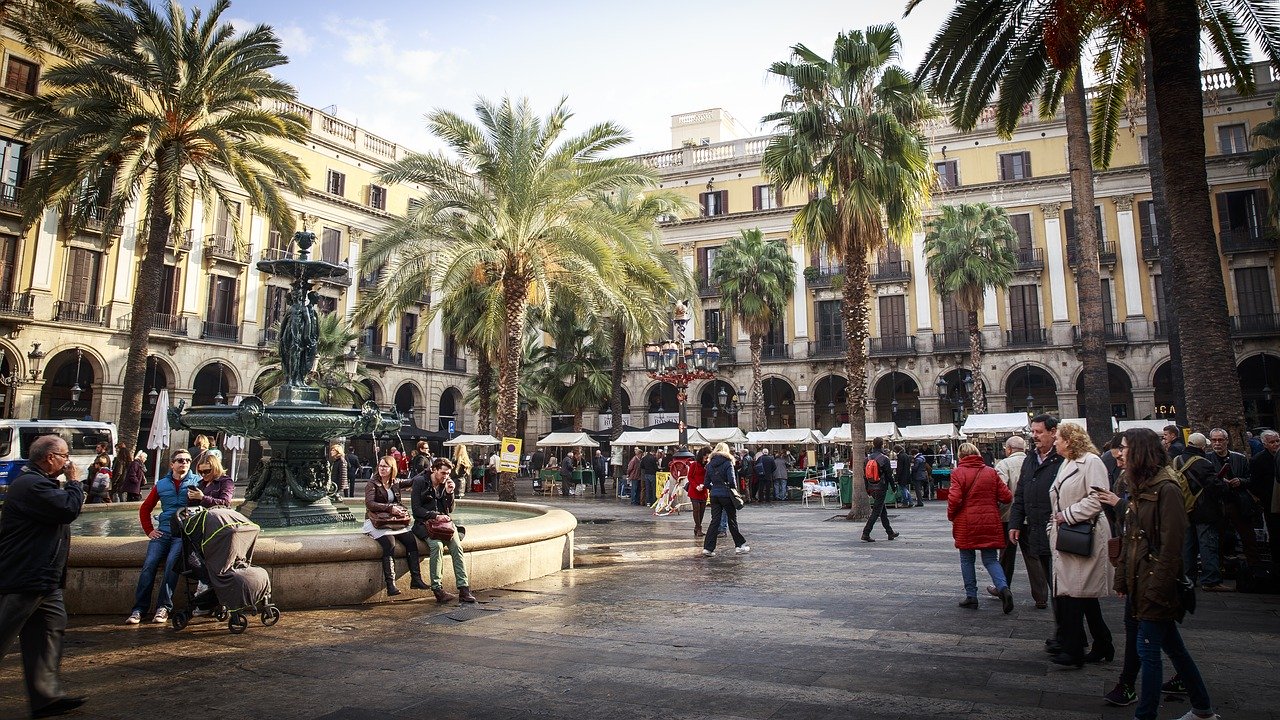 photo source
And, here are some of the best places to party in 2020:
1. Razzmatazz
It's the closest you will get to a superclub in Barcelona; spread over two floors across five rooms, this is a destination for any raver on tour.
Located away from the tourist part of town in El Poublenou, the surrounding areas have a range of cool, no-frills mini-bars and restaurants where you can get an alfresco to bite to eat before exploring the club.
And you'll need a good meal for sustenance – Razzmatazz stays open 'til sunrise and has a banging music policy that includes everything from jungle to techno, electro to disco.
The venue books a good mix of local promoters and special takeovers with labels such as Phonica and R&S, while their This is Hardcore over the Sónar weekend is a must-visit. Expect a lively, mixed and colourful crowd of music lovers, locals and international clubbers.
2. Sala Apolo
Sala Apolo is a converted theatre that's a sweet mix of live music and dirty club nights. Dating back to the early 20th century, it's one of the oldest dance halls on the continent, one that has weathered the city's ever-evolving clubbing scene.
The music policy is thoroughly modern, and you can find everything from jazz to hip-hop to R&B nights. But it's also home to one of the city's most infamous electronica club nights: Nista.
The night has moved around the city a bit and is now a resident at Apolo which presents the perfect environment: dark, sweaty and tightly packed where you can dance through to the early hours to DJs like Levon Vincent, Gerd Janson and Ivan Smagghe.
It's been firing for the last 30 years and is a must-have for any traveller looking for an intimate techno/electronica experience, Catalan style.
3. Moog
Popular with tourists and locals alike, this two-tiered club in the centre of town, just off Las Ramblas, is a hit for those after heavy-hitting club music every day of the week.
Open since the '90s, Moog has had pioneers like Jeff Mills and Laurent Garnier take the helm of its small and sweaty basement room.
Downstairs has catered to those with underground techno and house persuasion, where Catalan selectors, labels like A R T S and a solid rotation of resident DJs keep Moog pumping a loud, 4/4 soundtrack.
Upstairs, however, edges towards a lighter synth-pop atmosphere where mirrored walls will make you feel like you're in a Moloko video. Sing it back.
4. Pacha
The sister of the Ibiza club, this is a little taste of the White Isle at a fraction of the cost of Ibiza clubbing.
Enjoy Pacha's patented nightclub fun on the Barcelona beachfront where you can sip sunset cocktails before cutting the rug at the club.
During high season they're open pretty much seven days a week with parties taking place from midnight 'til 6 am, featuring high ranking guests like Steve Lawler and Eats Everything.
As well as big house names they also cater to the local demand for reggaeton, R&B, hip-hop and trap nights.
5. SoundEat
Running from May until November, SoundEat parties take place at various stunning open-air spaces across the city, such as the Jardins de Pedralbes – designed in part by Antoni Gaudi – and a killer beachside location.
Their events lean on international house and techno heavyweights like Prosumer, Mike Huckaby and Elena Colombi, bringing a festival vibe today parties that also have enough food and drink to fuel you past sunset.
If you're in town for the summer be sure to book your tickets early as these events sell out fast.
6. Brunch-In Barcelona
Like your eggs with a side of electronica? Then head to Brunch -In The Park or Brunch -In The City, two event series that provide a slice of Catalan hospitality alongside some great selectors in stunning locations.
The sell-out Sunday shows journey around various open-air spots in Barcelona; The City, Brunch -In's spring edition, has popped up at the Antigua Fábrica Estrella Damm (an early-twentieth-century beer factory) and the beautiful Jardins del Teatre Nacional de Catalunya, and The Park sets its roots in Jardins de Joan Brossa throughout the summer.
If you are not a fan of nightlife, during the day you can hire a hop on hop off bus Barcelona, which will give you the best of what Barcelona has to offer.
7. OFFSónar
Not to be confused with the official Sónar, this movement was born out of local promoters throwing their own afterparties and soiree to ensure everyone in the city has the chance to party.
It happens in the same week and has become a meeting place for labels and DJs who host label showcases at some of the city's best club, beachfront and pop-up spaces.
This year's highlights include parties from Innervisions, Drumcode and Ibiza destination Circoloco.
So, whether you're digging Detroit or hungry for half-time, enjoy bespoke club sets from some of the world's best producers and selectors at intimate club environments.