Bucharest is a great city to go shopping. I mean, there are special offers and sales (mid-season, end of season, special holoidays) almost all of the time. In addition to this, the city offers shopping opportunities for any taste and preference: from budget stores to luxury brands (we have Emporio Armani, MaxMara, Gucci and more stores). Bucharest also has many malls (yes, many and some will be launched in 2016 as well), galleries, and shopping centers thus making it easy for anyone interested in buying something to find it.
But, as there are many malls and shopping centers, what to choose? A local must share some tips and make some recommendations, right? That's what I thought – as some of the malls and shopping galleries are not extraordinary, while others are definitely worthy of a visit. So, here are the top malls and shopping centers in Bucharest, Romania – for any pocket and preference!
Unirea Shopping Center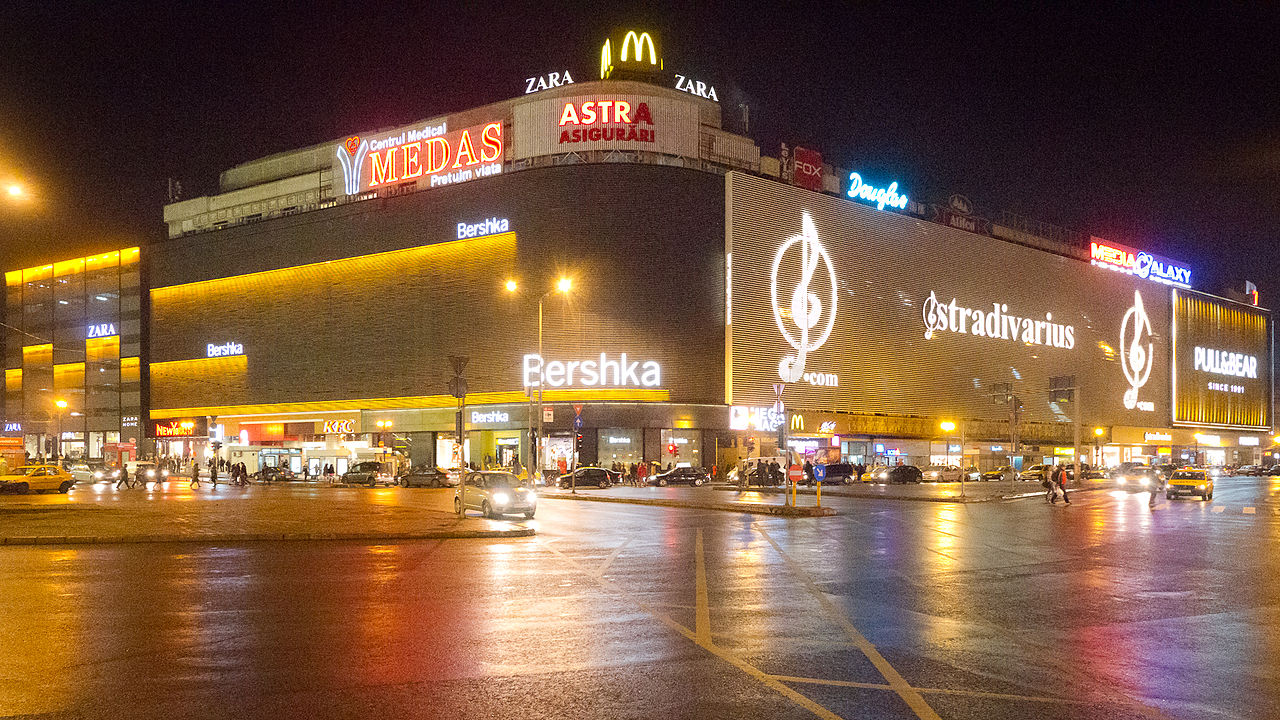 photo by Mihai Petre / Wikipedia
Unirea Shopping Center is an old shopping center in the city. It is located in Piata Unirii – so easily accessible by various means of public transportation and close to the town's old center and many historic buildings and landmarks. It was open in 1976 and went trough a massive renovation in the past years. New shops were open, and now Unirea Shopping Center is the place to go if you want to buy jewelry (I bought many silver jewelry from here and even placed the order for our wedding rings at a shop here), clothes, shoes, toys, and even electronics and books. Yes, you'll find famous and accessible brands (Stradivarius, Bershka, H&M, etc.) along with some local ones (Tina R. for example)and some luxury ones. You'll find evening dresses as well as everyday casual or business outfits. You'll find accessories, a floor dedicated to children and many shops with numerous electronics 😀 And yes, a Diverta – books and more –, stores with gift ideas – so almost anything you need is here. And there is a floor with restaurants and fast foods.
AFI Palace Cotroceni
One of the most famous malls in Bucharest, AFI Palace Cotroceni is quite an impressive mall. With an Auchan hypermarket, and many-many clothes, shoes, children, jewelry and accessories stores, this is an impressive mall. It has an ice ring, a small indoor waterfall and lake, playgrounds for children, a Lego store, and an impressive food court. Plus, the IMAX (3D cinema) and a 20 screen cinema complex.
Plaza Romania
Located close to AFI Palace Cotroceni – opened before AFI – this is also a nice mall with cinema, food court and many stores. It is currently going under renovation works – but the shops are open. I like to go to this mall as sometimes it is not as crowded as others (especially as AFI Palace Cotroceni is). I bought many clothes, jewelry and shoes from here 😉
Promenada Mall
The Promenada Mall is one of the recent malls opened in Bucharest – 2013. It is located in an easily accessible area – at Aurel Vlaicu subway station – and close to one of the business areas in Bucharest – this mall is impressive and features many-many shops. It does not have a cinema complex, but has instead a nice terrace with a lovely view – and open air events during the summer. The mall features a Billa hypermarket and numerous brands – both accessible and luxury shops.
Baneasa Shopping City
Opened in 2008, this used to be the mall in the northern part of the city (now there is also Promenada Mall). This one though has a cinema and is located near Ikea. The complex also features a Carrefour and a Bricodepot (DIY) and is close to some other hypermarkets as well. Many shops can be found here – both luxury and more accessible ones.
Sun Plaza
This is not necessarily a fancy mall. It is better than others – not included in this list – and, if you are in Berceni district, then this is a great mall for you. It has a cinema, 130 shops, a food court and a Cora hypermarket (as well as a Leroy Merlin – DIY). I am recommending it only if you stay in the neighborhood though, otherwise you can easily pick other malls.
Cocor Luxury Store
Another famous store in Bucharest is Cocor – recently renovated and transformed into a luxury stores featuring numerous famous Romanian brands (clothing, accessories, etc.). It also has a Billa hypermarket and some accessible shops (Terranova). The best part: it is centrally located, between Piata Unirii and Piata Universitatii. As an interesting feature: the multimedia façade (a higher impact during the evening).
Victoria Shopping Center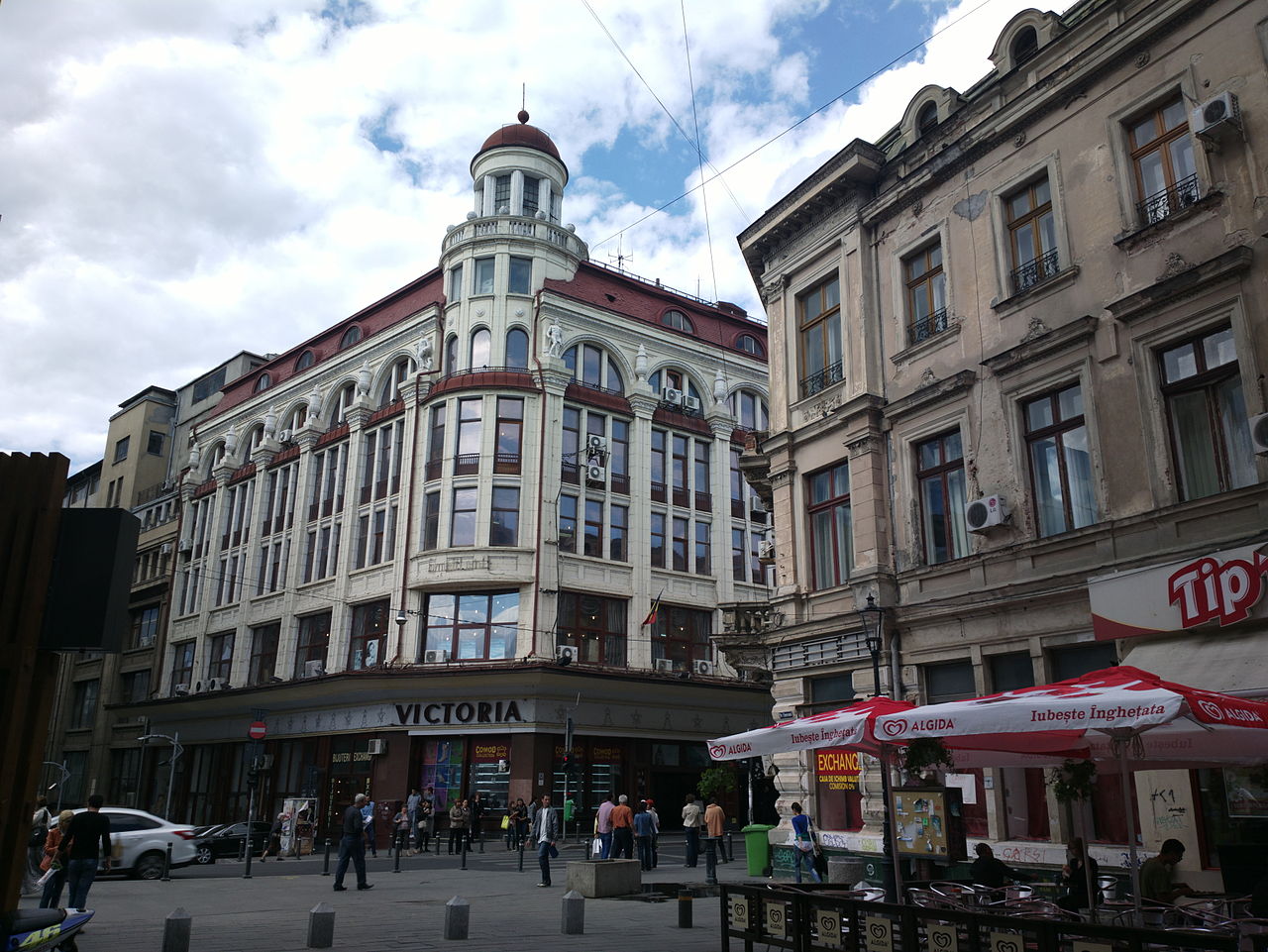 Another famous landmark in Bucharest, Victoria Shopping center is a place to go for accessible clothing, shoes, tailoring materials, ceramics, jewelry, lingerie, gifts – not necessarily from famous brands. More than that, the building is a landmark itself and easily accessible – located on Calea Victoriei, near the CEC Palace, The National History Museum and the Old Town city center. This was the first big universal store in Romania – built in 1928 in the Art Deco style.
Mega Mall
Another "neighborhood mall", Mega Mall opened in 2015 and is the mall designated for Pantelimon district. It is spacious, has a cinema which includes a room with special effects (smell, movement, light, etc.) as well as "classical" screens, an impressive food court, playgrounds for children and many accessible stores.
These are the top malls and shopping centers in Bucharest, but they are not the only ones. However, I do recommend these ones over others – and they pretty much cover all the preferences and general needs. During the sales periods, these are great places to go shopping in Romania's capital.