Even in the modern, multimedia world, there is nothing quite like the theater. The experience is like anything else; you sit back and watch as actors perform on stage, word-perfect, and with a real sense of skill to their work. There's no convenient edits to be had if they fluff a line, and the experience is inherently more fascinating for it. Theater has been a part of entertainment for literally hundreds of years, and its popularity shows no sign of waning anytime soon.
If you're a confirmed lover of theater, then it's well worth considering visiting one of the "theater cities" around the world. By traveling to these fascinating cities, you not only have the chance to enjoy the city itself, but can also immerse yourself in the theaters, performances, and wide range of options available to you.
So, where in the world should you go for such an incredible, theater-centric vacation? Here are a few ideas you're going to want to consider…
New York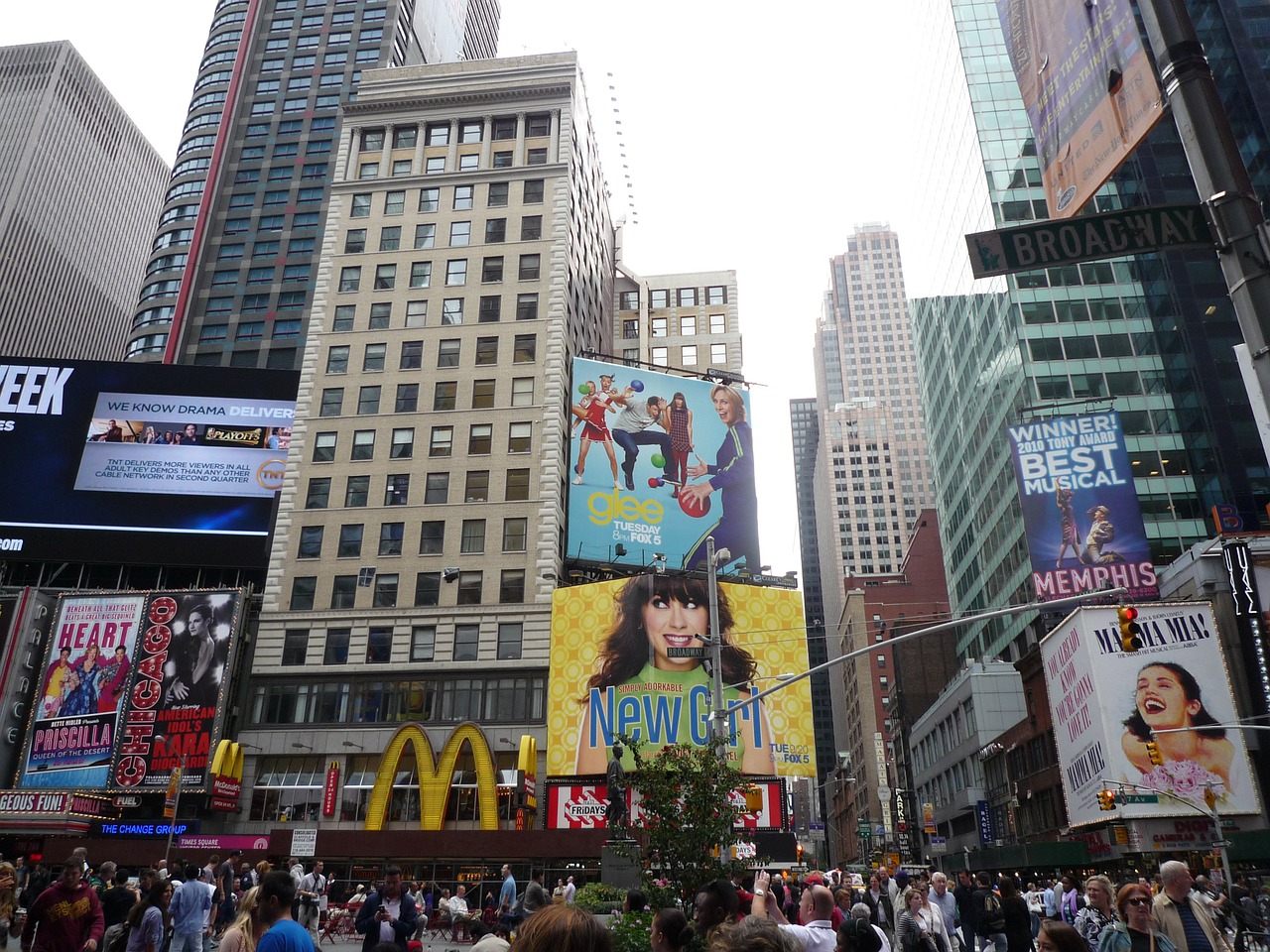 New York is world-famous for its theater district, Broadway, and this is a city that any theater lover should visit at least once in their lifetime. There are more shows than you could possibly hope to visit in a single city break, with everything from new avant-garde productions to reliable old favorites available. As well as Broadway itself, there are multiple off-Broadway choices throughout the five boroughs, so it's well worth exploring further afield if you are so inclined.
Costs
Given the huge list of Broadway shows available, you should be able to find something that suits your budget. Discount tickets are usually available if you're willing to hunt for them, and attending less-popular show days can help reduce your costs substantially. Outside of the theater tickets, New York is a fairly expensive city to visit, but the low transport costs around the city itself do help to mitigate some of the expense.
What To See
Perhaps top of the list would be The Phantom of the Opera; the Andrew Lloyd Webber musical holds the record as the longest-running show on Broadway. As the production has been able to maintain its popularity for 30 years, it's fair to assume it's worth seeing!
Athens
Athens may not be the first city that comes to mind when you're looking for a theater-friendly destination, but the city's clout in this area definitely checks out. Ancient Greek society had a hand in creating culture as we know it, and modern Athens is more than capable of living up to that reputation. What's particularly impressive about visiting Athens as a theater fan is the sheer majesty of some of the most popular venues, with the National Theater of Greece being particularly impressive.
Costs
Athens is arguably the most affordable city on this list, particularly when it comes to theater tickets. Discount tickets are often available for popular shows, so it's well worth researching your options online prior to traveling.
What To See
The classic Arthur Miller tale A View From The Bridge is an excellent choice, especially for those wishing to visit the stunning National Theater, where is it performed on the main stage.
London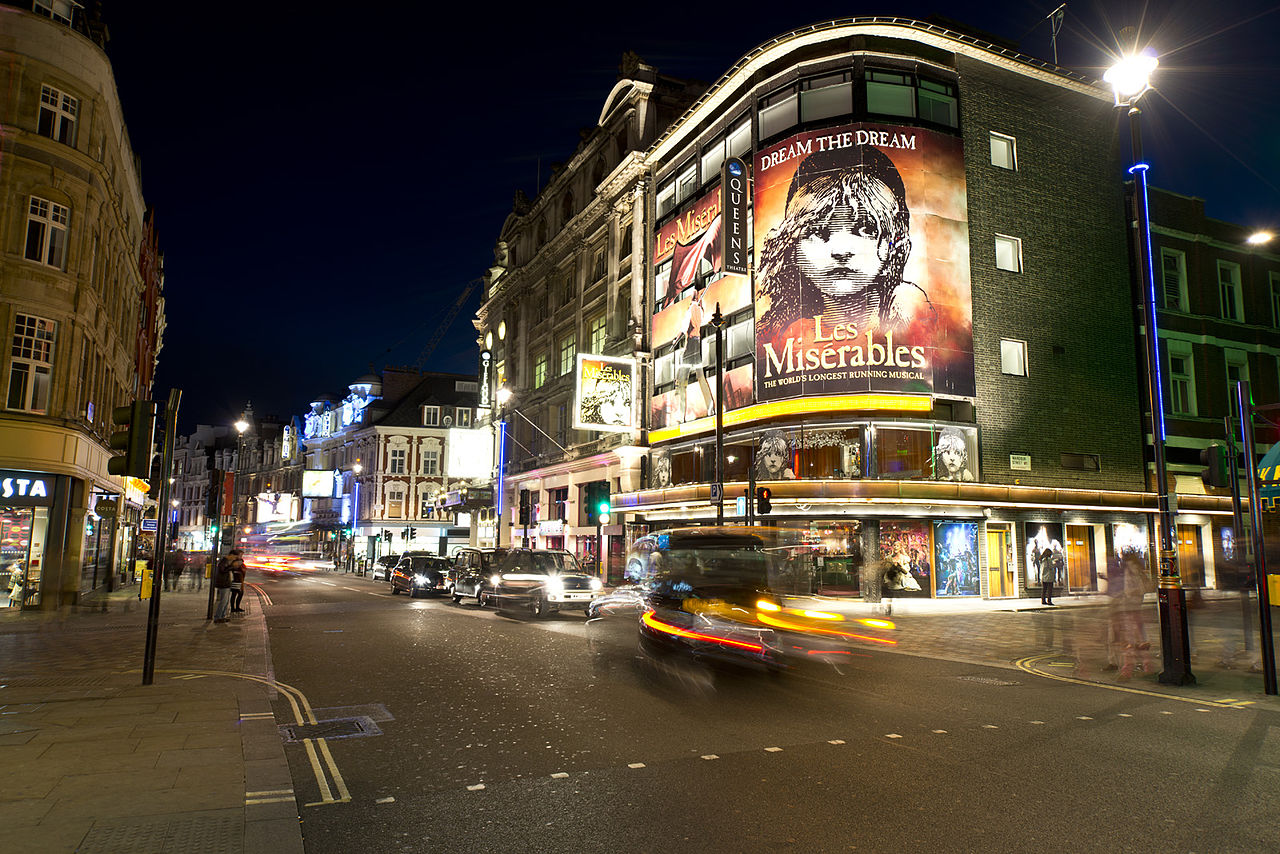 Image by Steve Collis on Wikipedia
London's West End is home to numerous theaters and there are thousands of performances per year to choose from, and is widely considered to be the theater capital of Europe. Celebrity names are common performers in the West End, with the likes of Rebel Wilson, Lily James, Nicole Kidman, and Tom Hiddleston all treading the boards in the past.
Costs
The costs involved in visiting the West End depend on the theater and the time of choosing, but you'll likely need a fairly substantial budget to make your trip worthwhile. It's always worth keeping an eye out for ticket sellers at popular tourist spots; you might be able to grab a great same-day deal if you're lucky.
What To See
The production of Les Miserables at the Queen's Theater is particularly well-regarded, and should be a delight even if you are familiar with the story.
Melbourne
Melbourne is informally known as the theater capital of Australia, so if you are a theater buff who wants to venture Down Under, this is definitely the city for you. There are plenty of different shows and events every week, with options ranging from beloved classics to more avant garde and experimental options.
Costs
Unfortunately, Melbourne is one of the more expensive options on this list. The cost of traveling in Australia is generally considered to be high, and you may struggle to see as many shows as you would hope if you're on a budget.
What To See
If you want to try something different from the standard theater options, Astroman — an amusing family tale set in the 80s — is particularly well thought of.
Edinburgh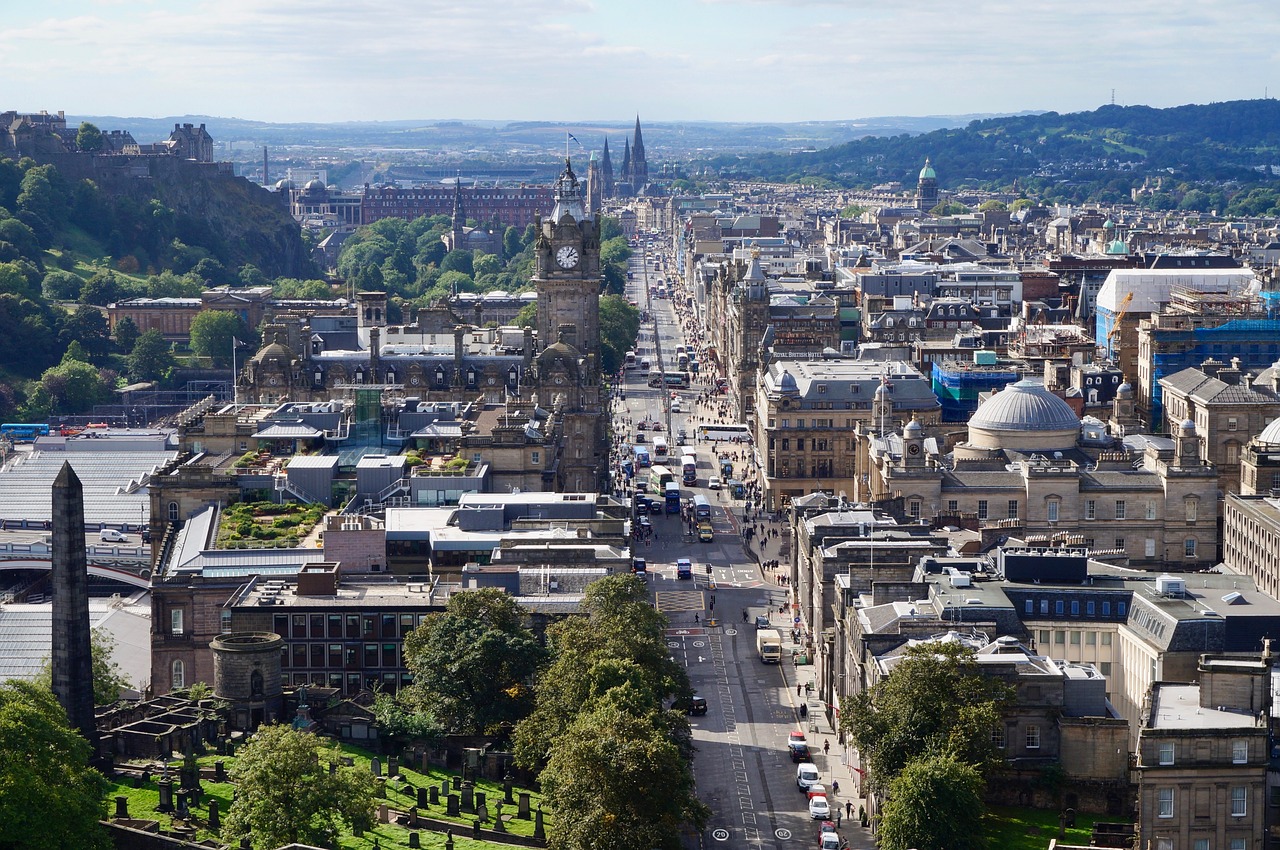 Edinburgh is a city renowned for its culture, so it should come as no surprise that the Scottish capital is able to offer an array of choices to theater fans. The city offers a host of different theaters to choose from, featuring performances of classic tales, modern adventures, and more unusual offerings— so there truly is something for everyone. If you're looking for a truly incredible theater experience, then it's worth scheduling a visit during the annual Edinburgh Fringe— a three-week long celebration of the arts that features over 50,000 different shows.
Costs
If you do visit during the Fringe, then accommodation and transport are liable to be more expensive. However, ticket prices for Fringe events are often incredibly affordable, so the costs do balance themselves out. If you visit outside of the Fringe season, expect to pay more for famous theaters such as the Edinburgh Playhouse, but smaller theaters are generally considered to be more affordable.
What To See
The Edinburgh Playhouse is a dream destination for fans of theater, and Titanic: The Musical is a wonderful choice if you wish to attend a performance at this iconic historical landmark.
In conclusion
All of the cities above offer a truly wonderful vacation experience for fans of the theater, so the only question left is… which one are you going to visit first?