disclaimer: this post contains affiliate links, which means I may earn a small commission (at no extra cost for you). Read our Terms and conditions for more details.
Jaipur is, without a doubt, one of the famous cities to visit in India. Allso known as the Pink City, Jaipur is packed with wonderful attractions that will mesmerize each visitor. Read this insider's guide to Jaipur, India to discover the best things to do in Jaipur, the Pink City, off the beaten path things to do in Jaipur, where to eat in Jaipur, where to stay in Jaipur, and valuable tips for Jaipur from Anjali from Travel Melodies. This guide is part of the free travel guides series on this blog.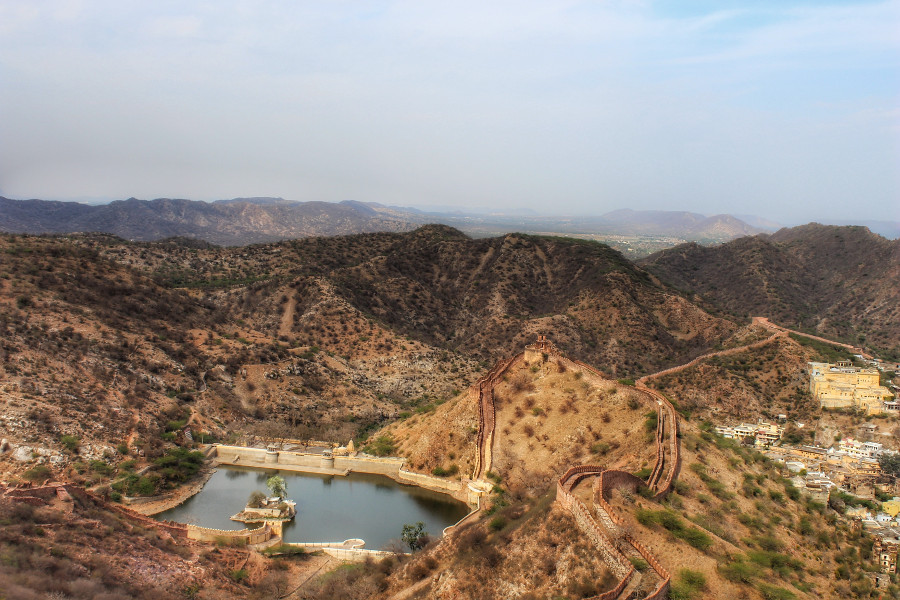 An insider's guide to Jaipur, India: top 20+ things to do in Jaipur
Jaipur is one of the most fabled cities in India and thus, is on the top of the Indian traveler's as well as International traveler's list when they visit India. Foreigners visit Jaipur mostly as a part of famous Golden Triangle tourist circle – Agra, Delhi, and Jaipur.
Named after its founder Maharaja Sawai Jai Singh II, Jaipur is fondly called as the Pink City. The Prince of Wales was welcomed by painting the entire city pink in 1876 and since then it's called the Pink City.
It's also known to be the first planned city of India. Vidhyadhar Bhattacharya planned Jaipur keeping in mind the elements of Shilpa Shastra (the science of art and craft) and Vastu Shastra (the science of Indian architecture.)
One of the most beautiful gardens in Jaipur is named Vidyadhar Garden in the memory of the primary architect and designer of Jaipur, Vidyadhar Bhattacharya.
For the quintessential and royal Rajasthani experience, Jaipur is an ideal destination. With so much to do and see, the city can be however overwhelming for the first-timers.
Here's a guide to make the most of your visit to the city of Royals.Use this travel guide to Jaipur when planning your trip to Jaipur.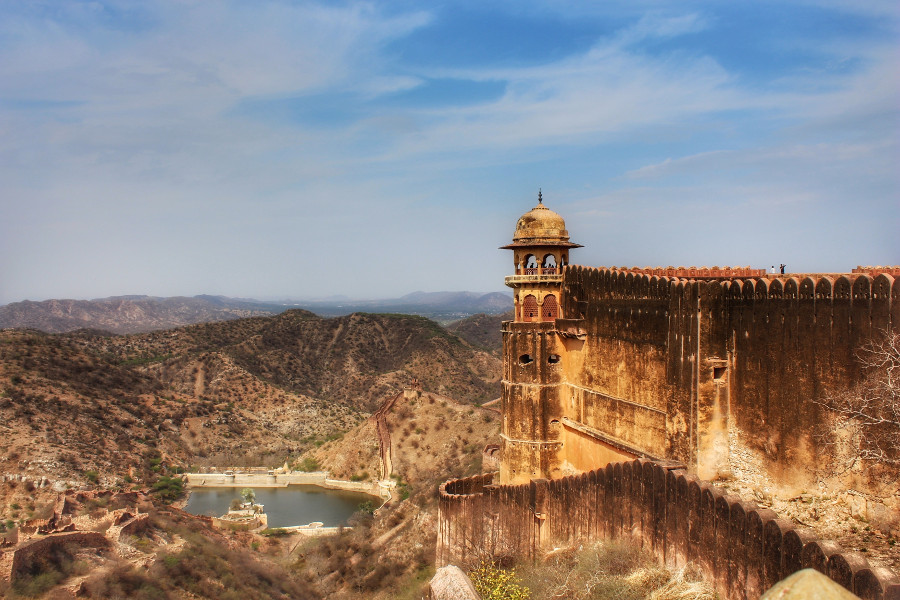 When to visit Jaipur
I'm starting this guide with a few tips for Jaipur. Winter (October to March) is the best time to visit Jaipur.
If you are a writer, literature and/or art lover, I'd recommend you to visit the town in January when one of the worlds' most acclaimed literary festival – Jaipur Literature Festival is held. Plus January is the pitch-perfect time of the year to visit the royal capital of Rajasthan.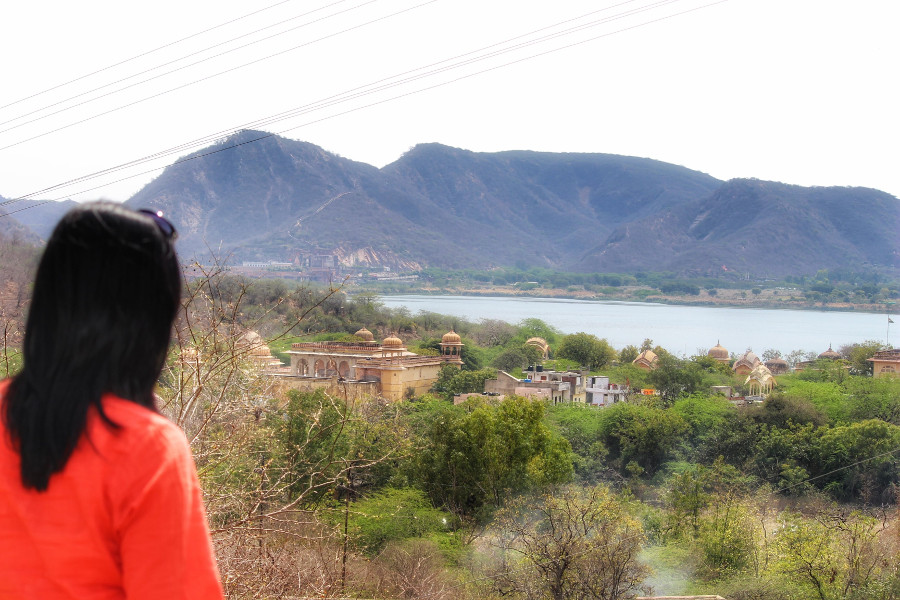 Top Attractions in Jaipur
Here's a list of the top ten famous tourist attractions in Jaipur. In fact, there are more listed, as Jaipur has a lot to offer to its visitors.
Amber Fort (Amer): Beautifully settled on a hilltop, this 200 years old fort is located in Amber Town, 15 km (9 miles) from the center of Jaipur. Amber was the original capital of Rajasthan before Maharaja Sawai Jai Singh II made City Palace his abode. Amber Fort's charm and splendor are irrefutable.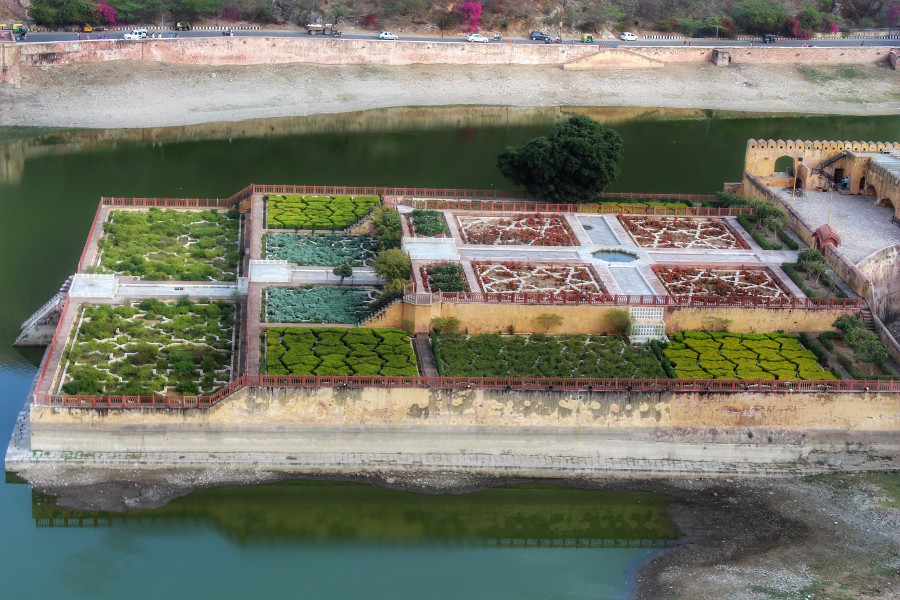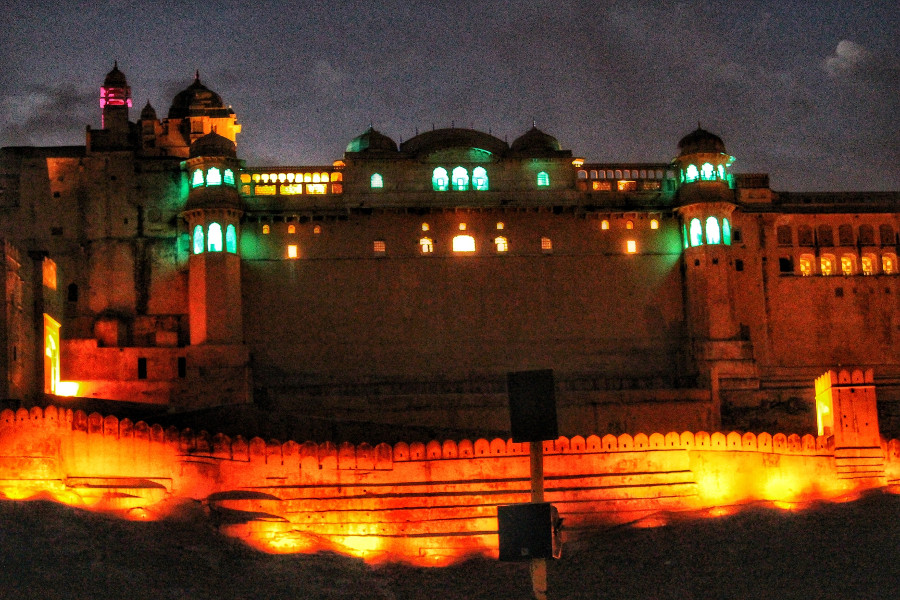 Jaigarh Fort (Fort of Victory): The fort lacks the charm and intricacies of the architecture found in other forts/palaces in Jaipur because it was built to protect the city of Jaipur from invaders. World's largest cannon on the wheel called Jaivana is displayed in the fort.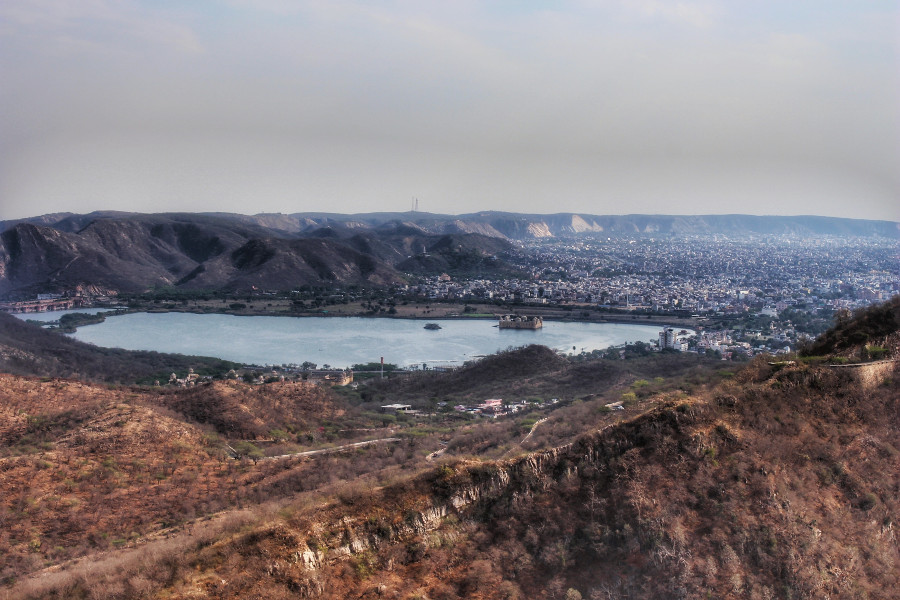 The most astonishing feature here is an 18th-century undercover path that connects Amber Fort and Jaigarh Fort which was constructed for the royal family to escape unharmed in case of an attack.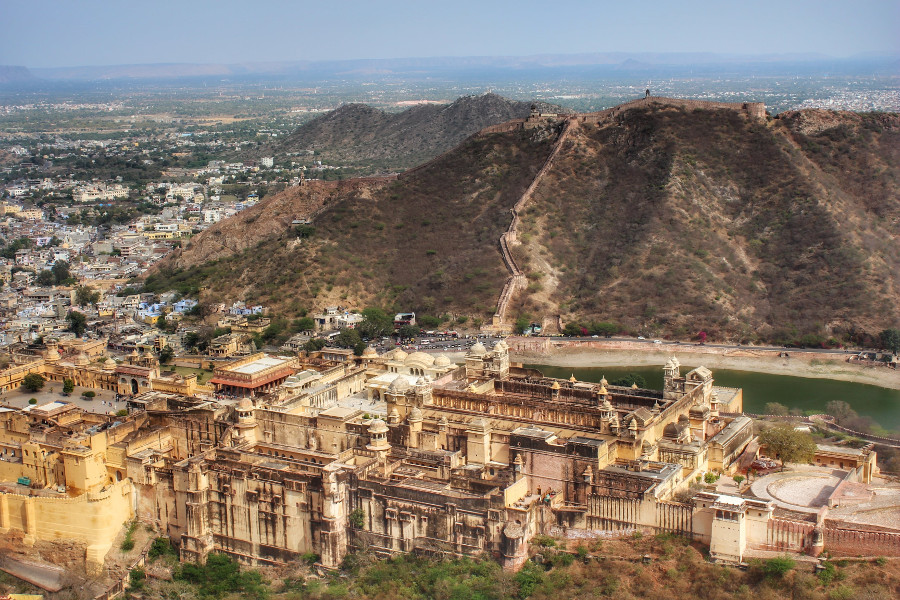 Nahargarh Fort (Abode of Tigers): The beautifully designed terrace, secret passageway from King's bedroom to nine queens' bedrooms makes it worth visiting. The amphitheatre at Nahargarh Fort attracts more tourists after the shooting of the Bollywood movie 'Rang De Basanti' here.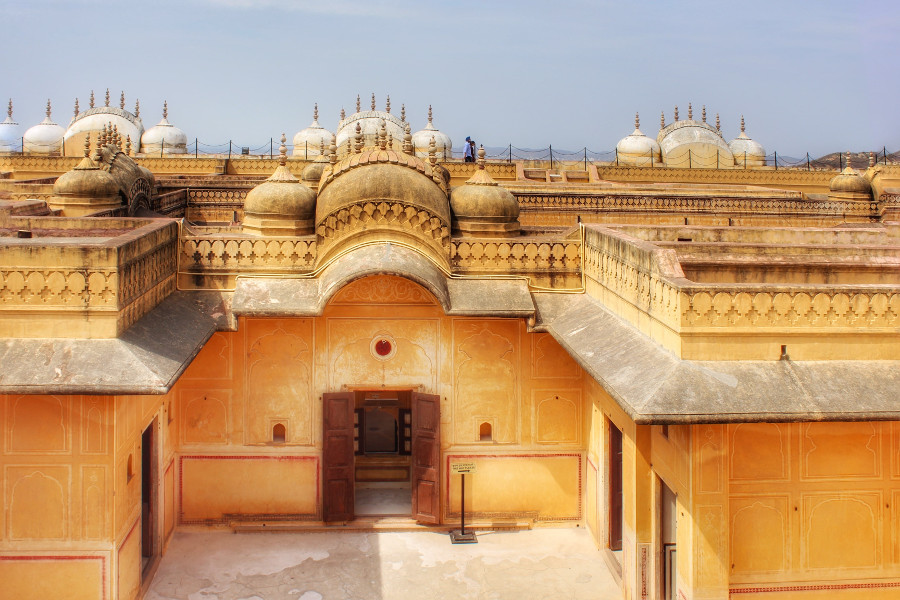 Hawa Mahal (Palace of Winds): Jaipur's most iconic landmark, Hawa Mahal looks beautiful with its honeycomb facade and latticed artwork. This pink sandstone fortress was built as a viewpoint for the royal ladies.
City Palace – The part of the palace is home to the royal family of Jaipur, however, some of the parts of the palace complex viz. Mubarak Mahal, Chandra Mahal, Pritam Niwas Chowk are open for public viewing.
The beautiful four gates representing four seasons at Pritam Niwas Chowk are the high point of the palace.
Jantar Mantar – Maharaja Sawai Jai Singh II constructed five astronomical observatories called Jantar Mantar throughout India, the one in Jaipur is the largest of all.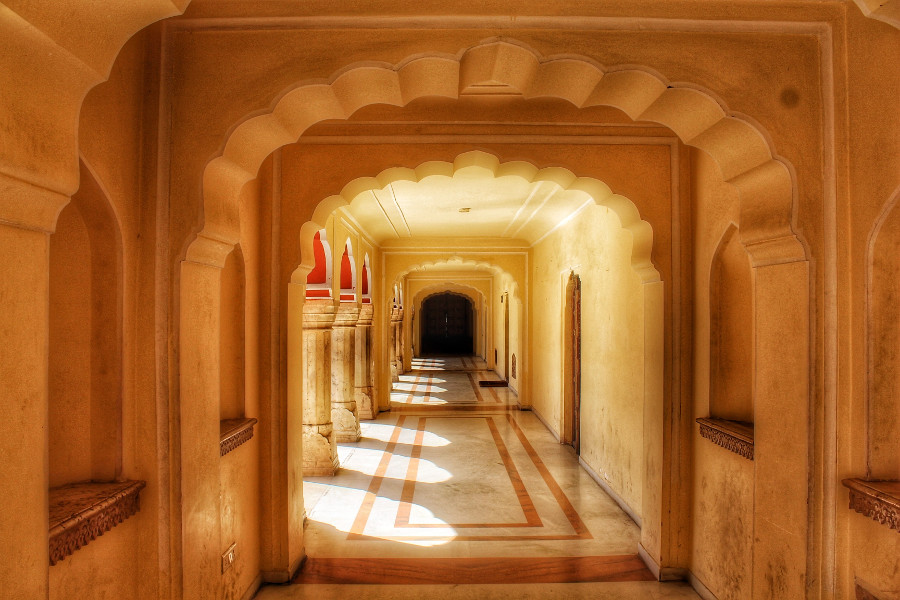 Rajmandir Cinema – Whether you are a Bollywood fan or not, watching a Bollywood flick in the oldest movie theatre in Jaipur is must for its style, royalty, and vintage appeal. "It's not a cinema, it's a tourist attraction" quoted B.R.Chopra, late Bollywood movie director.
Galtaji Temple (Monkey Temple): It's a prehistoric Hindu religious site. The temple has many natural freshwater springs and holy kunds. It's also a home to the clan of monkeys that never fail to entertain devotees.
Other places on the best things to do in Jaipur list are Jal Mahal, Birla Mandir, Rambagh Palace, Govind Dev Ji Temple, Ram Niwas Garden, Panna Meena ka Kund, Royal Gaitor Tumbas, Sisodia Rani Garden, Kanak Vrindavan, Moti Dungri Ganesh Temple, Man Sagar Lake and the list continues…Phew!
Alice Garg National Seashell Museum, Jhalana Nature Park, Snow Planet, Elefantastic ARE Some kids-friendly attractions in Jaipur.
Jaipur Off the Beaten Path
The top 20 things to do in Jaipur list is completed by the off the beaten path things to see in Jaipur, The Pink City.
Chand Baori: Around 96 km (60 miles) from Jaipur, a small village of Abhaneri hides the ancient and one of the world's largest step wells – Chand Baori. Its mind-boggling geometric architecture is sure to stun you.
Bhangarh Fort: One of the most haunted places in the world, Bhangarh Fort is 86 km (54 miles) from Jaipur. The fort intrigues and scares at the same time.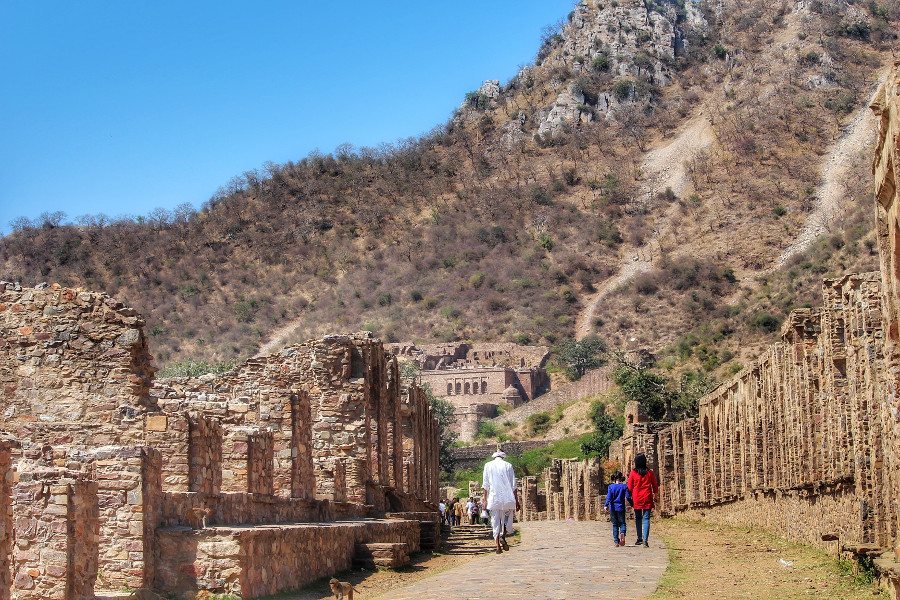 Sambhar Lake or Shakambhari Lake: The largest saltwater lake in India is located 85 km (53 miles) from Jaipur. Its home to many species of birds and has a couple of ancient sites around it.
Unique Experiences In Jaipur
Visit Amber Fort early in the morning to enjoy the sight of elephants bathing and playing.
Take an elephant ride on the on the way to Amber fort and feel like a royal.
Enjoy the local women performing Kalbelia and Ghoomar dance forms of Rajasthan. Join them for more fun.
Watch as the musician plays iktara (traditional music instrument) outside Amber Fort.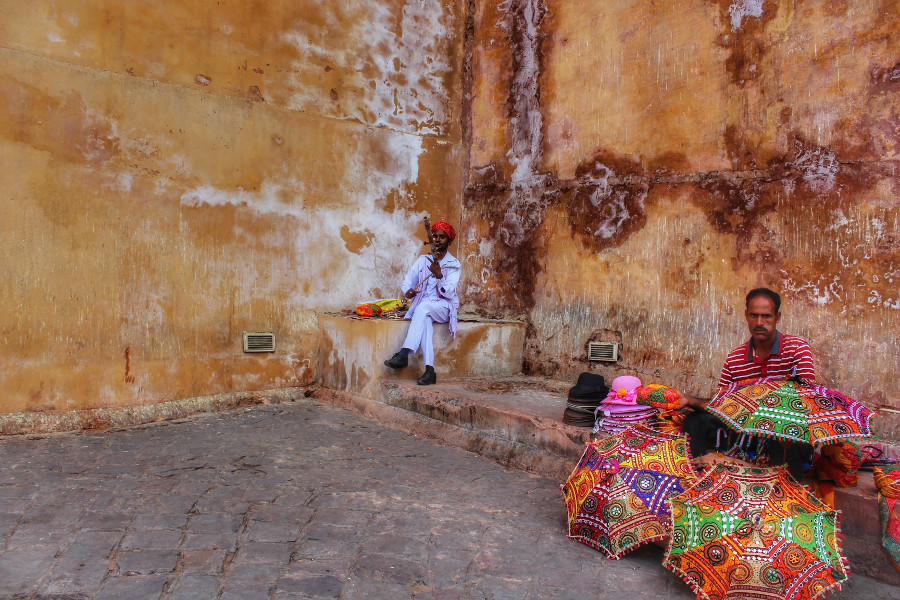 Camp at Sambhar Lake under the starry sky.
If you happen to visit Jaipur in March, don't miss the unique Jaipur Elephant Festival which is held on the day of Holi. The riot of colors, royalty, and magnificence bedazzle one to no end.
Visit City Palace at night for an offbeat experience. Yes! You can witness the Sculpture Lumière Show (first time ever in India) created by the world-renowned French Sculpture Lumière Artist – Patrick Rimoux. Introductory narrative by Amitabh Bachchan adds to the charm.
Try your hand at block printing at Anokhi Museum of Hand Printing in Amber and meet the local artisans practicing this beautiful art.
Hike around Amber Fort during the golden hours for breathtaking views from the top.
Witness the light and sound show at Amber Fort to know the history in a beautiful and spellbinding way.
What to eat and Where to eat in Jaipur
When hunger pangs strike after the tiredness from all the exploration, dig into pure Rajasthani cuisine at some of the famous food outlets in Jaipur. Here are my recommendations of what to eat in Jaipur and where to eat in Jaipur.
Laxmi Mishthan Bhandar (Johri Bazaar)
Try their ker sangri (combo of desert berry and desert bean) and ghevar (disc-shaped cake made with all-purpose flour and soaked in sugar syrup)
Handi Restaurant (Mirza Ismail Road)
Relish Rajasthan's famous Laal Maas (spicy mutton curry) with Bajra roti.
Rawat Misthan Bhandar and Restaurant (Sindhi Camp)
Trip to Jaipur is incomplete if you haven't tasted super delicious Rawat's pyaaz ki kachori (a fried pastry filled with a spicy onion filling.)
Samrat Restaurant (Choura Rasta)
It's famous for the best samosas (triangular golden-fried pastry, filled with spiced mash potatoes, onions, peas, and lentils) in the town.
Peacock Rooftop Restaurant
It's a lovely terrace restaurant that's a complete visual and gastronomical delight. Highly Recommended
Anokhi Cafe
They serve the best organic food in the city. Do spend some time here when you visit Anokhi Museum.
Niros (Mirza Ismail Road)
Located on the prime street of Jaipur is one of the most iconic restaurants in India and the first multi-cuisine restaurant in Jaipur. It's not only famous among the Jaipurites and foreigners but is a preferred place to dine amongst celebrities too. Do get a taste of it!
Chokhi Dhani (12 Miles Tonk Road)
If you crave to have pure Rajasthani cuisine in pure Rajasthani style then head to this little ethnic village at the outskirts of Jaipur.
Caffé Palladio Jaipur (Rambagh)
Need a moment between exploring the temples and forts? Sit and relax at cozy cafe from the creators of Bar Palladio Jaipur while you sip on some coffee. Its interiors are as heartening as its food.
Mahaveer Rabri Bhandar's (Chandpole Bazaar)
How can you not try Mahaveer's famous rabri (condensed-milk-based sweet dish?)
Pandit Kulfi (Hawa Mahal Market)
I swear you'll guzzle down their delicious Kesar Pista Badam Kulfi (Ice-cream.)
Baradari (Jaleb Chowk, City Palace)
Dine at this restaurant inside City Palace after you've enjoyed the Sculpture Lumière Show at City Palace. The place showcases the beautiful blend of traditional and contemporary architecture and design.
Sahu Chai Wala (Chaura Rasta)
Are you a tea-lover like me? Wake up early to relish Sahu ki Chai. It's one of the oldest tea stalls in the town.
Where to Stay in Jaipur
Jaipur is jam-packed with hotels/hostels/homestays across budgets. It has to be. Of course, it's the most visited cities of India. So here are the best hotels in Jaipur, and the best hotels in Jaipur. Resorts in Jaipur are also included.
The Moustache, Blue Beds, Hoztel, Zostel, and Doodle Rack are perfect for students, solo-travelers and budget travelers.
Samode Haveli, 28 Kothi, Shahpura House, and Pearl Palace Heritage are some great options for family travelers.
Rambagh Palace and The Tree House Resort are perfect for travelers who choose luxury over anything.
What to Buy and Where to Shop
Next in this insider's guide to Jaipur, India, here's a list with the top shopping places in Jaipur.
Top Markets of Jaipur, The Pink City
Hoard bandhani saris and dupattas; snugly cotton Jaipuri quilts; beautiful Mandala tapestries, colorful turbans, and colorful mojaris or joothis at vibrant and humming markets like Bapu Bazaar, Johri Bazaar, and Tripolia Bazaar.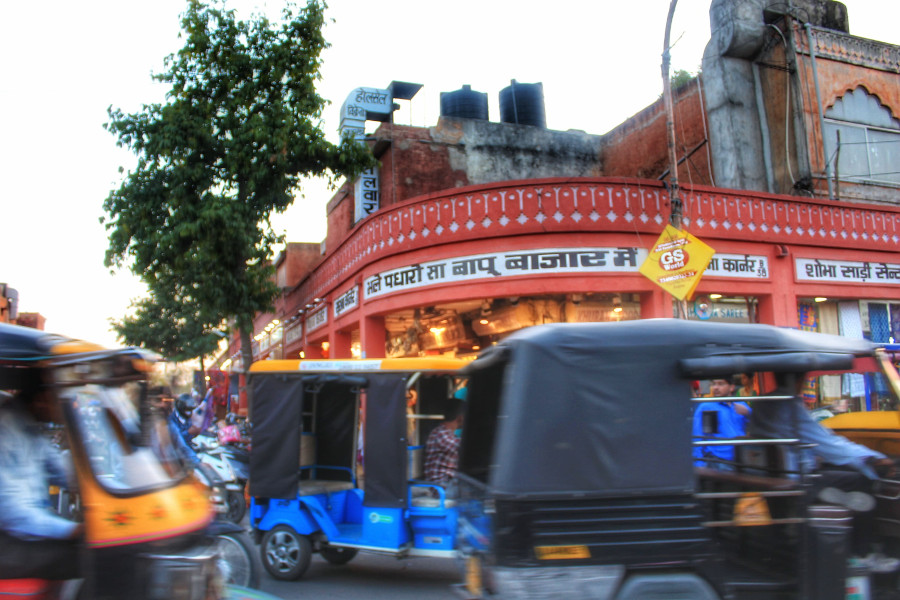 Anokhi Museum Shop
The shop houses handcrafted and limited addition textiles, jewellery and books. You can also get souvenirs like key chains from here.
Kripal Kumbh
This tiny pottery studio is famous for authentic blue pottery. I've heard that one can even enroll for the blue pottery class here to learn this art.
The Gem Palace
India's oldest jewelry house is a perfect destination to buy artistic and gemstone jewelry.
Maniharon ka raasta (Lane of glitter)
The place is spattered with myriad lacquer bangles shops. Muslim Maniharo women make and sell lovely colorful lac bangles in these narrow lanes.
A shopaholic or not, ambling in the vibrant markets and streets of Jaipur is a treat in itself!
Getting There
There are regular flights to Jaipur from major cities across India. Jaipur is also well connected by road, so bus, taxi, and car are great options because nothing beats the road journey.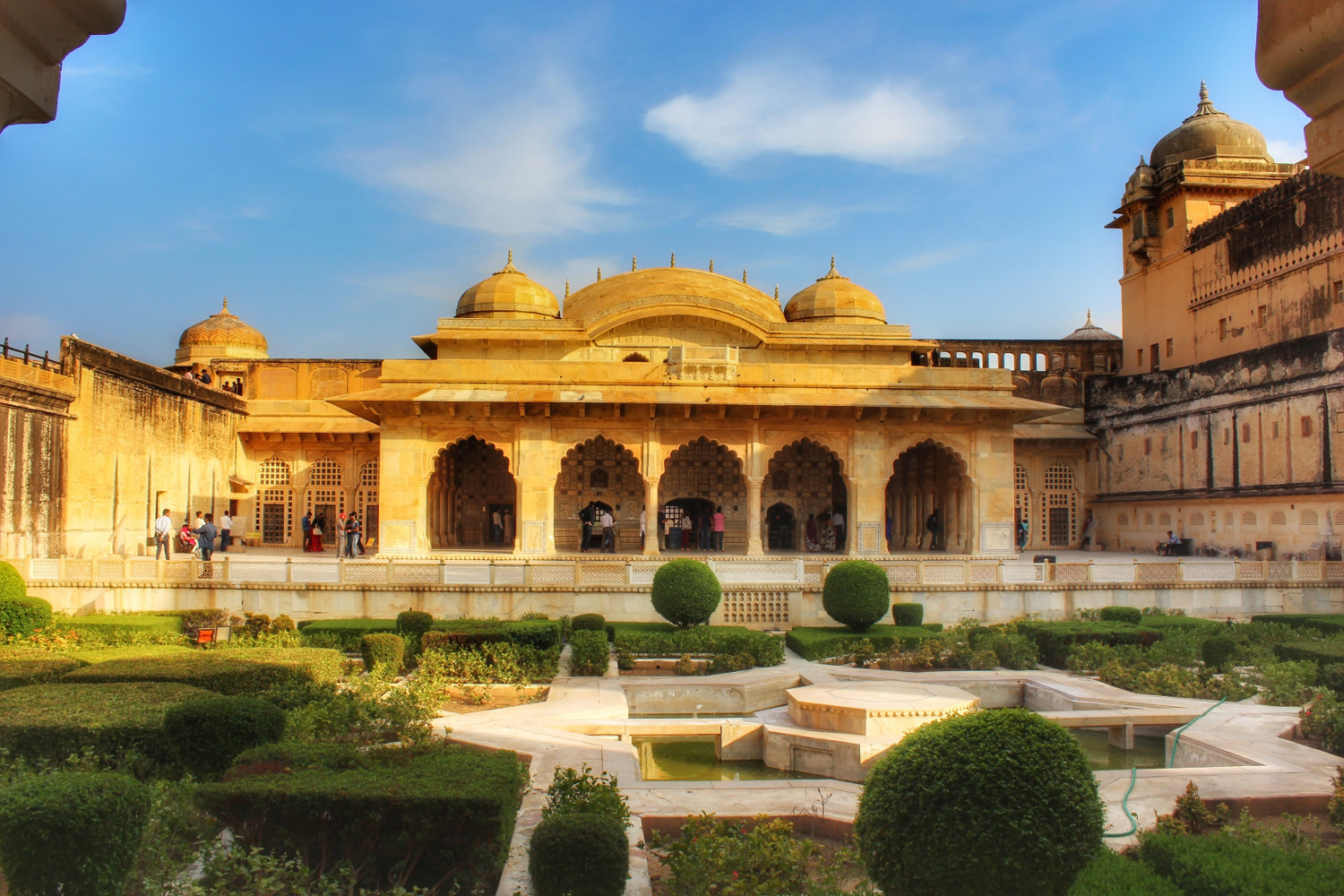 Getting around
Walking is the finest way to explore the city. Rickshaws and autos can be hired for longer distances. It's wise to discuss the fare beforehand to avoid the hitch. Jaipur Metro presently operates about 9.6 km track (Pink Line) from Mansarovar through Civil Lines to Chandpole.
Insider Tips for Jaipur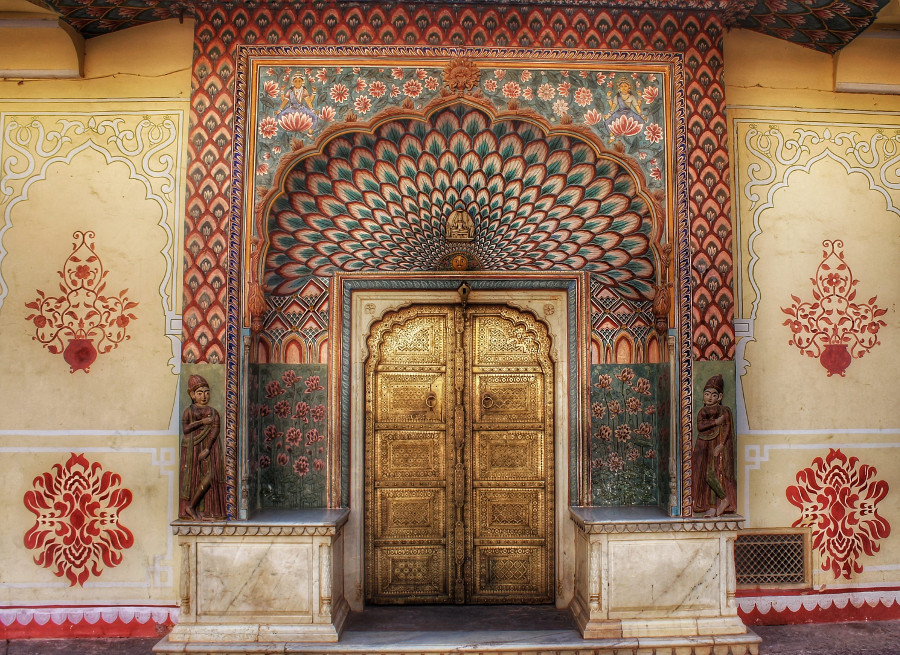 Beware of buying goods at a shop inside Jaigarh fort even if a guide insists because you'll end up paying above the odds.
Take a physical guide at Jantar Mantar; audio tour fails to explain the complexities of the instruments.
The most convenient way to travel the city is by local rickshaw, auto or taxi. It's advisable to hire transport for a day as it saves a lot of money and exhaustion.
Be cautious while buying jewelry or gemstones as fake jewelry and gem scams are common here. Please shop at trusted outlets only.
Pack lightweight cotton clothes, sunscreen, sunglasses, sunhat and mosquito repellent, and floaters for summer.
Pack a warm jacket, a good pair of walking shoes for winter.
Useful guides and products for Jaipur

About the author – Anjali Chawla
Anjali is a blogger and freelance writer based in Delhi. She left her corporate job to see what having life exactly feels like and never looked back. Her 9-year-old daughter is her best travel buddy. Anjali loves mountains, vibrant doors, blue skies, sunsets and cobblestone streets. Her goal is to travel to all the seven continents with her family. Antarctica remains her dream destination. She blogs at Travel Melodies. Follow her on Facebook, Twitter, Instagram, and Pinterest.