Tampa is a city that will surprise you in a nice way with great places to see! Read this local's guide to Tampa to discover the best attractions in Tampa, off the beaten path things to do in Tampa, where to eat in Tampa and where to stay in Tampa, and valuable tips for Tampa from Jamie from Crashed Culture. This guide is part of the free travel guides series on this blog.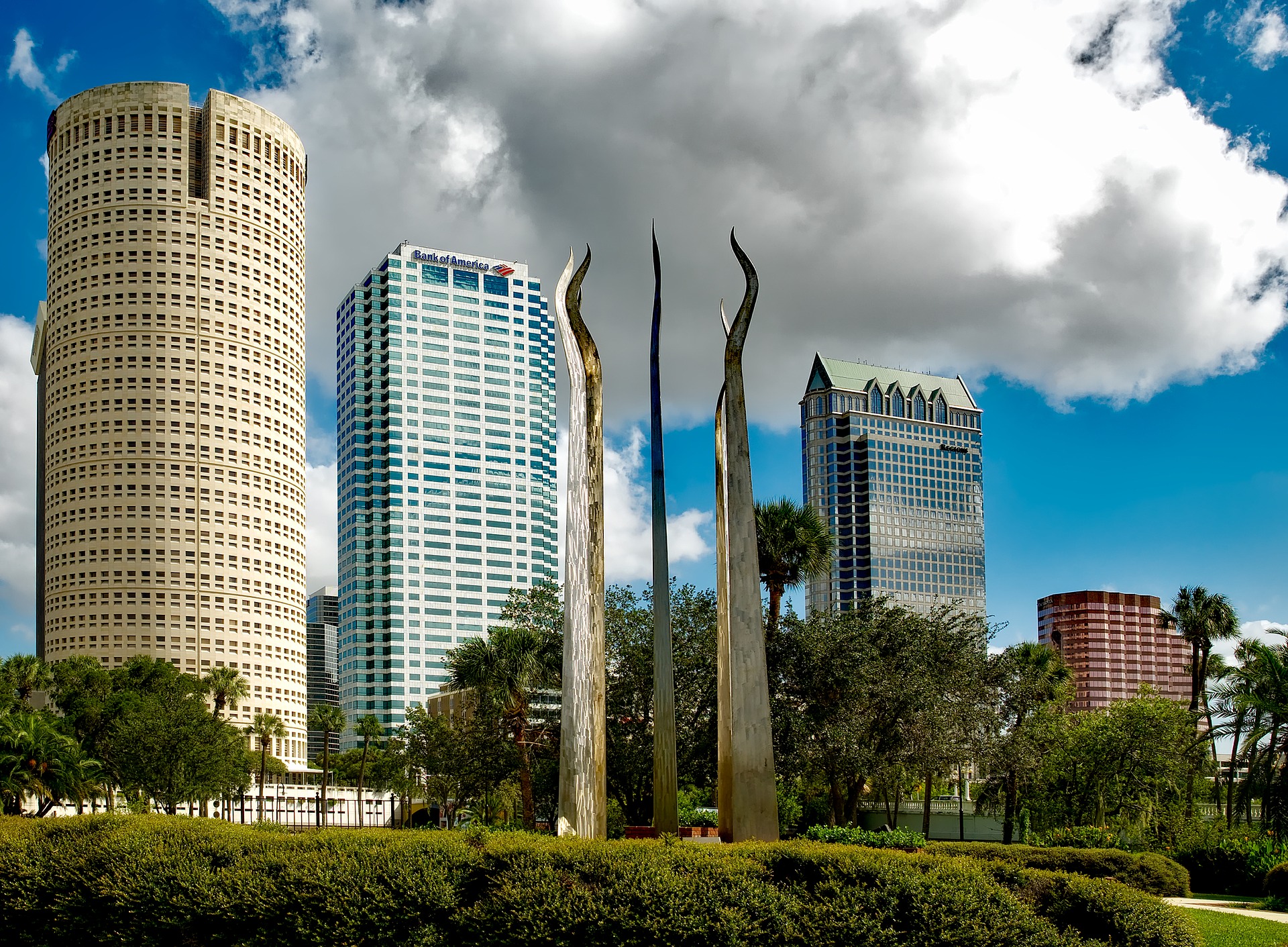 A local's guide to Tampa
Welcome to Tampa! Lesser-known compared to Orlando but still a happenin' city, there's lots of life to see and things to do around here. Home to a large variety of different cultures, two "downtown" areas, and two major universities, don't make the mistake of just passing by. Tampa's a great place for a day out at the park (theme or otherwise), gastronomic adventures, a tranquil walk on the water or anything you can think of. While it's still growing, Tampa is vastly underrated – you won't get bored! This insider's guide to Tampa will help you plan your trip and make the most of your visit to this city.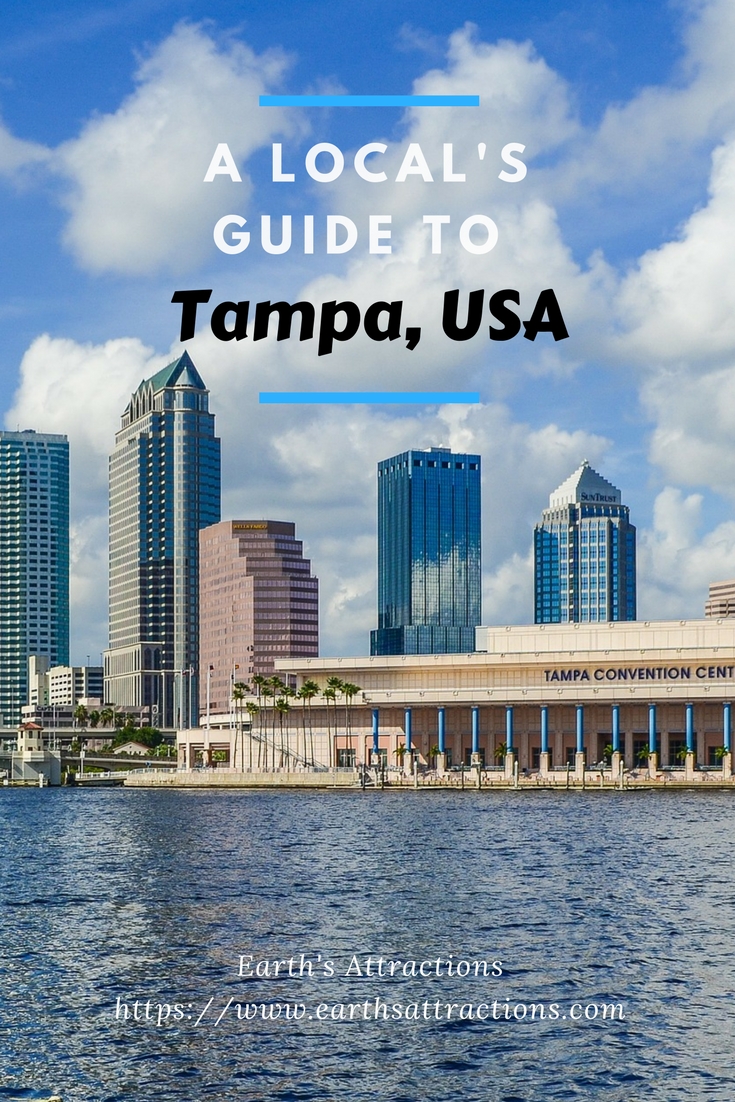 Top Attractions in Tampa
Busch Gardens
Busch Gardens is the most obvious, so let's get it out first. This is Tampa's theme park that's fairly well-known, though it pales compared to Disney World just an hour away. Just as you'd think, Busch Gardens is a local favorite, and it's not uncommon for Tampa locals to hold annual passes so they can visit the rides every once in a while. It's not quite as full-blown as Disney, and you won't see nearly as much paraphernalia, but that doesn't mean it's not worth a visit!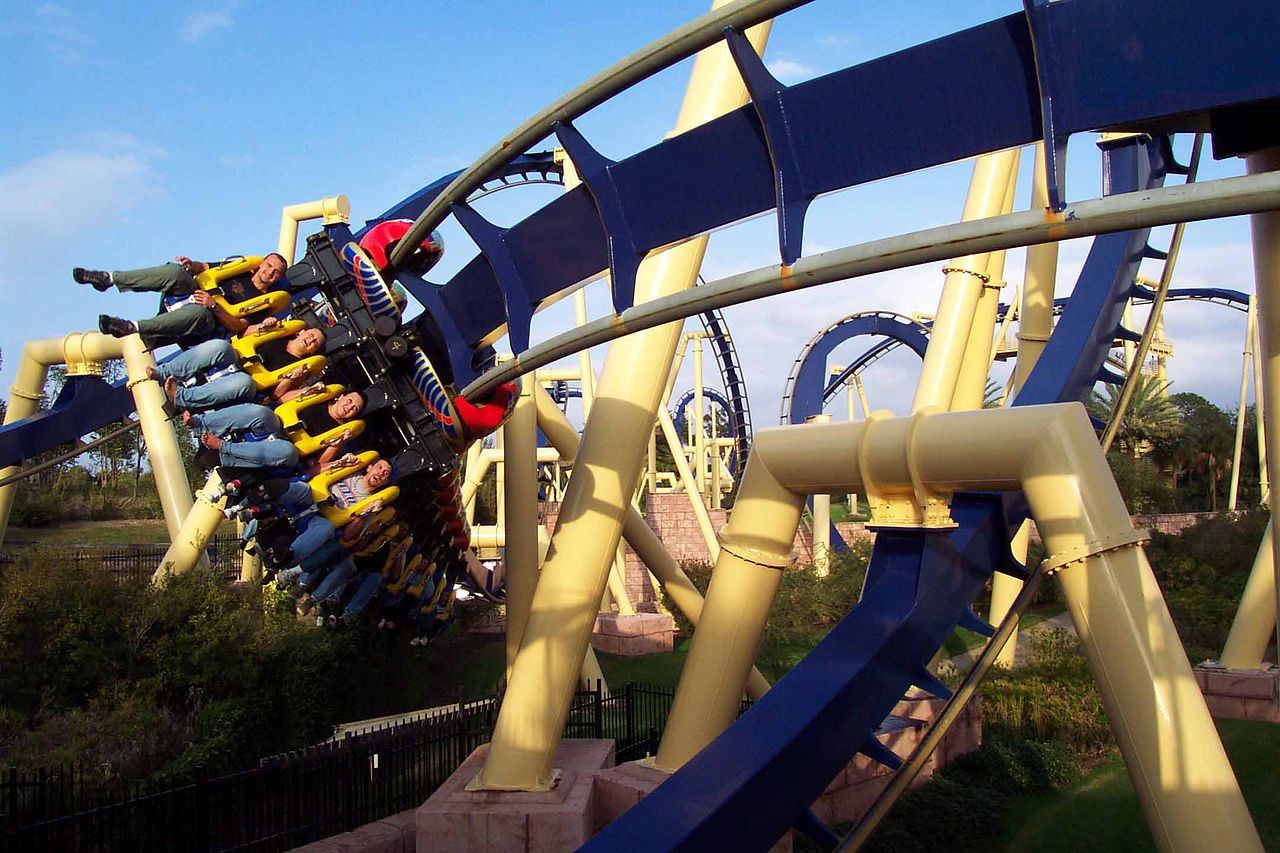 Riverwalk
If you're looking for a tranquil stroll on the river, Riverwalk is the place for you. Just recently expanded to cover almost 2 miles of water and lights, it's a great place to get some fresh air, see what's going on Downtown, and maybe run into some musicians. If walking isn't your style, there are a few rentable bicycles available throughout the walk. You can spend a few hours here, and then grab some food Downtown!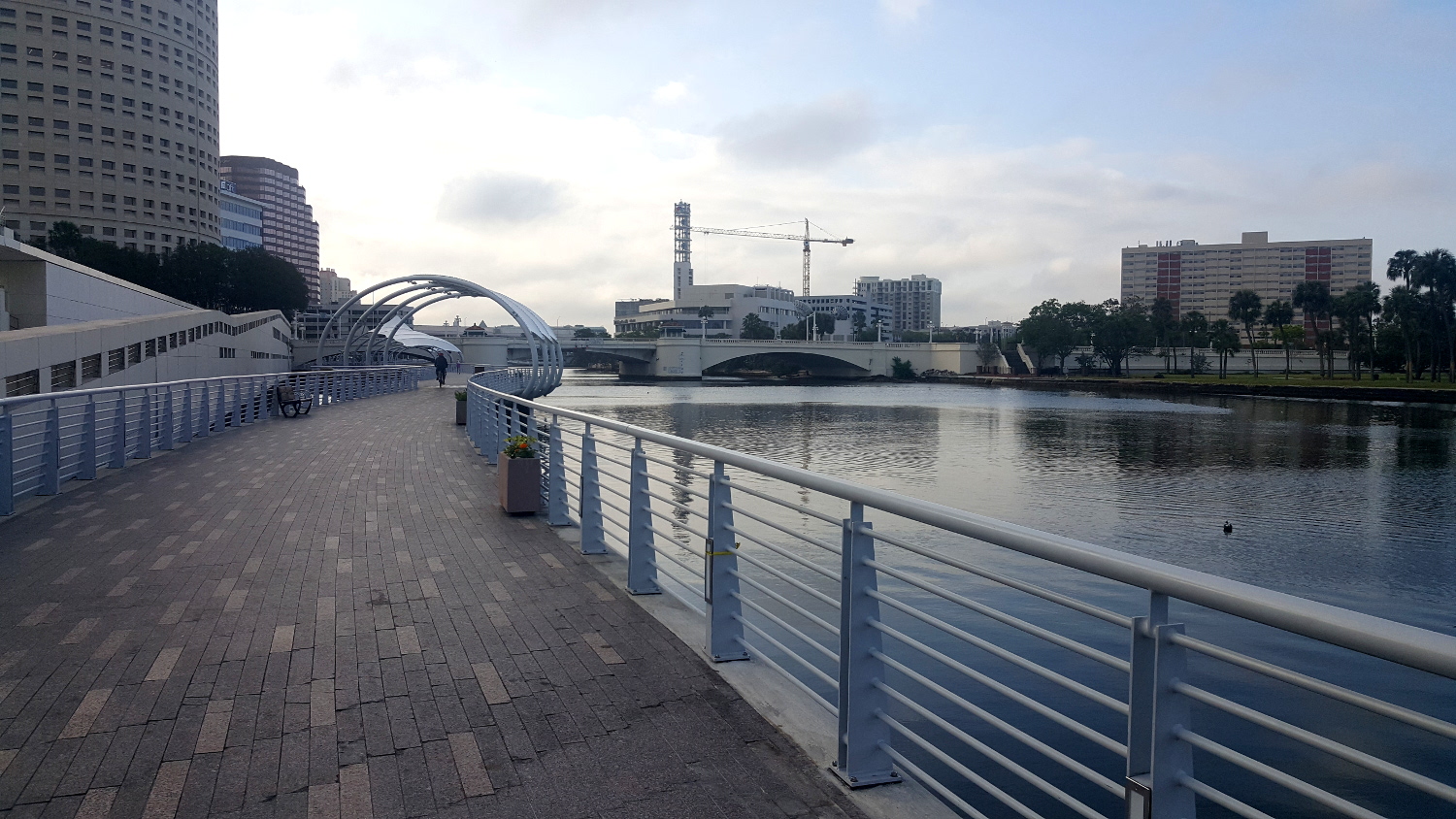 Bayshore Blvd
If Riverwalk isn't enough for you, Bayshore is even longer, at 4.5 miles long, completely outfitted with workout stations, luxury homes, and more people-watching! This is a slightly more residential area, so although it's difficult to find food or entertainment on Bayshore, it's a more private experience.
Bucs Stadium
Tampa is in America, and Americans love their football! The Buccaneers are the local football team, and you'll find some die-hard fans, mostly evidenced by the jerseys they wear. The city is also quite proud of their stadium, nested on a busy highway and decorated to the nines. While you drive around, keep an eye out for bulletin boards, bumper stickers, and flags boasting their Buc pride!
Tampa Off the beaten path
Apart from the most famous tourist attractions in Tampa, there are some wonderful off the beaten path attractions to see in Tampa. Make sure to include these on your Tampa travel itinerary as well!
Tampa Water Tower
Though Tampa might not be the oldest of cities, it is home to a landmark going-on 100 years old. The water tower was built in the 1920s, originally serving water to the upper class of Tampa. As time has gone one, the tower has been decommissioned, graffiti-d, repainted, and is now a recognized landmark owned by the city of Tampa and lit up at night. You can't miss it!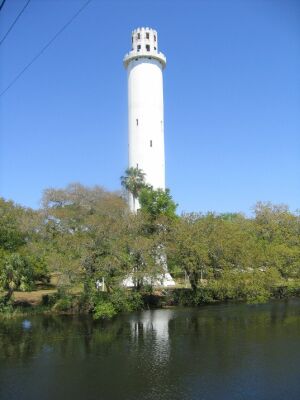 The Tampa Sign
While you're wandering around Downtown Tampa, don't hesitate to take a gander at the Tampa sign! This is a local favorite, an assuming mural that boasts the city's name. The Tampa sign makes a perfect photo op – a great moment for you to be able to say "hey, I was in Tampa!"
The Hub
Need a drink, and don't really care for atmosphere? The Hub is your spot. This is a great place to get a cheap, strong drink for those Friday nights at the end of a rough work day. It's an interesting place to people-watch, littered with the underground drinking crowd. If you just need to pound back a few drinks and not worry about your wallet, head over to the Hub.
Oxford Exchange
On the other side of the coin, the Oxford Exchange is a trendy, atmosphere-filled place full of pretty people, nice food, and a solid cup of coffee. It's usually packed with all of the prettiest people you will ever meet in your life, all enjoying the brightly-lit rooms and the fancy atmosphere. The bathrooms are so fancy, you'll be nervous about using their hand towels! No purchase required at the Oxford Exchange, so if you're wandering around the neighborhood and are interested in some nice atmosphere, stop in!
Where to Eat in Tampa
There are many nice restaurants in Tampa and for this travel guide to Tampa by a local I chose a little bit of everything.
La Teresita
Tampa is well-known for its Cuban population, and you can find it at La Teresita. This is an authentic Cuban restaurant, paired with live music and a great atmosphere. Honestly, the free buttered bread is to die for in itself, and that's not even the food you order! It's a nice big restaurant so don't worry about it filling up, but it's absolutely worth the visit. You can't go to Tampa without getting some Cuban food!
Icesmile
Icesmile is a new ice cream place located in North Tampa by USF. Unless you live in North Tampa/go to USF, you probably won't often find yourself up there, but this place is worth the extra trip. This isn't just any ice cream but rolled ice cream topped with some of your favorite toppings. You can create the rolled ice cream you want, or they have their own mixtures for you to try, all made right in front of your eyes!
Publix
Yes, Publix is a grocery store and yes, I'm serious. But not about the groceries; I'm talking about the subs. Tampa folk have learned to love their Pub subs, and once you give them a try, you'll see why. Think Subway, but not as a diluted corporation. Pick your bread, your meat, and your veggies, and be pleasantly surprised by how delicious it is!
Datz & Dough
These two restaurants go side-by-side; Datz for lunch and dinner, Dough for dessert, and both are delicious. Datz is an American restaurant, specializing in specialty sandwich and some YUMMY fries. Once you get your fill at Datz, which you absolutely will, stop by at Dough right next door for some specialty donuts. Carb-a-licious? Yes. Worth it? Absolutely!
Where to Stay in Tampa
Looking for the best accommodation options in Tampa? Here are a few ideas on where to stay in Tampa: the best hotels in Tampa.
Epicurean
First on the list is the Epicurean hotel. This hotel is within walking distance to various stores, restaurants, and entertainment, so it's perfect for those visitors without transportation. However, the hotel itself hosts so many activities, you may not even have to go into town! The hotel provides a dessert shop, spa, gym, a rooftop lounge with awesome views, a pool where they like to host pool parties, and all sorts of other things. The Epicurean is great for a staycation. Spoil yourself!
Westin Tampa
The Westin is another great choice for a tranquil stay. The room are beautiful, with great views, huge comfortable beds, nice sheets, and a mountain of high quality pillows. And although it is a higher quality hotel, it's reasonably priced to boot! If you don't want to stay in bed all day, the hotel's only a short walk from Downtown Tampa and its life, as well as one of Tampa's most expensive neighborhoods.
The Floridan
Tampa is proud of its history, and The Floridan boasts this charm. This hotel was recently reopened after being vacant for decades. If you want to stay in a restored classic hotel, this is the place for you! If you want a touch of history with your stay, come to the hotel Elvis stayed at in 1955. And, of course, you're still in Downtown Tampa, a block away from sites, activities, and restaurants.
Le Méridien
Talking about historical, we've got another classical conversation! While it's now a centrally located hotel outfitted with a restaurant, bar, and live music, Le Méridien used to be an old post office. Suffice to say, the more historically-inclined travelers will definitely be at home here.
Tips for Tampa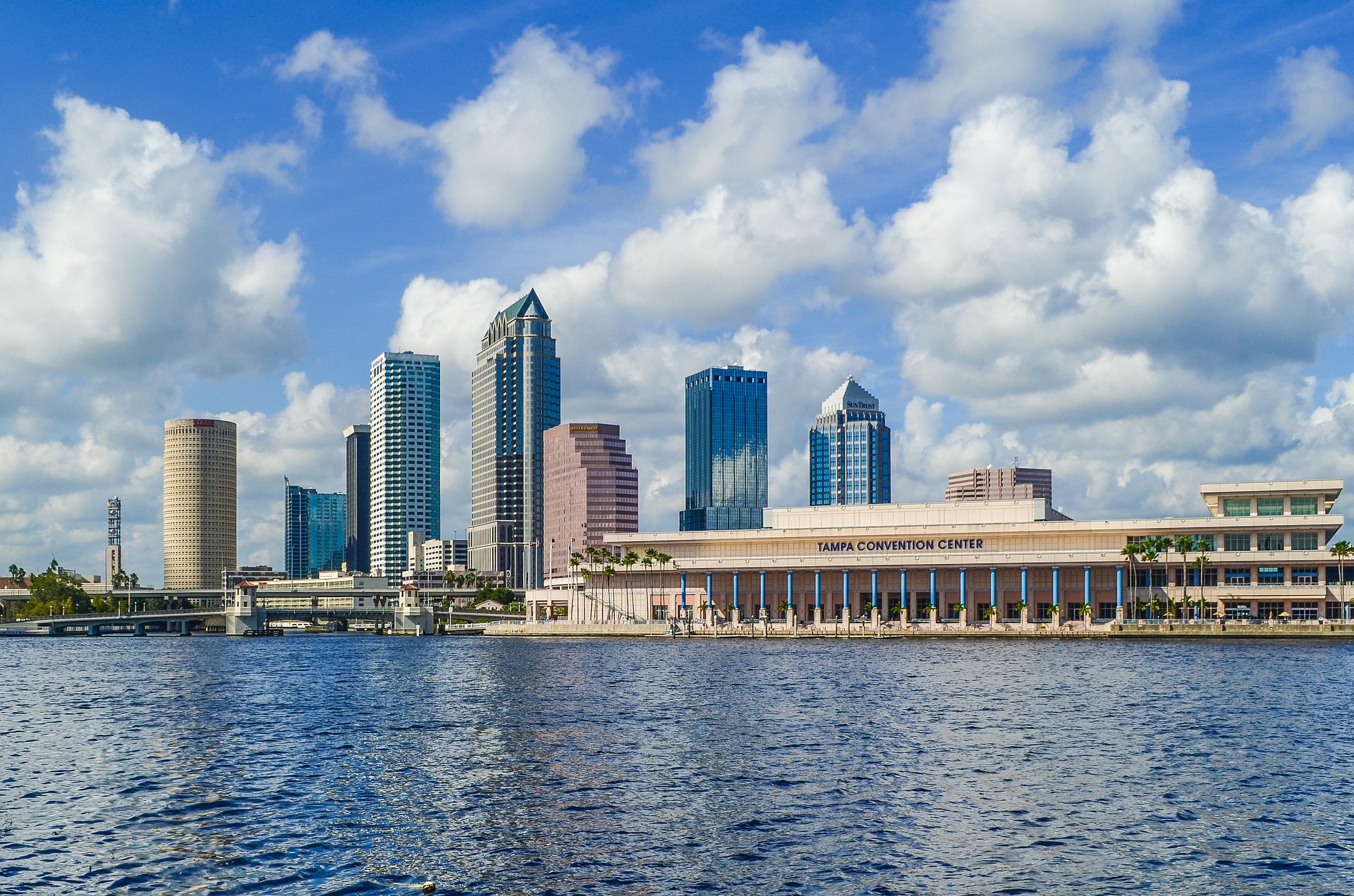 In general, the best thing you can do is hang around Downtown Tampa and Ybor City. That's where the party's at! If there's something happening, it's probably there. Both locations are also continuously growing, so you can always find something new – whether it be a newly opened restaurant, store, a festival, concert, or what have you. There's always something!
And for those of you with safety concerns, both Downtown Tampa and Ybor are fairly safe and are getting safer by the day. Of course, use common sense while you're out and about, and the farther you travel from these areas, the more likely you are to come across unfavorable situations, but stay where the people, life, and excitement are, and you needn't be worried.
About the author
Jamie is a 20-something living in Tampa, Florida. She spends her time dreaming of her next trip, working on her language learning goals, and inspiring others to do the same. Follow her travels on www.CrashedCulture.com and on social media: Facebook and Pinterest.