Planning to visit Mexico City and don't know what to do with your time? Read this insider's 5-day Mexico City itinerary and discover the best things to do in Mexico City.
As there are plenty of wonderful places to visit in Mexico City, using a pre-made itinerary will help you make the most of your trip to Mexico City.
This 5 days in Mexico City itinerary presents you the best things to see and do in Mexico City, where to eat in Mexico City, and includes numerous tips and tricks.
The recommendations are provided by Shelley from Travel Mexico Solo blog and will help you have an amazing time in Mexico City!
You can also use this five dat Mexico City itinerary to create your ultimate Mexico City bucket list for longer or shorter trips!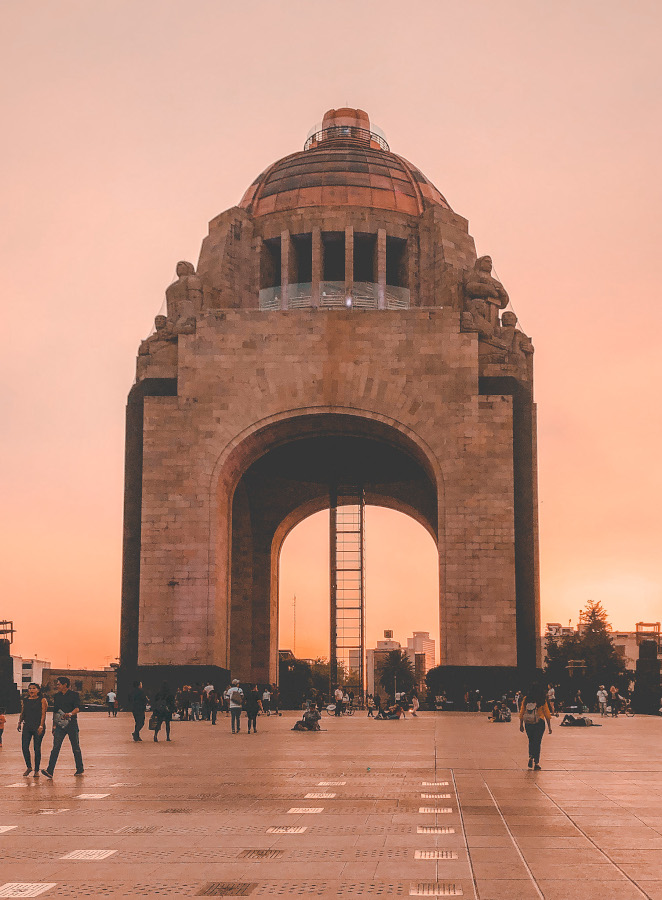 5 Days in Mexico City Itinerary: Things to do in Mexico City in 5 days
Are you headed to Mexico City? As the largest city in all of North America, a trip to Mexico City — CDMX, as it's often referred — can be intimidating.
However, it doesn't have to be… if you plan ahead, and plan strategically.
The trick to navigating Mexico City's massive size and a seemingly unlimited number of things to do and see, is to plan your trip by neighborhood.
With an astounding population of nearly nine million, Mexico City's traffic is legendary. It's also not something you want any part of!
Planning your trip by neighborhood will eliminate the amount of time you're traveling to things, and maximize your time actually traveling.
With that preface, let's look at a neighborhood-by-neighborhood guide to the ultimate five day Mexico City travel itinerary.
Planning to travel solo? As a longtime solo traveler in Mexico, you need my Mexico Solo Travel: How To Be Safe & Crush It guide!
This Mexico City 5 days itinerary includes the following:
Day 1 of the Mexico City itinerary:


Teotihuacán
San Juan Teotihuacán

Day 2 of the Mexico City itinerary:

Day 3 of the Mexico City itinerary: Zocalo/Centro Historico


Templo Mayor (Main Temple)
Catedral Metropolitana de México (Metropolitan Cathedral)
Palacio Nacional (National Palace)
Palacio Bellas Artes (Palace of Fine Arts)
Parque Alameda Central (Alameda Central Park)
Plaza Garibaldi
Barrio Chino (Chinatown)
Torre Latinoamerica (Latin American Tower)
Museums
Food

Day 4 of the Mexico City itinerary

Reforma
Chapultepec Park
Polanco

Day 5 of the Mexico City itinerary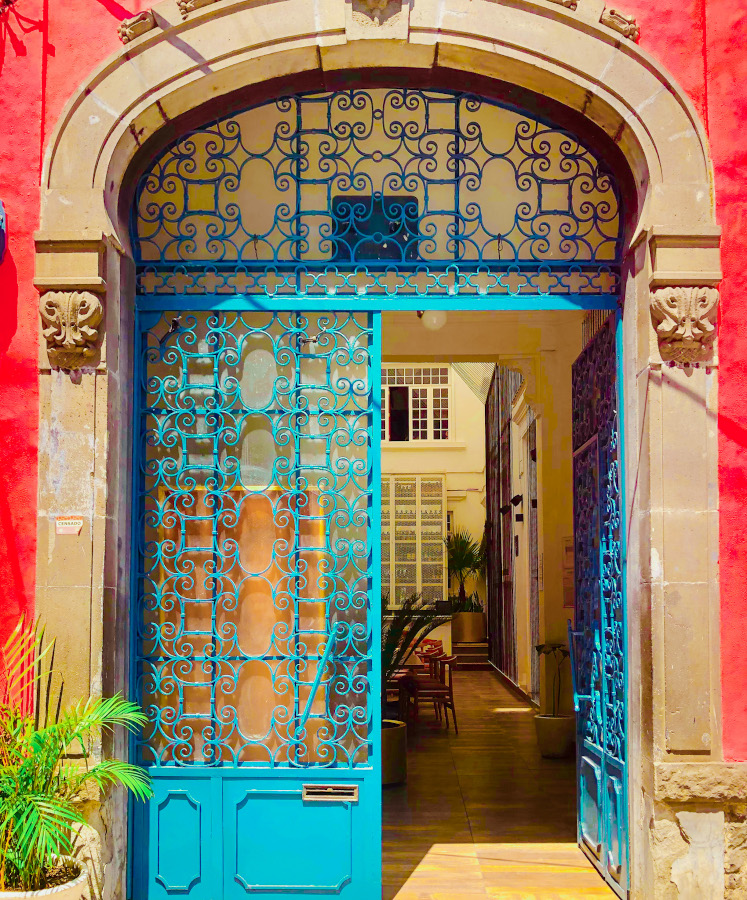 Day 1: Teotihuacan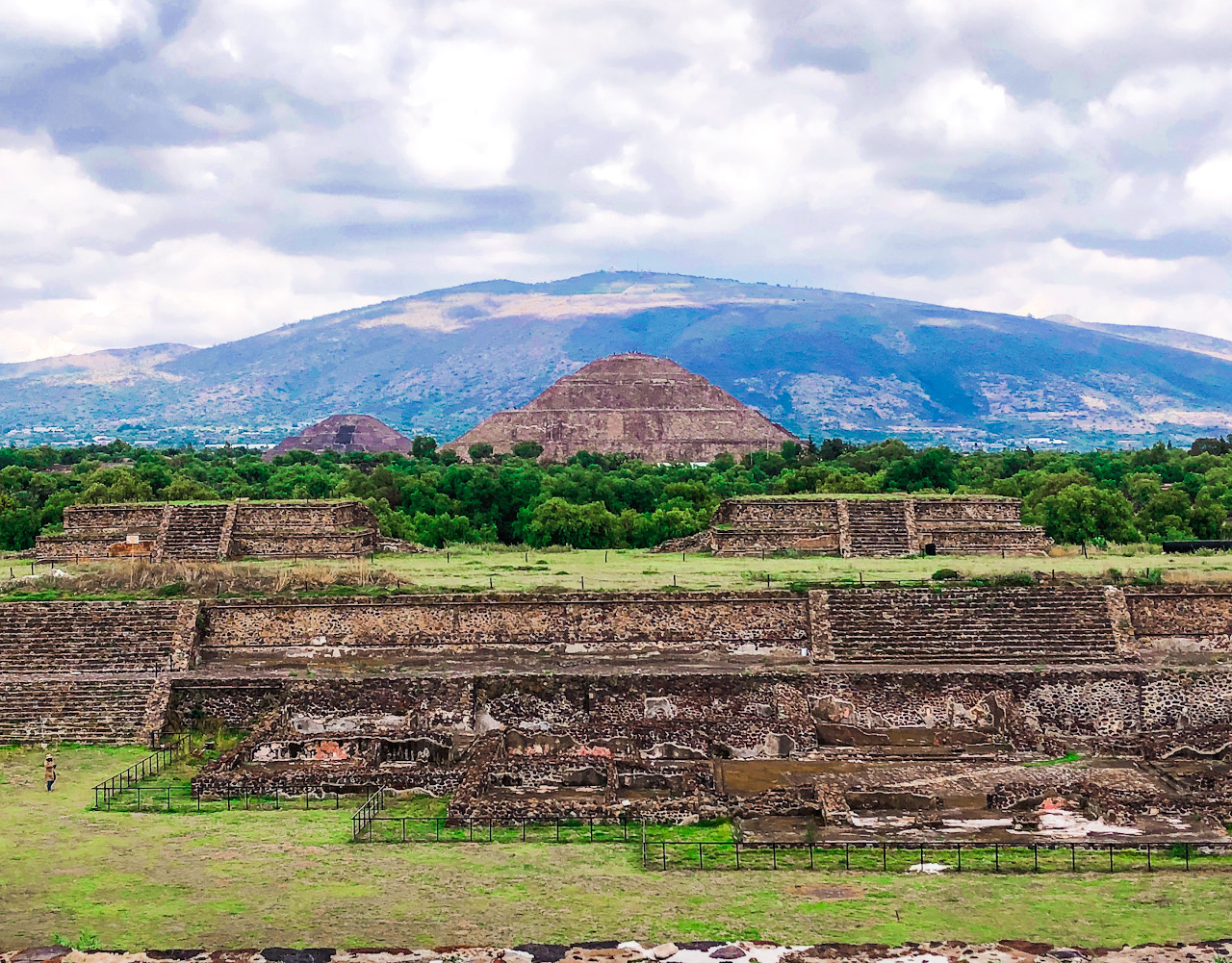 Teotihuacan is many things: a UNESCO World Heritage Site, one of Mexico's oldest and most important archeological sites, and well, magic!
Magic, as in it's located in San Juan Teotihuacán, one of the country's famed Pueblos Mágicos (Magic Towns)!
While one entire day here means you're using up quite a big chunk of your five-day itinerary, Teotihuacan really is a whole-day affair and one of the unmissable things to do near Mexico City.
Though only located about 32 miles/50km northeast of Mexico City, it can take from one to two hours to get there because of the aforementioned traffic. The smartest course of action is to get there right when it opens, which actually serves two functions.
Teotihuacan, and many of Mexico's archeological sites lack one common element — shade. Since these sites are heavily studied by archeologists and historians, all trees have been cleared, and shade is hard to come by.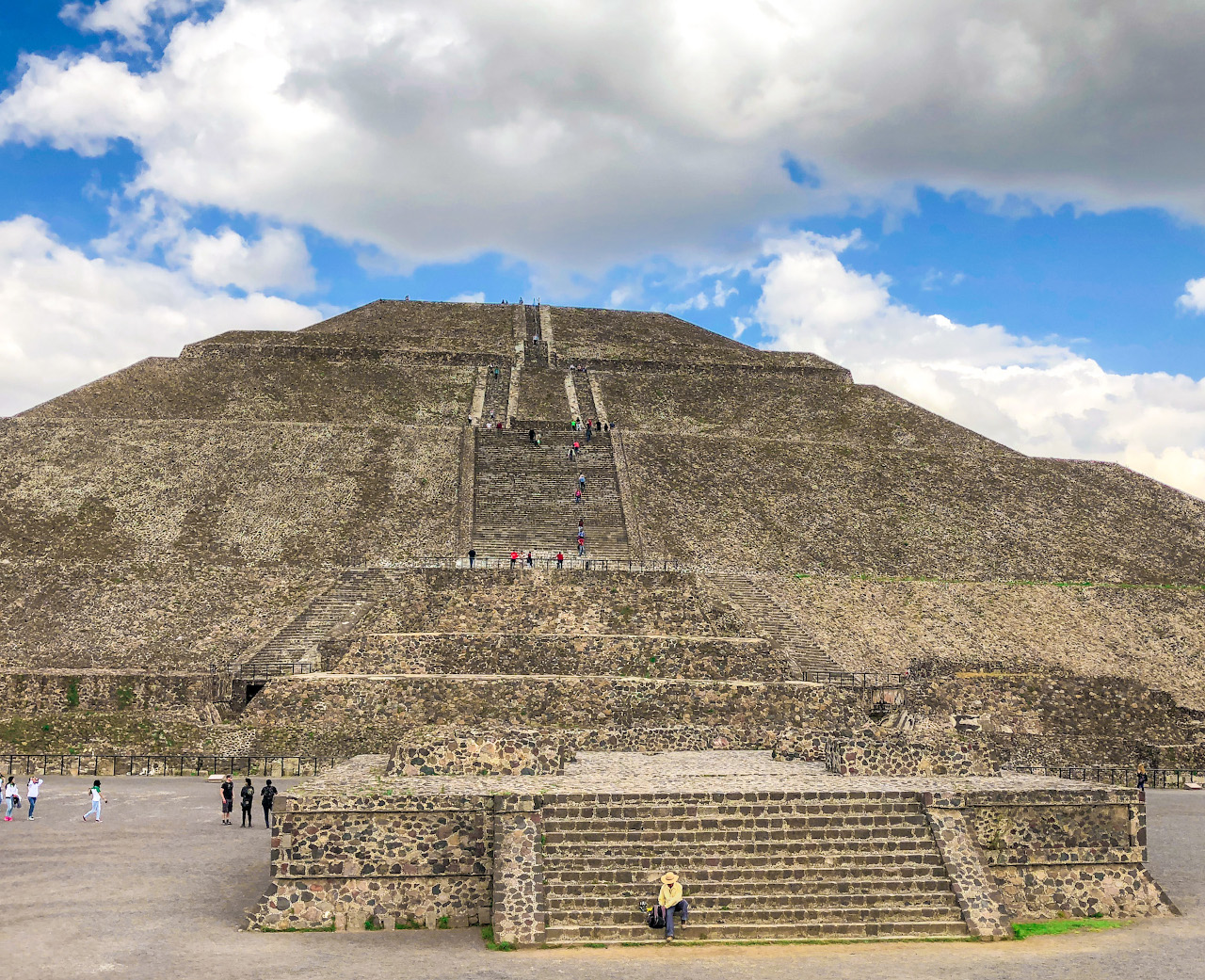 Arriving as soon as the site opens means you can explore all the outdoor spaces, including climbing all three pyramids, before the oppressive midday sun arrives.
As soon as it starts getting hot, head to the indoor Museo de Sitio Teotihuacán (Teotihuacan Museum) and semi-shaded Jardín Escultórico (Sculpture Garden).
After spending the day at Teotihuacan, explore the Pueblo Mágico of San Juan Teotihuacán a little, and then head to the nearby La Gruta (the grotto/cave) restaurant.
As the name may have clued you in to, this restaurant is actually located in a cave! La Gruta serves all the traditional Mexican favorites, as well as specialties such as escamoles, also known as "Mexican caviar."
Day 2: Coyoacan/Xochilimco
Both Coyoacan, where the Frida Kahlo Museum is located, and Xochilimco, where you'll find Mexico City's brightly-colored boats and ancient Aztec canals, are located in the south part of the city and they are some of the best things to do in Mexico City.
Some people prefer to head to the Xochilimco first, while some like the more festive atmosphere that comes alive when the sun goes down. I'll leave that choice to you! However, Xochilimco and Coyoacan are relatively close to one another and make a great one-day combo.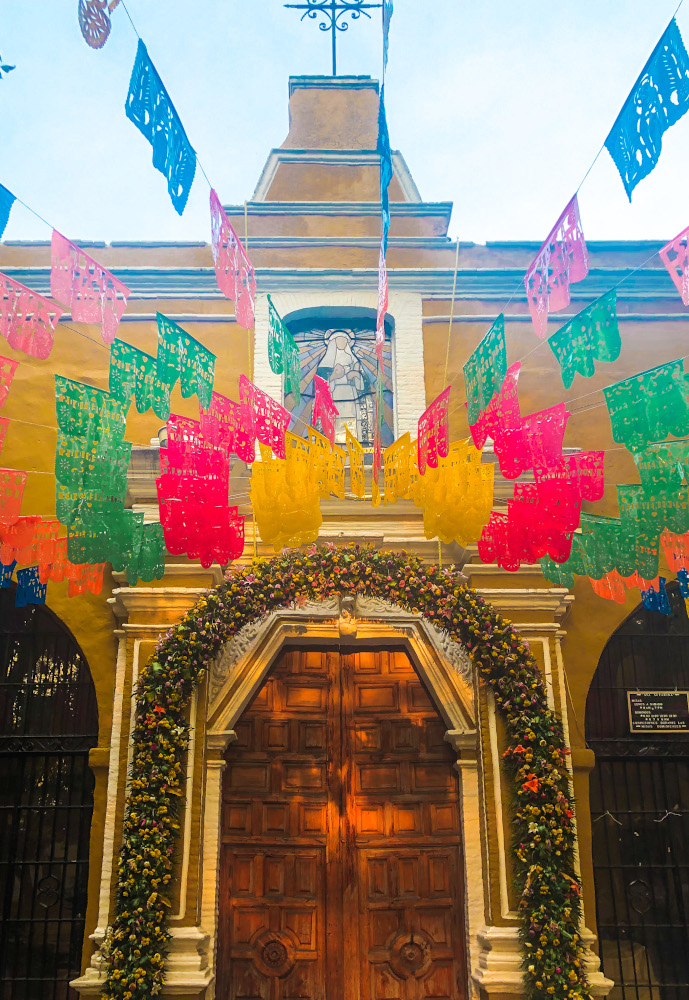 Located in southern Mexico City, Coyoacan is a colorful and beautiful neighborhood. It is home to one of Mexico City's most famous museums — the Casa Azul (Blue House) AKA Frida Kahlo Museum — as well as the lesser-known Anahuacalli Museum and Leon Trotsky Museum.
Coyoacan gives you a chance to experience a bit of old what old school Mexico City looked like. It's also one of the oldest surviving parts in the city, with a massive cathedral, Iglesia de San Juan Bautista, that dates back to the 16th Century.
Besides the colors and history, Coyoacan is known for three foods, tepoznieves (ice cream/shaved ice combo), churros, and tostadas.
While tostadas are taco-like, if you're looking for the real deal, check out this list with 50 of the Best Tacos in Mexico City + Free Map.
You'll find several churros and tepoznieves shops around Parque Centenario, the park in the center of Coyoacan. There, you'll also see the famous coyote fountain, the animal Coyoacan was named for. (Coyoacan means "a place of coyotes" in the Aztec's Nahuatl language.)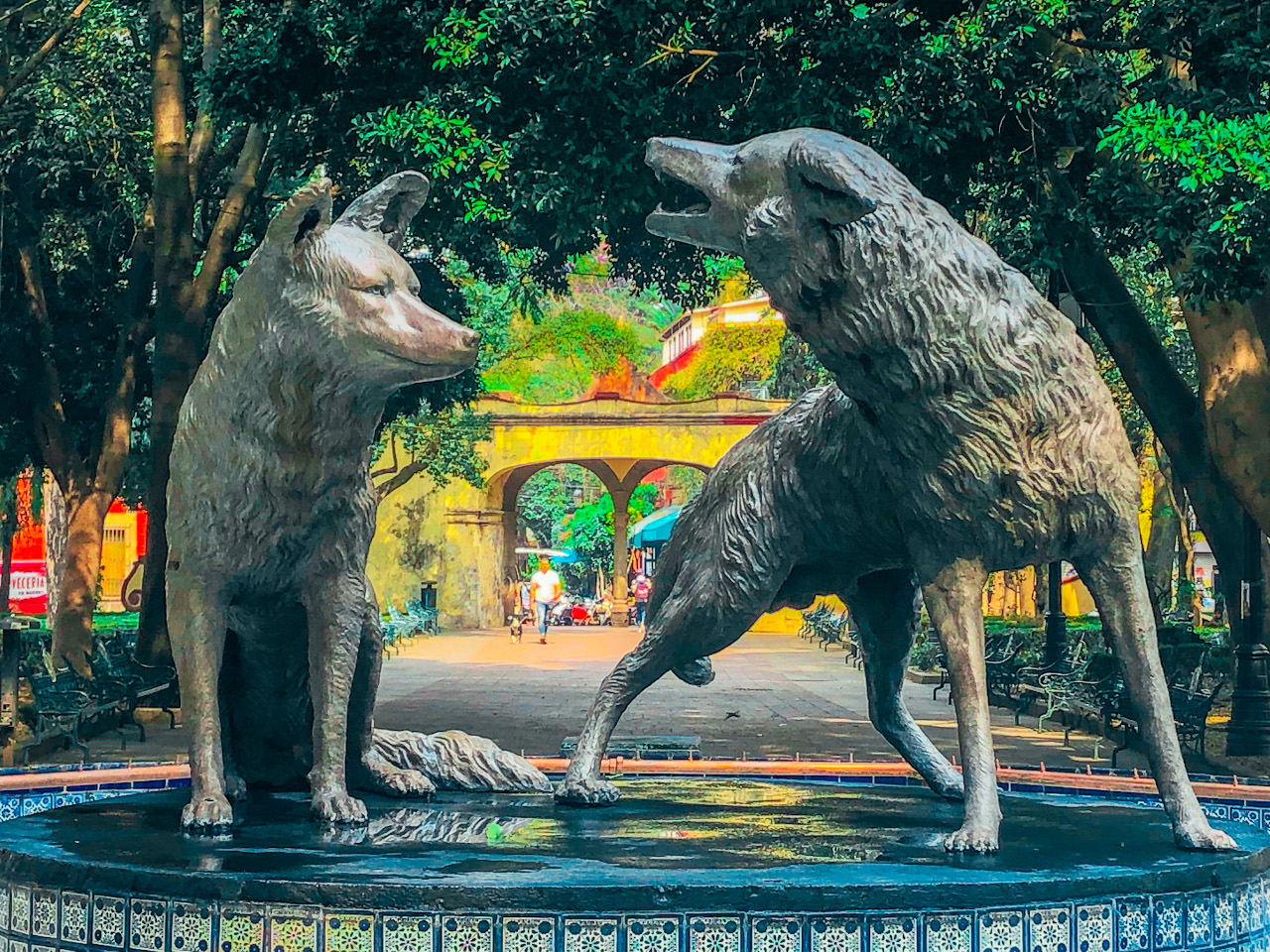 For tostadas, head to the Mercado de Coyoacán (Coyoacan Market).
There are several tostada stalls in this traditional, colorful mercado (market), where you can sample a number of types such as tinga de pollo (barbeque-esque shredded chicken) and coctel de camaron (shrimp cocktail).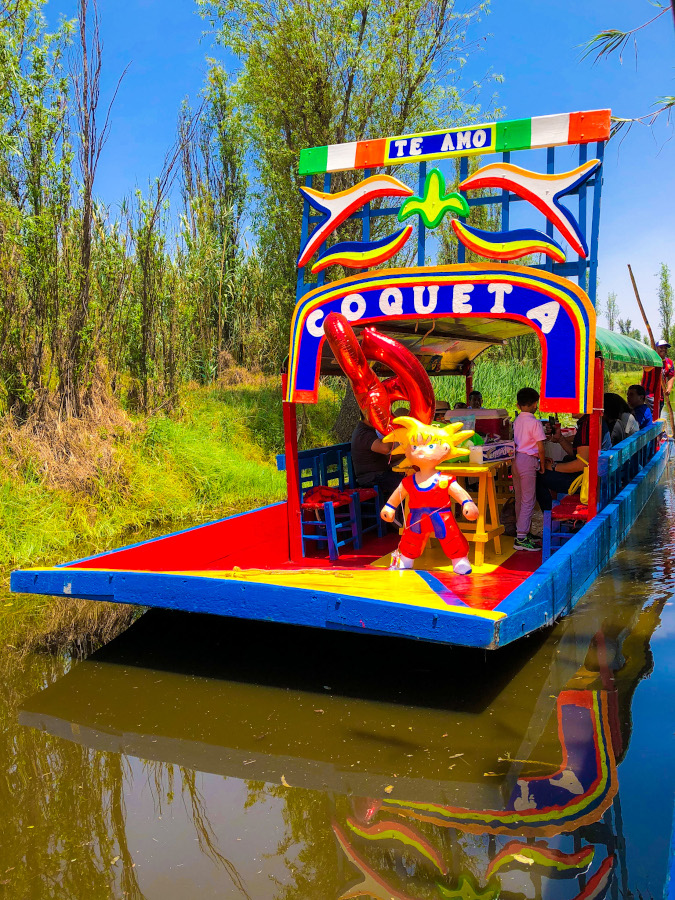 Day 3: Zocalo/Centro Historico
You could easily spend a week in Centro Historico (Historic Downtown) and the Zocalo, the large square in the dead center of downtown and one of the Mexico City's landmarks for first-timers.
These are some of the best Mexico City attractions so, if you can spend more time in the city, make sure to include as many of them as possible on your Mexico City itinerary.
With only one day, these are the 10 bigger, more well-known sites in this amazing part of Mexico City.
1. Templo Mayor (Main Temple)
This UNESCO World Heritage site was once the location of the central temple of the Aztec empire.
You can stroll the remnants of the temple and see some of its most historic archeological treasure in the onsite museum.
2. Catedral Metropolitana de México (Metropolitan Cathedral)
From the rocks that were once Aztec temples, the Spanish conquistadors had the giant Metropolitan Cathedral constructed.
Of all Mexico City's many churches, this cathedral is the most opulent, and contains the largest pipe organs in the all of the Americas which makes it one of the top sights in Mexico City.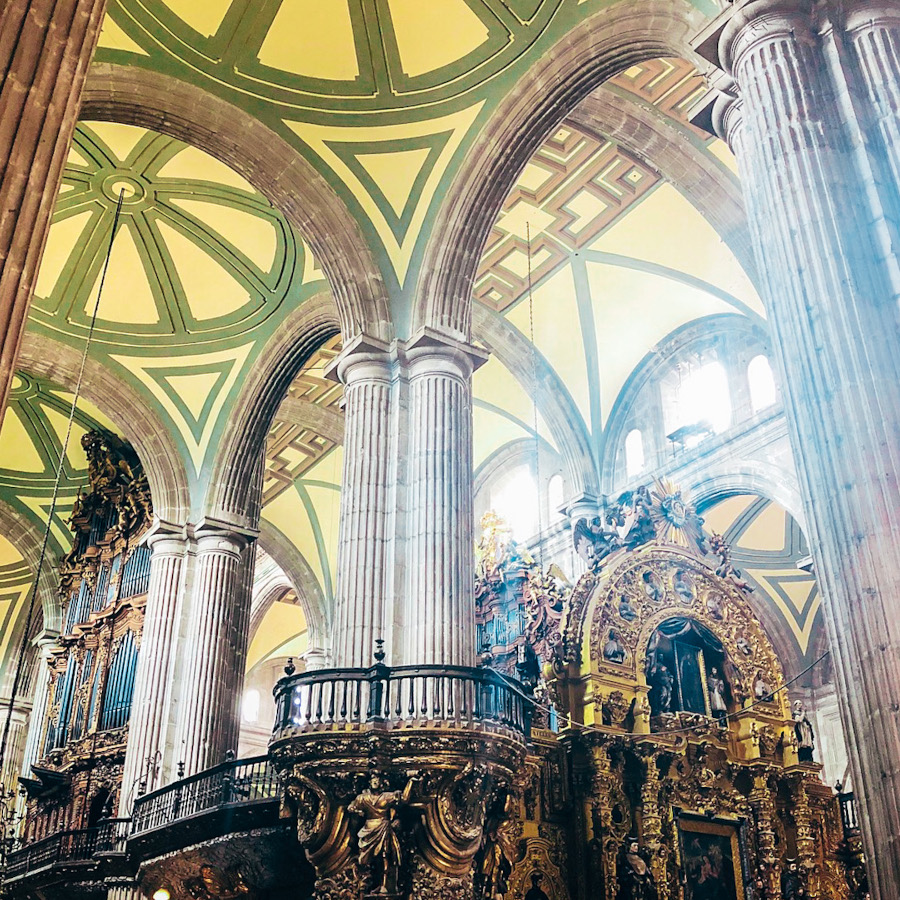 3. Palacio Nacional (National Palace)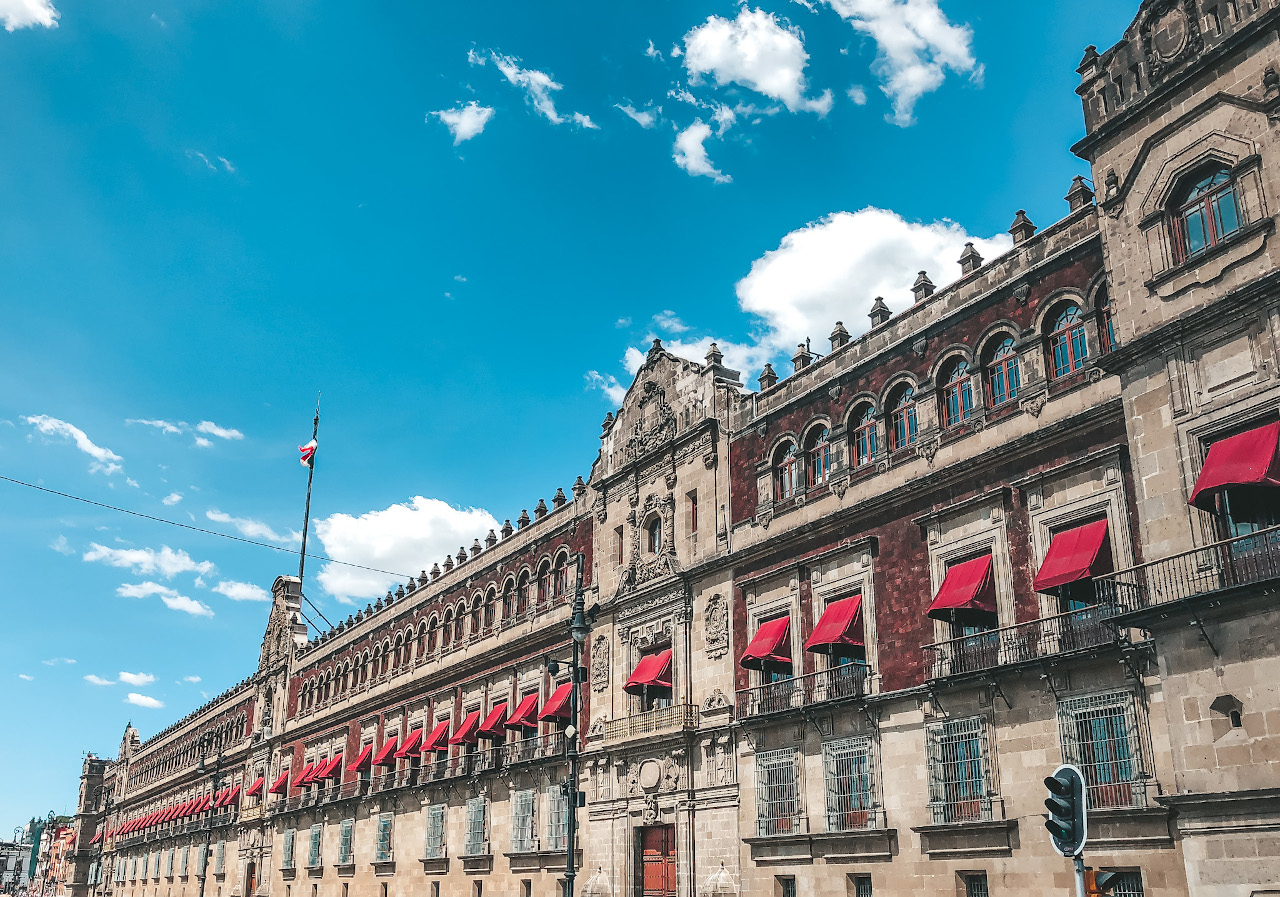 The 660-foot long/200m Palacio Nacional spans one entire side of the Zocalo square, and houses Mexico's Federal Treasury and National Archives.
Inside, don't miss the murals painted by one of Mexico's most famous artists, Diego Rivera.
4. Palacio Bellas Artes (Palace of Fine Arts)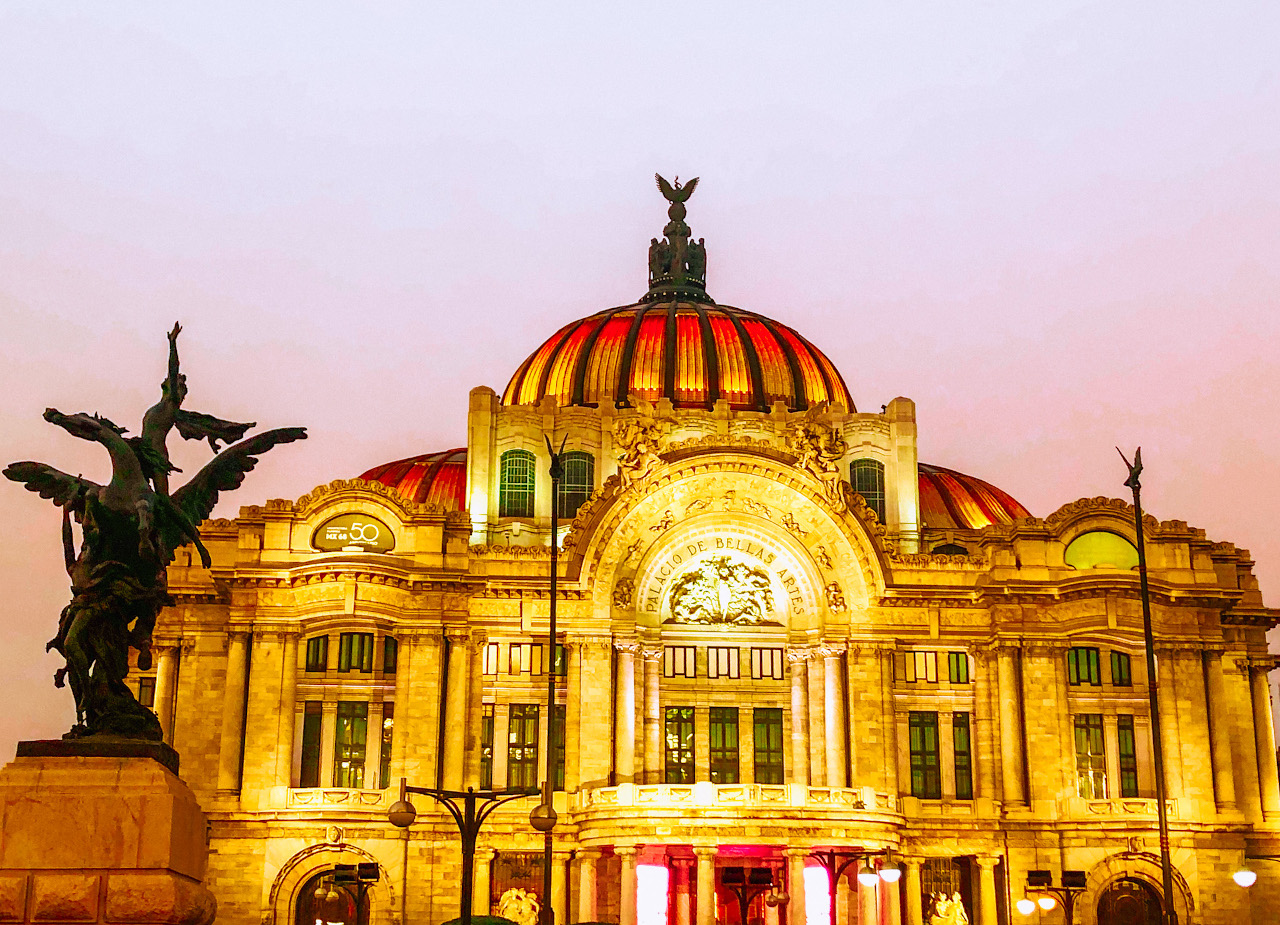 If you've seen an image of Mexico City, it was likely of Bellas Artes. This classical European, golden-domed, building is a work of art.
Head inside and check out the gorgeous art deco interior, and rotating art exhibits in the museum.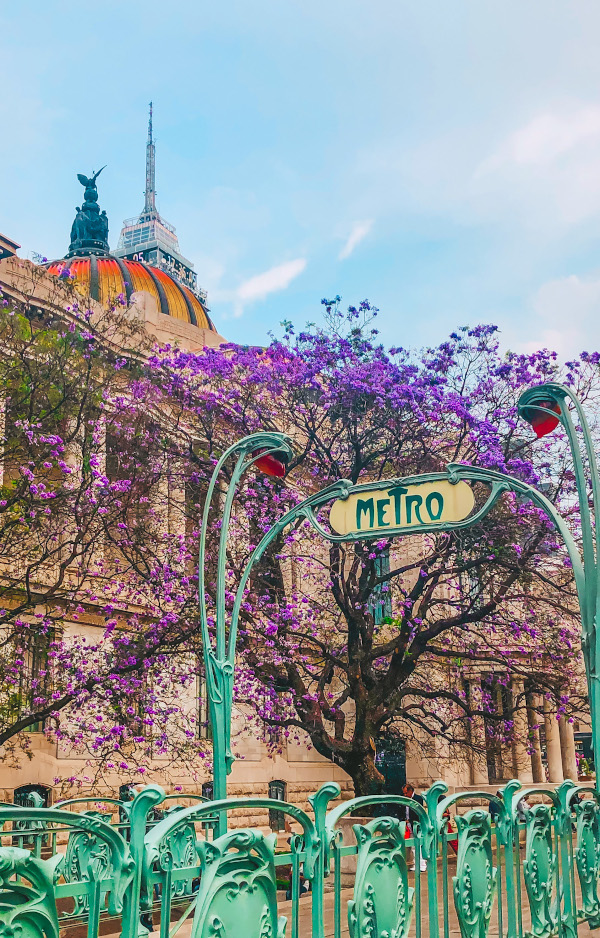 5. Parque Alameda Central (Alameda Central Park)
Next on your Mexico City 5-day itinerary should be Alameda Central Park.
Located right next to Bellas Artes, this large and well-maintained urban park has beautiful sculptures and fountains to enjoy.
Centro Historico can be overwhelming, so take a break from the hustle and bustle in Alameda Central.
6. Plaza Garibaldi
The place to hear mariachi music in Mexico City.
Plaza Garibaldi is pretty much a 24/7 party for locals and visitors alike to dance and listen to Mexico's most iconic music.
7. Barrio Chino (Chinatown)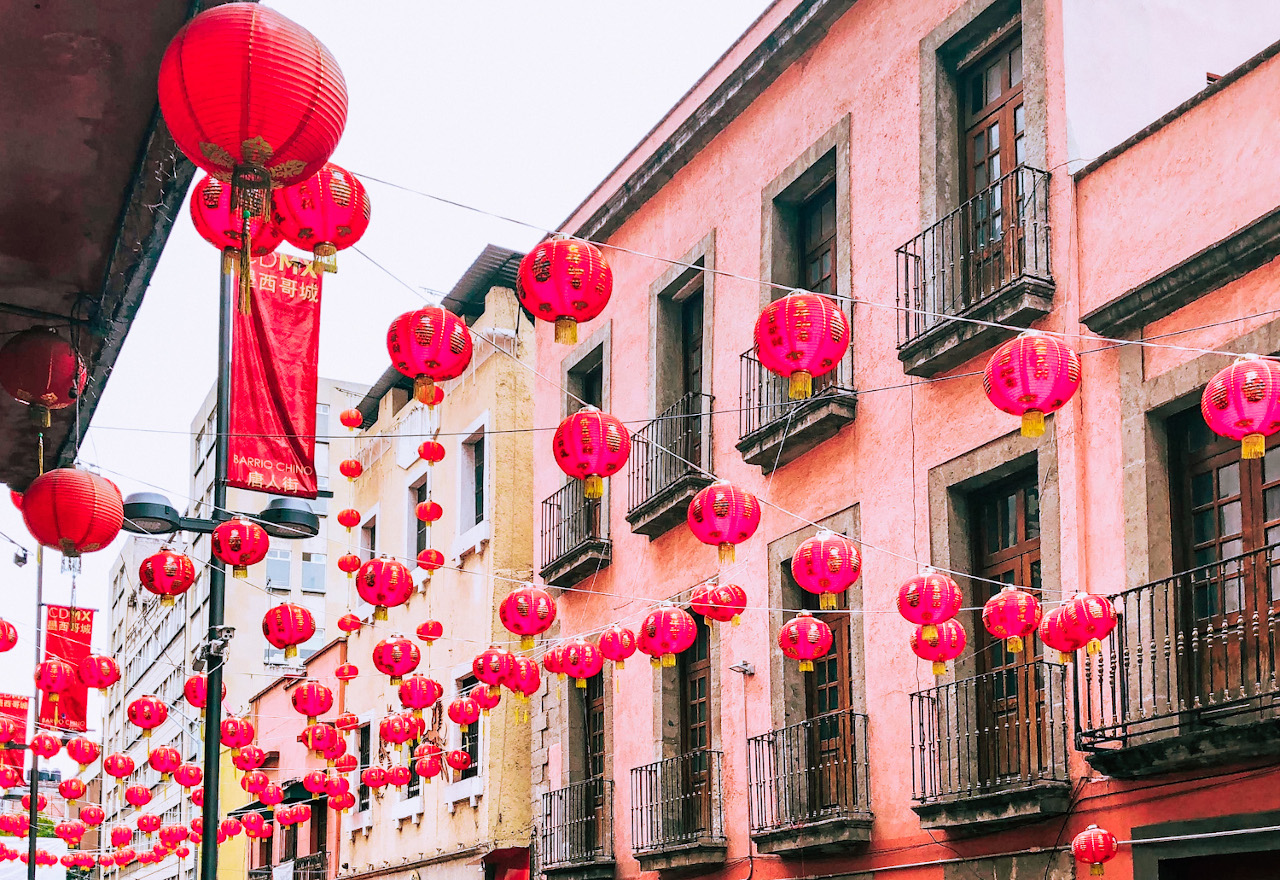 Are you even in a major city if there's not a Chinatown!?
While Mexico City's Chinatown isn't very big, it's worth walking through and snapping some quick photos of the hanging paper lanterns and iconic red arch entryway.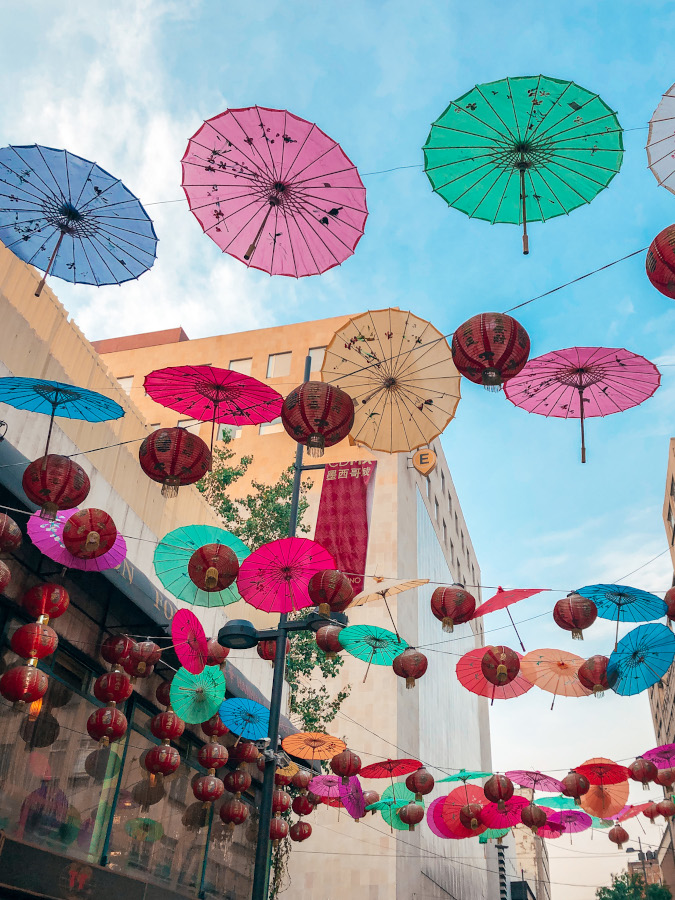 8. Torre Latinoamerica (Latin American Tower)
One of the iconic buildings in Mexico City's skyline! On a clear day, head to the top of the tower for some amazing views.
The nearby Sears department store building also has a cafe where you can take in some nice city views.
9. Museums
Mexico City has about 150 museums, with quite a few right in Centro Historico.
Some of the more popular museums in Mexico City are the Museo Nacional de Artes (National Art Museum), Museo de la Memoria y los Derechos Humanos (Museum of Memory and Tolerance), and Antiguo Colegio de San Ildefonso (Old College of Saint Ildefonso), in the Palacio Nacional.
Though small, the Diego Rivera Mural Museum is worth a visit to see one of his most iconic paintings, Sueño de una tarde dominical en la Alameda Central (Dream of a Sunday Afternoon in the Alameda Central). The museum is located not far from the painting's namesake, the Alameda Central Park.
10. Food
There is no shortage of amazing places to eat in Centro Historico. Here are just some of the classics places to eat in Mexico City.
For an old school Mexican food institution, head to El Cardinal. Try Los Cocuyos, Taquería Arandas and El Huequito for tacos.
If you want an upscale dining experience in Mexico City, head to Azul Histórico and El Balcon de Zocalo (The Balcony of Zocalo), which overlooks the entire Zocalo.
Finally, head to Tacos de Canasta los Especiales to sample Mexico City's original street food taco — the taco de canasta (basket taco) — and try all of the different types they offer!
If you still have room, get some churros y chocolate (churros with chocolate dipping sauce) at Churrería El Moro.
Day 4: Reforma/Chapultepec Park/Polanco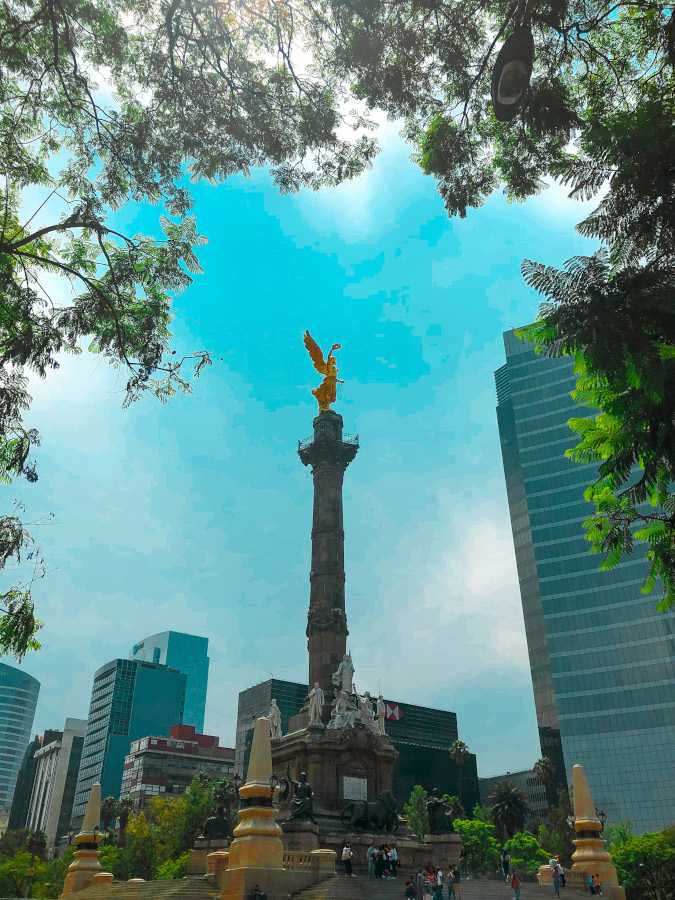 One of the most-visited urban parks on the Earth, Bosque de Chapultepec (Chapultepec Park) is massive — as in 1,700 acres massive. It spans the area between the Reforma and Polanco neighborhoods.
Start with a stroll down Mexico's Avenida Reforma (Reforma Avenue), say hello to the famous, golden Angel de la Independencia (Angel of Independence) statue, and you'll wind up in Chapultepec Park.
You could spend a week in the park and still probably not see it all! From the iconic Castillo de Chapultepec (Chapultepec Castle), nine museums, two lakes, and more, you're going to have to be selective with your time in Chapultepec.
Castillo de Chapultepec is actually the only true castle in North America, as it's the only one royalty once lived in.
The former home to Mexican Emperor Maximilian I and Empress Carlota is now a museum, and one of the Mexico City's iconic sites.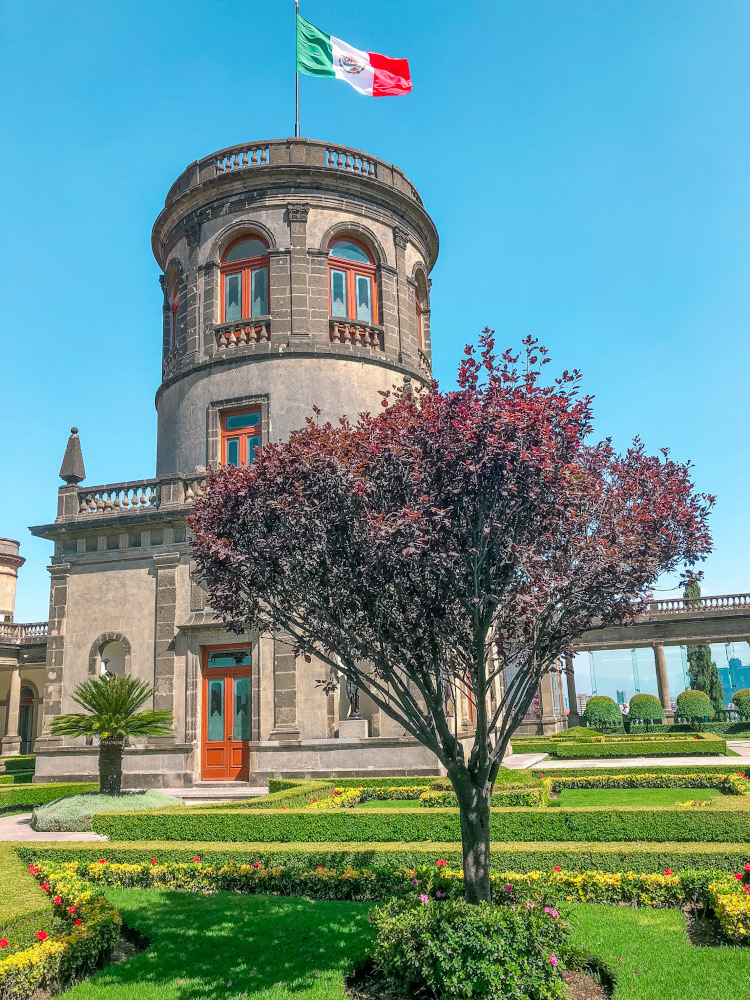 Mexico City's most visited museum, the Museo Nacional de Antropología (National Museum of Anthropology), as well as the Museo de Arte Moderno (Museum of Modern Art) and Museo Tamayo Arte Contemporáneo (Tamayo Contemporary Art Museum) are also in Chapultepec Park.
Mexico City's Polanco neighborhood is one of the fanciest parts of town! The tree-lined Avenida Presidente Masaryk (President Masaryk Avenue) is known as the "Rodeo Drive of Mexico," so if you want to shop, Polanco is your neighborhood.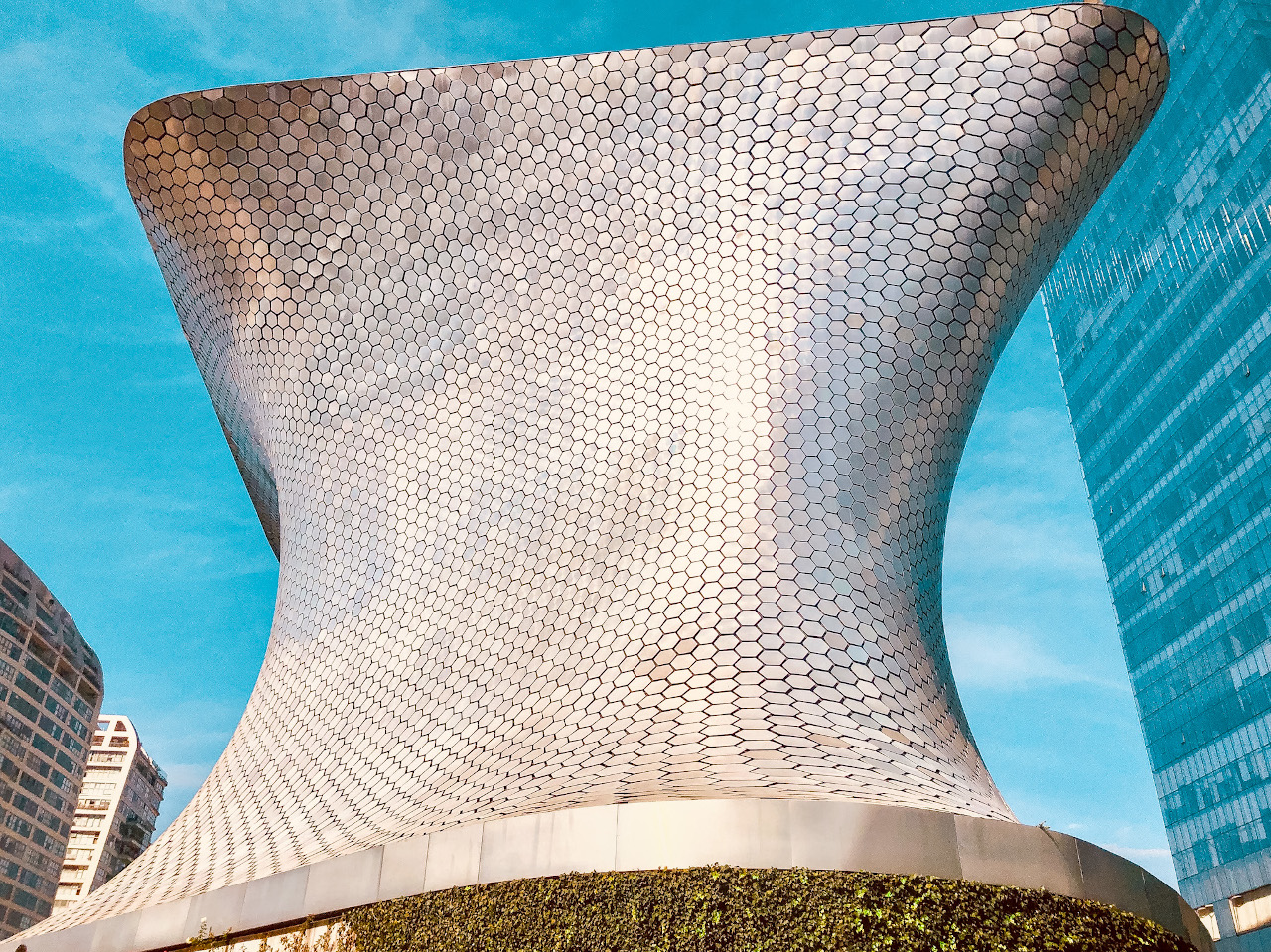 The beautiful Museo Soumaya (Soumaya Museum) and Museo Jumex (Jumex Museum) round out the sites popular in Polanco. However, stick around Polanco if you want to splurge on dinner.
Here, you'll find Enrique Olvera's famed Pujol, one of the best restaurants in the world, according to the 50 Best list. Polanco's Quintonil and La Docena restaurants also made the prestigious list.
Day 5: Roma Norte/La Condesa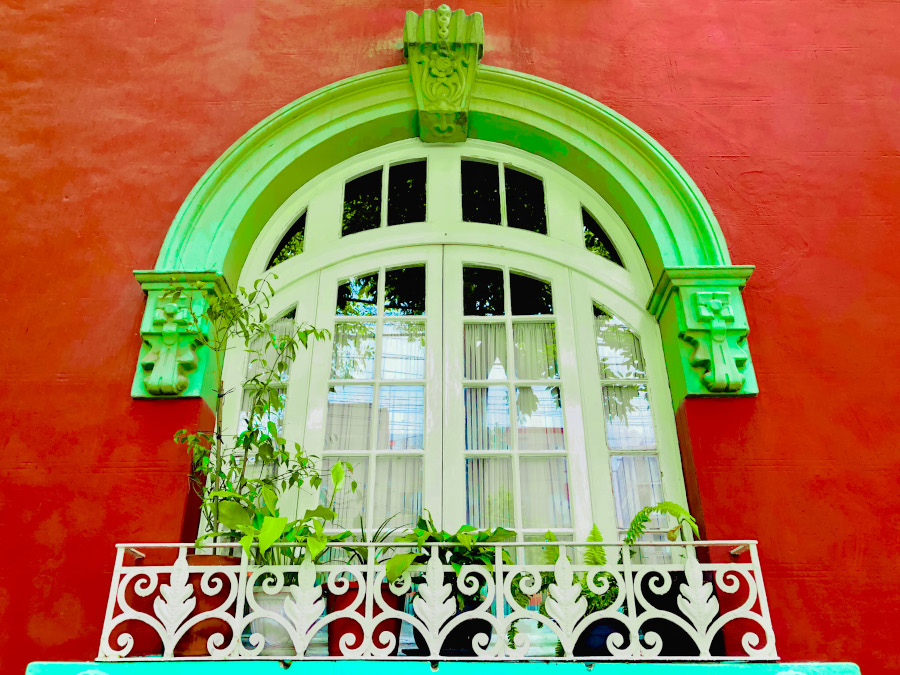 Arguably the prettiest two neighborhoods in all of Mexico City, Roma Norte and La Condesa are the perfect places to end your five-day trip.
You might recognize the name Roma from the 2019 Oscar-winning film of the same name, and actually, this neighborhood is the film's namesake.
While there are two "Roma" neighborhoods, Roma Norte and Roma Sur (North and South), Roma Norte is the prettier of the two.
Vintage buildings in design esthetics ranging from art deco to colonial and classical line the streets, each one seemingly prettier than the next!
You'll find some of the most beautiful buildings, best cafes, and bars, along Roma's Avenida Álvaro Obregón (Alvaro Obregon Avenue).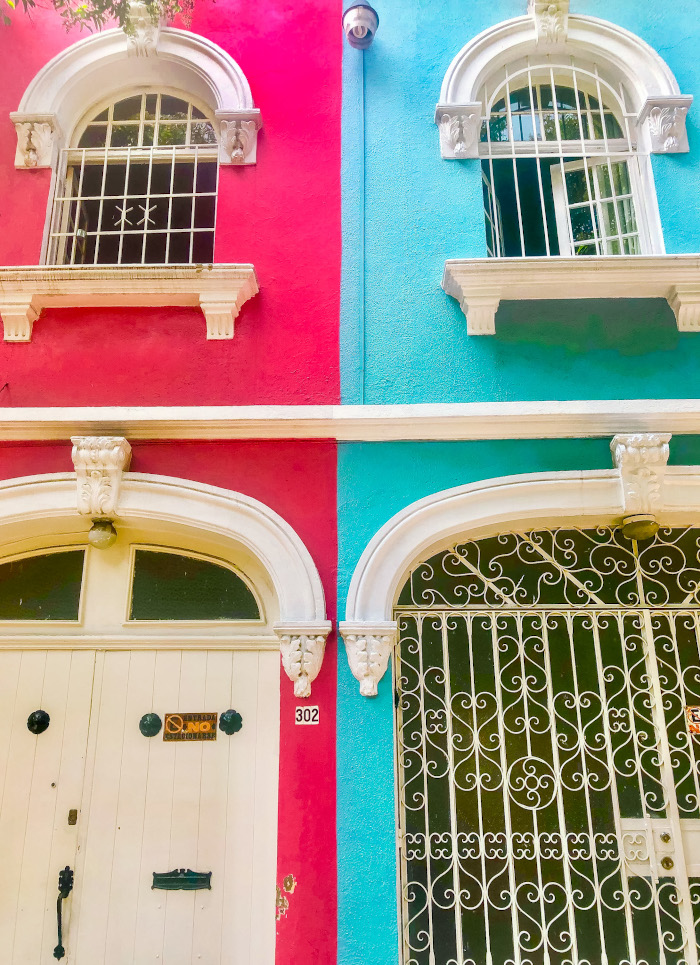 Stop by Roma's two small parks, Plaza Luis Cabrera and Plaza Rio de Janeiro, and head to the Fuente de Cibeles (Cibeles Fountain).
There, you'll find a large sculpture of a woman in a chariot being pulled by lions, a replica of the Fuente de Cibeles in Madrid.
Just across one of Mexico City's main streets, Avenida Insurgentes (Insurgents Avenue), you'll find Roma Norte's sister neighborhood, La Condesa.
Get to know this neighborhood by strolling its tree-lined Hipódromo (racetrack), a circular pathway that goes around the neighborhood's beautiful Avenida Amsterdam (Amsterdam Avenue).
Once a horse racing track, hence the circle shape and name, it's now a chill way to see La Condesa.
You'll also find two of Mexico City's nicest parks in Condesa — Parque Mexico (Mexico Park) and Parque España (Spain Park).
In Parque Mexico, you'll see some of the neighborhood's colorful street art; but in general, Roma and Condesa have the best street in Mexico City.
Besides strolling around and looking at art, these neighborhoods boast some of the best restaurants, cafes & bars in the city. Here are a few recommendations:
Bakeries/Brunch: Lalo!, Panaderia Rosetta, Maque, Que Sera de Mi
Lunch: Contramar, Lardo, Fonda Fina, La Docena
Dinner: Maximot Bistrot, Rosetta, Merotoro, Azul Condesa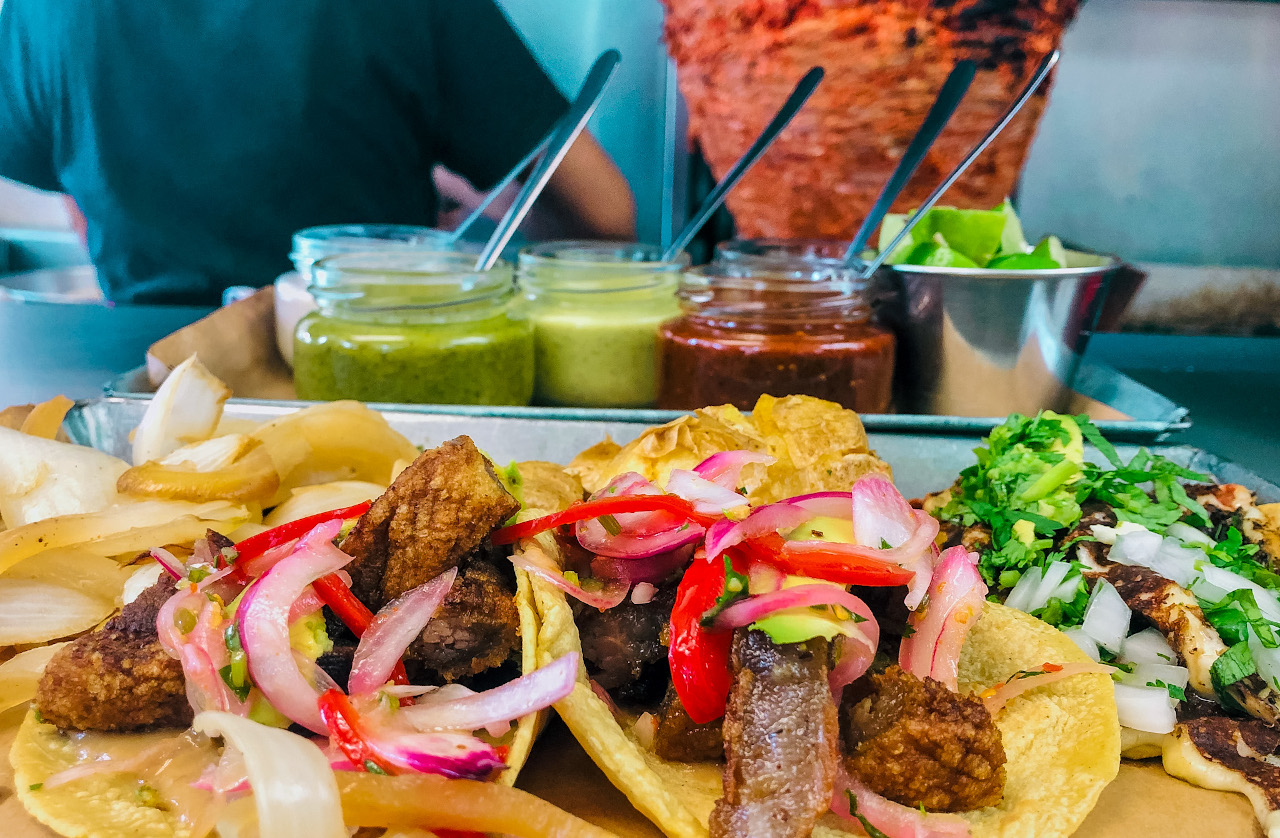 Tacos: Taqueria Orinoco (tacos al pastor), El Pescadito (seafood tacos), Tacos Hola el Güero (tacos guisados/stew tacos), Por Siempre Vegana Taquería (vegan tacos), El Hidalguense (barbacoa/barbeque)
Bars: Casa Franca (cocktails/speakeasy), Maison Artemisia (cocktails/speakeasy), Limantour (cocktails), La Clandestina (mezcal), Hotel Condesa DF (rooftop bar), Loup Bar (wine), El Depósito (beer)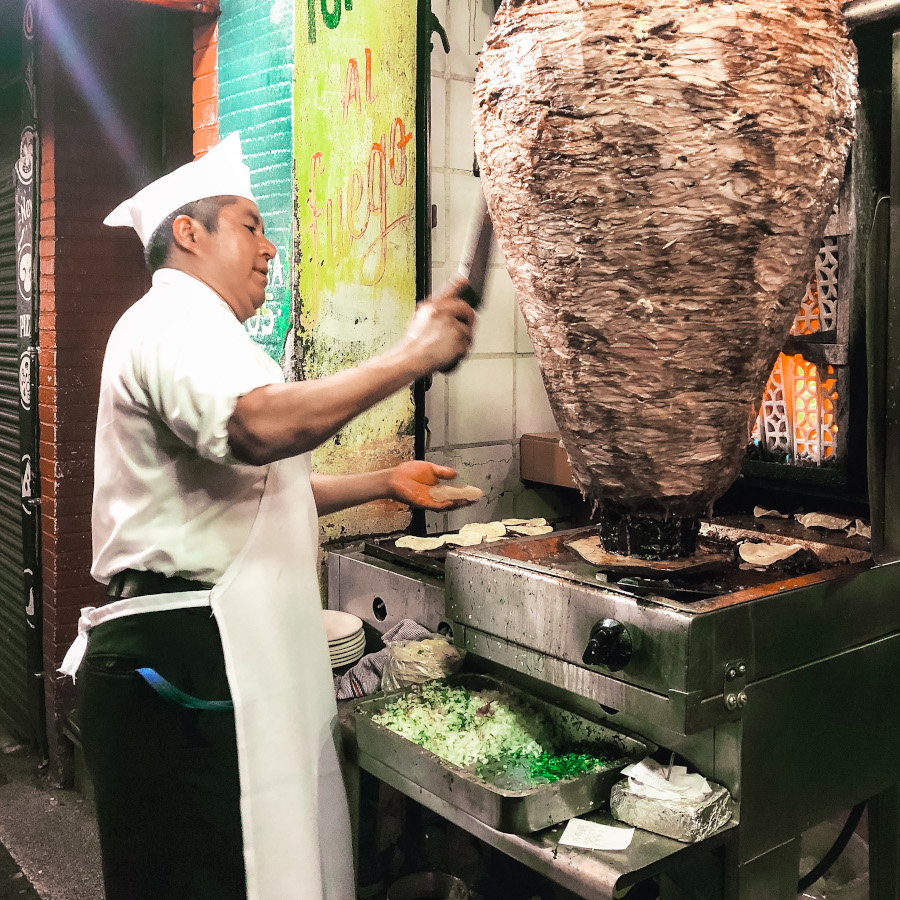 With a little planning, and scheduling neighborhood-by-neighborhood to minimize the time in traffic, just five days in the 12th largest city on Earth starts to seem doable!
Another way to save travel time is to opt for Uber over public transportation! While this costs more, the costs do end up being near-insignificant when compared to the amount of time you'll save.
For some frame of reference, the 7.5-mile/12km bus trip from Roma Norte to Coyoacan would cost about $2/€1 — though it could take up to two hours. The same trip in an Uber would cost you about $6/€4 and take just 30 minutes.
Do you have any Mexico City tips and tricks? What places are missing from this five days Mexico City itinerary?
About the author
Shelley is a former Miami travel magazine editor who ditched the office for the world! After traveling solo to 14 states in Mexico, she decided to live in Mérida. Shelley created the Travel Mexico Solo blog & Dream To Destination podcast to inspire women who have always dreamt of Solo Travel & Mexico Travel, but haven't (yet!) accomplished either goal. Follow her on Instagram, Facebook, and Pinterest too.