Minneapolis–Saint Paul – or the Twin Cities – a famous part of the US with a lot to offer to travelers from across the globe. Famous for the most ethnically diverse street in America and for the delicious food (with dishes from various parts of the world), these cities have some interesting and famous landmark, but also off the beaten path attractions.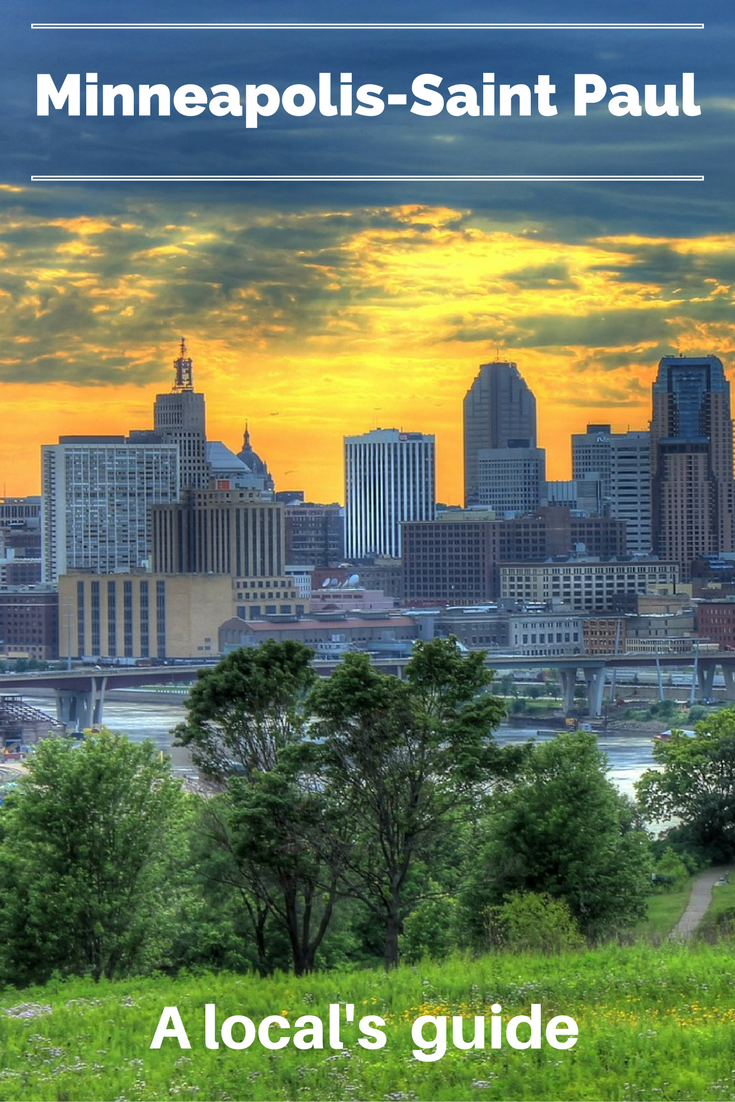 pin based on a photo from Pixabay
Today I'm happy to present you a local's guide to Minneapolis–Saint Paul – by Joshua and Macayla Fryc NowBoardingFor.com
Minneapolis – Saint Paul has a HUGE music scene. Tons of options from low key bars to upscale venues to musical theater. Situated on the great Mississippi, the Twin Cities (as they are commonly known) are a melting pot of cultures, foods, and ideas. Fun fact: St. Paul was originally known as Pig's Eye, MN. We also lay claim to the most ethnically diverse street in America! As a byproduct of this state-wide diversity, the ethnic food here is amazing, favorites of ours being Ethiopian, Indian, and Russian. The Twin Cities are also often voted in the top 10 cities in America for entrepreneurs, education, parks, and fitness; you'll find the people here truly are Minnesota nice.
Top landmarks
1. Lake Calhoun. It's our version of NY Central Park. Miles of stunning lakes to walk, food stands, paddle boarding, sail-boating, swimming, and movies in the park. It's been a special part of the Cities since the beginning and you can see a lot of fascinating history in the houses and apartments nearby.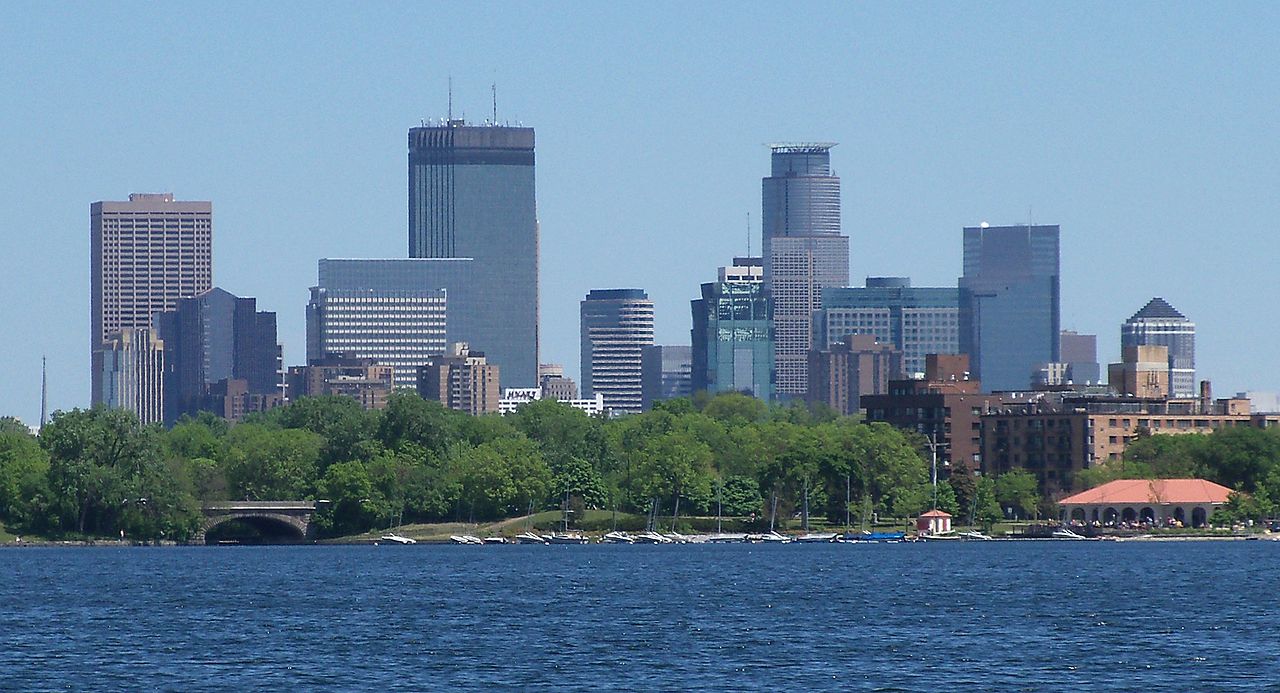 photo by Jon Platek – Wikipedia
2. The 112-year-old St. Paul Cathedral, which stands in all it's glory in the heart of St. Paul – an absolute beacon at night. Cousin to the masterpeices found across Europe, and baffling to look at.
3. And the Minneapolis Institute of Art. It's free and impossible to do in just one day. We've been several times and continue to get lost in its halls. Impeccable history and wonderful art.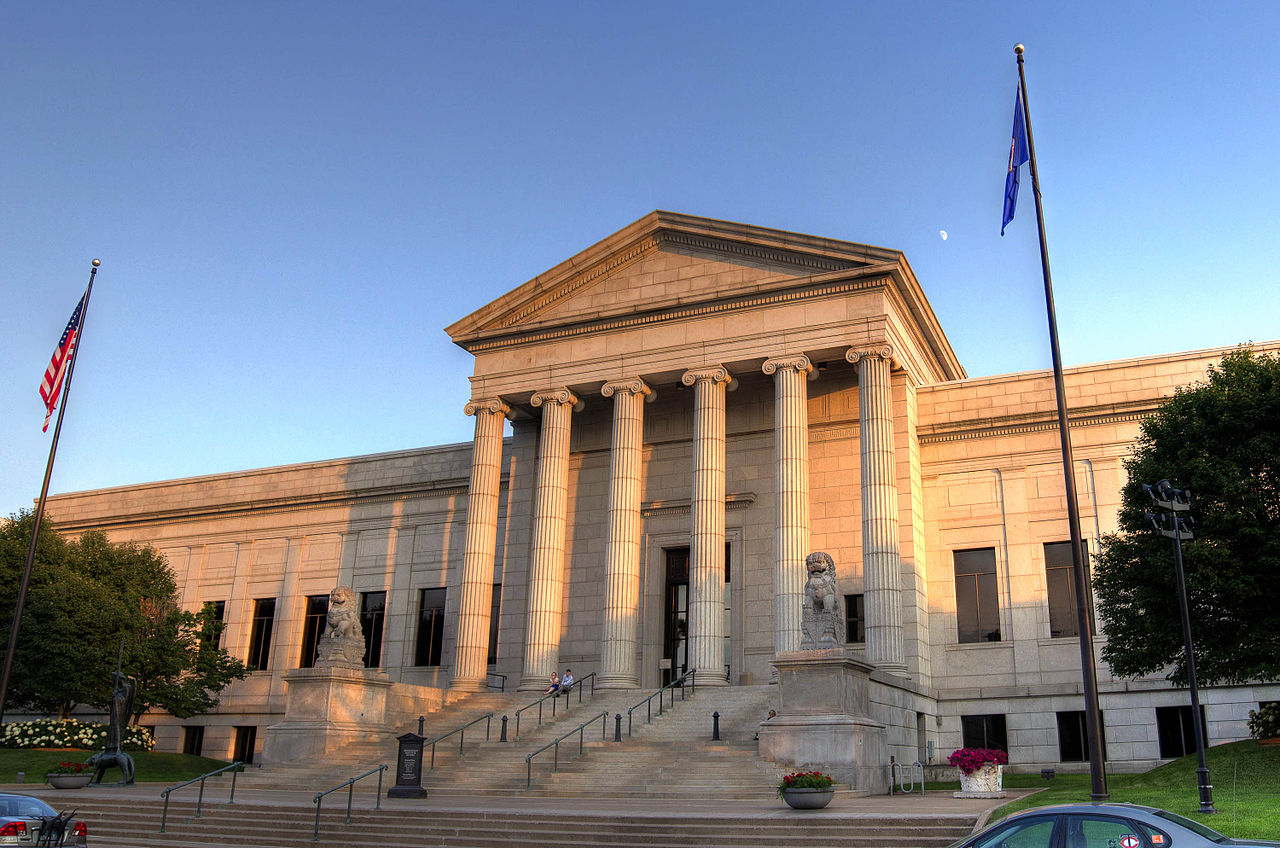 photo by Alvintrusty – Wikipedia
4. Mill City Museum, home of Gold Medal Flour, across the river from Pillsbury A Mill. Come tour the ruins dating from the 1870's, which also happen to be one of the most popular wedding venues in the state.
5. Minneapolis Sculpture Garden. If you've ever seen the giant spoon and cherry, this is it's home. The creator, Claes Oldenburg had a knack for oversized renditions of daily objects. His work can actually be seen throughout the cities and in other art museums. Don't worry – there's more than just the giant spoon.
6. It's common knowledge the largest indoor mall (and current theme park) in America can be found in Minnesota. The Mall of America can fit 347 Statues of Liberty inside and still have room. And if you have any clothing shopping to do, this is the place, since MN doesn't have any clothing tax.
Off the beaten path attractions
Off the beaten path attractions:
1. The Black Sheep – It's an adorable, family-owned coffee shop. Located in St. Paul, it's surrounded by some of the original houses built after the War. On Saturday mornings a group of old men come in to play their country instruments, just like old times.
2. Bike trails galore! Personally, we really enjoy Battle Creek Regional park where you can hike the bluffs or bike below.
3. The St. Paul farmers market on early weekend mornings is straight out of a magazine, with home-harvested honey, purple peppers, and white carrots, not to mention every MN flower available. Both a photographer's and farmer's paradise.
4. Taking a trip down memory lane is a favorite pastime of locals who stroll around the mansions of Summit Hill. The oldest lane in the cities also used to be the most affluent, and the sheer size of some of these old homes is testament to that. Every other year there is a formal tour held through many of these in-use homes. Bonus: Just around the corner from the St. Paul Cathedral.
5. Nicollet Island Inn. One of the most romantic spots in town. A rustic inn on a small island visited on repeat for it's candle-lit dinners, crooner music, and vintage accommodations. Tried and true, the best time to visit is the holiday season while the snow falls outside and the fireplace warms the inside.
Where to eat
For a gorgeous night, eat in Uptown. It's expensive, but beautiful. And ALWAYS popping. You can find just about any food, drink, or person here. Our favorite is Russian Hammer & Sickle. Killer happy hour.
And for a "kid-sized" ice cream that's tough for even adults to finish, go to Nelson's Ice Cream. On hot days, you'll see lines wrapping around the building.
Tips for visiting
Visiting in the summer – The Mississippi splits the cities and right in the middle are the three most known bridges. Each one looks like a different era, so at night when they're all lit up, it seems like you're looking at the past, present, and future at the same time.
Visiting in the winter – Don't let the cold scare you. Go ice skating in Rice Park under the Christmas lights or walk to a frozen Minnehaha falls. If you're feeling fancy, attend one of the fabulous Broadway shows nearby held in the elegant theaters. Perfect for the holiday season.
Conclusion
Minneapolis and Saint Paul have a lot to offer all year around! One of the hotspots for music and art in the Midwest, you always will have something to see or do. Tons of parks, trails, and bike riding paths throughout the metro area. If you want a taste of what Minnesota itself was/is like outside the bright city lights, old time towns like Redwing and Stillwater are a short drive away and really give you the best idea of what good old Minnesota is all about. Don't just fly over. Stop and explore a while!
About the authors
We are Joshua and Macayla Fryc (pronounced Fritz) and we are doers. He supplies an endless amount ideas and she gets them done. Right from the get go of our marriage, we began writing down our goals, and leaving for Southeast Asia was on the list for 2016. To make some extra cash we ventured down the entrepreneurial road with our own Bubble Soccer company, which, funny enough, taught us more business lessons in a year than in any of the classes we attended at college.
I (Macayla) am a native to MN, while Joshua has only spent 3 years here. A lot of our hobbies involve the great outdoors, most notably the bucket list item of visiting every U.S. national park. We are avid readers and are fascinated by sustainable agriculture – seriously, that stuff is cool!
I'm recommending you to read their blog and to follow their journey at @mickeyfryc on Instagram.
Save
Save
Save
Save