Before buying any tickets or accommodation for a trip, you need to do a lot of research. You need to find out the top attractions to include on your travel itinerary and when is the best time to travel to the country or city you plan on visiting.
This takes a lot of time and involves reading many articles, visiting weather websites, and more. Rove.me comes with an interesting approach and promise: to help you choose the best time to travel anywhere.
I admit, when I heard about this, I thought it would make a huge difference for all those who want to travel.
Why?
Because travel bloggers spend more time on research and planning their trips. They know where to look, they have Facebook groups where they can ask for advice from people who've visited that place or locals.
But, while some of these groups are free for all those interested to join, others are limited to travel bloggers. So you're back to the research phase.
Now, don't get me wrong. If you are like me, you like this phase. It builds up the excitement as you see your travel details falling into place.
But it still requires time. And a lot of research. You will find a lot of useful articles, though. For instance, if you plan a beach trip, you'll find materials focusing on what to wear during the summer in Europe: a complete packing list for women for a beach vacation from a European or travel tips: how to plan a one-day family road trip.
You will still find useful travel guides – here's our series of free travel guides written by locals and experts.
So let's see more about Rove.me and how it can help you better plan your trips so that you don't miss on any of the amazing things to see and do across the globe, but that you can also enjoy them in good weather.
What is Rove.me?
When you access the homepage of Rove.me it may seem like a simple website where you have a few recommendations. And yes, their "thing" is that they add the:
Rove.me Experience Rank is designed to show the most optimal times to visit a destination to get better experiences and more things to do. Higher rank indicates a better time for a trip.
Rove.me Weather Rank is based on the Tourism Climatic Index and shows how comfortable the weather is at a given time period or season.
Rove.me Popularity Rank – it tells you how popular a place is at a given time.
By default, you have recommendations for sometime next month. But you can change that into any time frame you desire.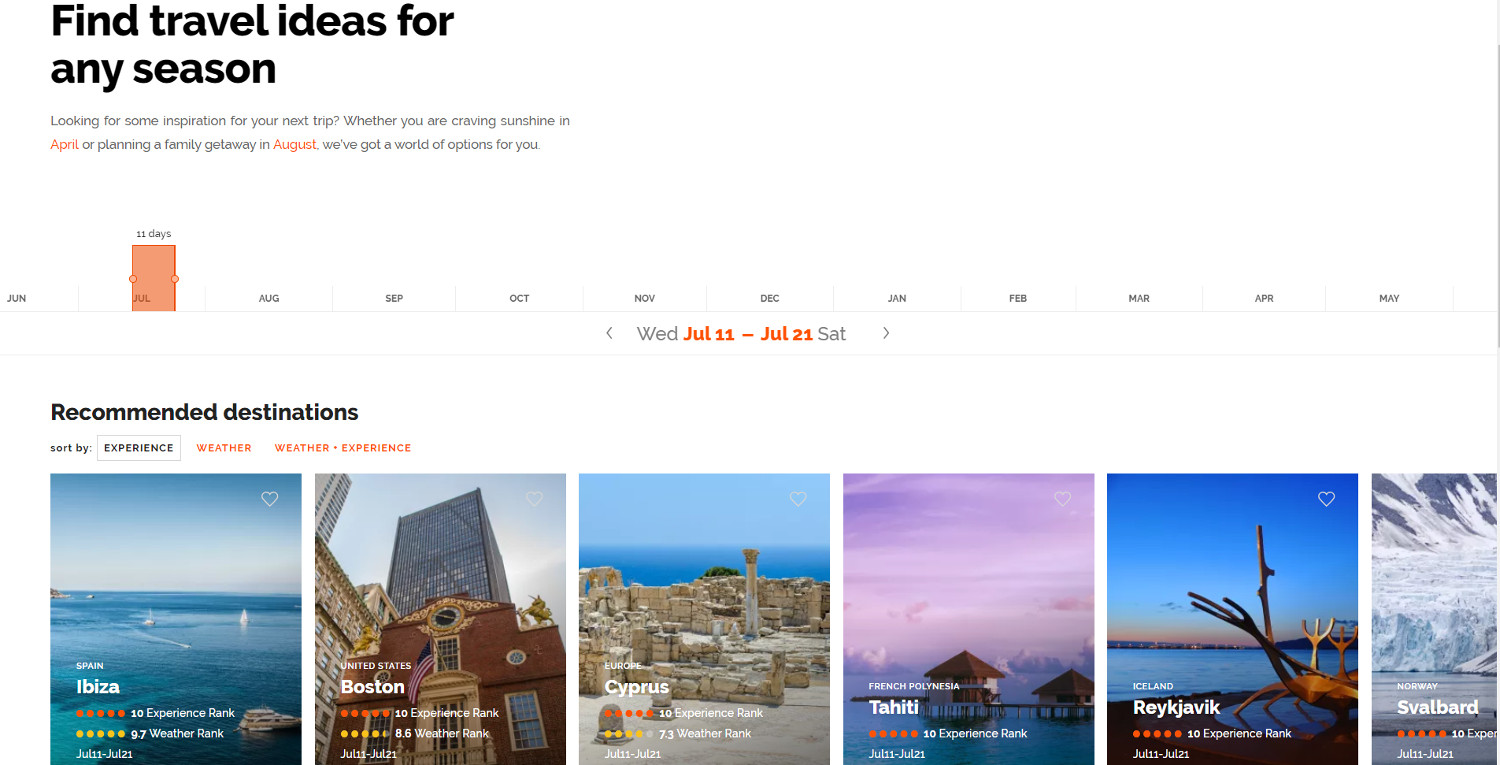 But if you click on one of the places in the list – I chose Reykjavik – you are taken into a page with many details and great things to see.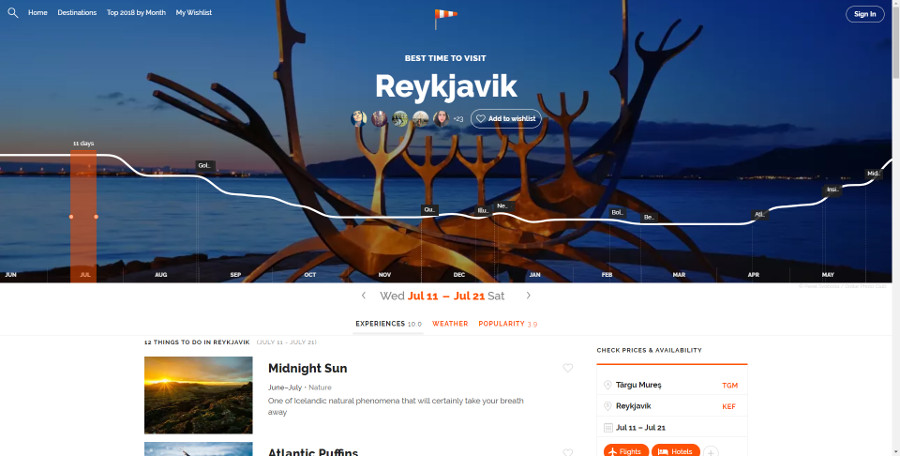 Reykjavik is a popular European destination and a city that has a lot to offer to its visitors. In fact, there are many incredible activities in Iceland to choose from. So the Rove.me page for Reykjavik is packed with interesting recommendations of things to do.
From seeing Atlanting Puffins to take a tour of the Golden Circle or visiting the inside of a volcano, all is included.
And you can even see some things to do in Reykjavik in other months along the years (remember the selection I chose now is for July 11-21).
If you want to know more about a given place, to see if you'd actually like to visit it or not, you can click on its title and you'll land to an article with more details. I wanted to check the information about the Golden Circle.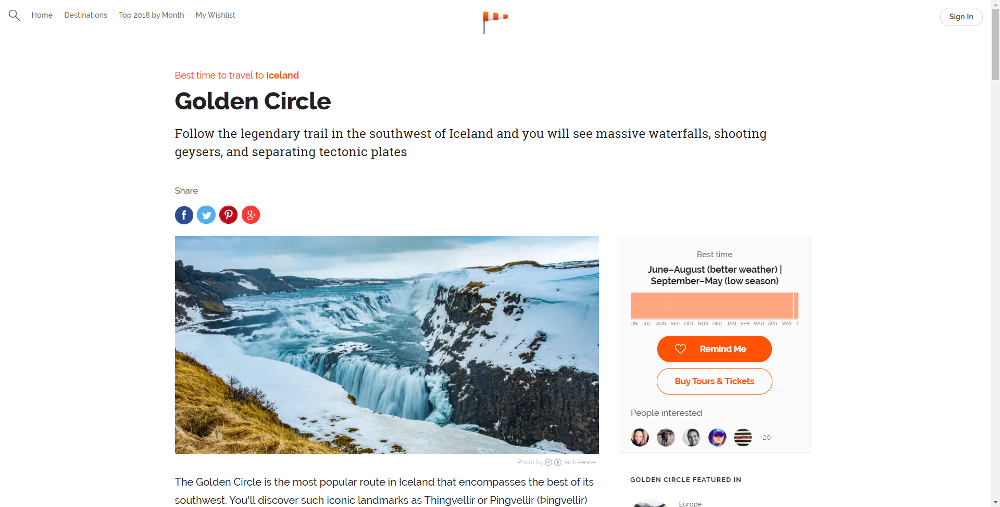 Along with the information, you have photos, a video, and a map.
But things get even more interesting when you access Iceland's page.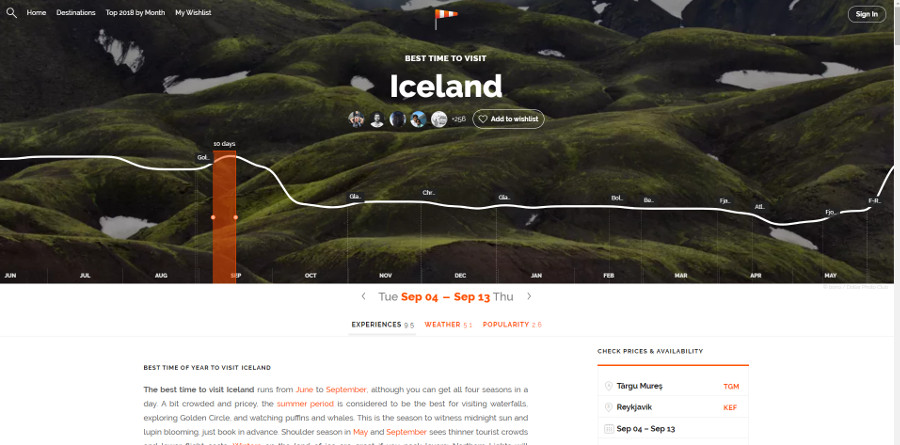 You get even more recommendations of wonderful places to visit (and, yes, Iceland has plenty of these). You have all the ranks available and details about the best time to visit Iceland (and what's best to see based on the season you want to go there).
And this is when you can say that Rove.me is like a travel guide as well – so more than what the first page shows you.
What's the Wishlist option for?
Let's say that you came across Rove.me and you looked at all the wonderful places to visit, but you are not making plans right now.
Or, you are browsing to see best places to visit in winter, but you are just studying the offer, not booking a trip.
This is where the wishlist option comes useful.
As you choose which city or country you'd like to visit, if you add them on your wishlist, Rove.me will send you a reminder, via e-mail, 1-2 months in advance to help you remember about your desire to visit that particular place.
Let's be honest. We all want to visit so many places, but a few days after we leave a website or a blog, we forget about the plans. Or about some of the places we wanted to visit. So Rove.me makes sure you have the options at your disposal.
What to visit in Romania in September
As I wanted to test Rove.me with a country I know very well, I chose my own country in a gorgeous month: September. I know that there are numerous places to visit and things to do, so I wanted to see what Rove.me offers.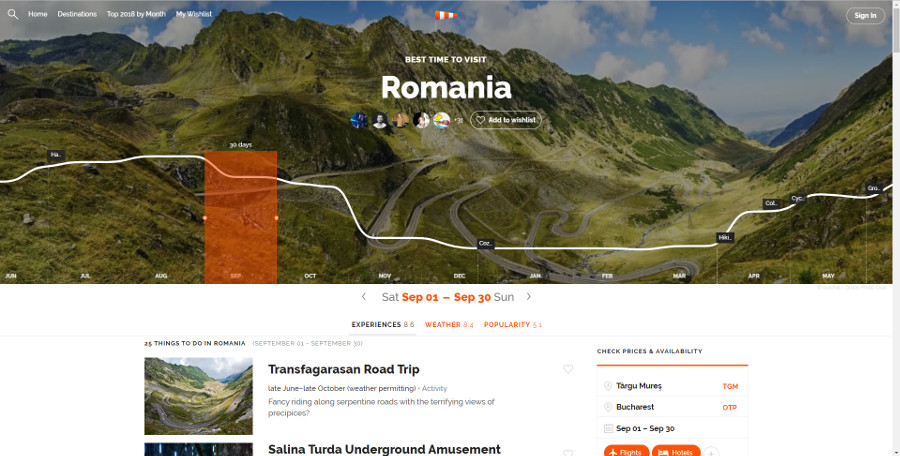 While my country's popularity is 7.8 (this means less crowds!) and while I know that it's not necessarily the country everyone wants to visit in Europe, I can definitely say that there are great places (some unique) to visit in Romania.
September is a month when you can experience almost all of the activities and see almost all of the things you can see in Romania. We don't have ski slopes opened yet, but you can go to the mountains, you can go to the beach (especially early September), and you can visit many cities, smaller and bigger, including Bucharest, to see some memorable places.
The first recommendations on Rove.me for September is the Transfagarasan – great choice in my opinion, with a small note that you need to check the weather and official website as, if it snows, it's closed to a trip by car.
But I see the major attractions included in the recommendations of Rove.me for September in Romania – the Black Sea beaches, a tour to the Bran Castle, Turda Salt Mine, Bigar Waterfall, and more.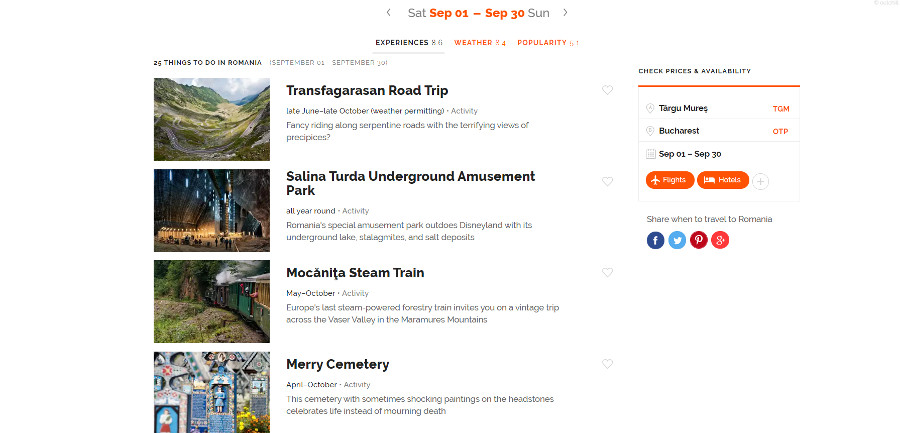 I would only say that the Ciorba de perisoare, a dish it's recommended, now, for December, is something that you can try (and find easily) all year long.
Final conclusions regarding Rove.me
The idea behind Rove.me is interesting and useful for those who'll visit the website.
Having a single place where you can find out when is the best time to travel anywhere and what things you can do depending on when you want to visit a place comes in handy.
The wishlist option is also useful if you truly want to visit a place and can't make reservations right now.
I like the fact that when you select a time frame you are given options from all over the world. I'd love, however, to have the option to refine that search based on continents (if I know exactly what continent I want to visit, then it would save me time to be able to see only the countries from that particular continent). I'd also like to be able to select a given country – again, if I have a particular destination in mind, it could save me time.
I am aware that this website is an ongoing work. While it includes numerous places to see in many countries and cities around the world, it doesn't have all the possible things to see in the world included. It would be a hard job to have them all. But I like that it has a mix of famous and off the beaten path things to see.
I think that you can definitely use this website to check your options – the fact that you can choose a given interval and see what places are best to be visited then is great. Perhaps, after you include them on your travel itinerary, you will still need to check some details (official websites or maybe some travel bloggers and their experiences as well), but Rove.me can definitely save you precious time.
I know that some features are still work in progress – so I won't divulge them – but I can tell you that the website will improve and become even more easy to use and useful!