disclaimer: this post contains affiliate links, which means I may earn a small commission (at no extra cost for you). Read our Terms and conditions for more details.
Planning to visit Savannah? Use this Savannah travel guide to discover all the amazing things to see and do here. You can also find great ideas for your Savannah bucket list so that you can have an unforgettable trip! This complete Savannah visitor's guide with the best places to visit in Savannah GA, tips, where to stay in Savannah, where to eat in Savannah, Savannah sightseeing, and travel tips for Savannah is presented by Divs from Travel Savings Addict. This guide is part of the free travel guides series on this blog. Use this insider's guide to Savannah USA when creating your Savannah itinerary.
Savannah visitor's guide with the best things to do in Savannah GA
This is your perfect Savannah city guide including the best sightseeing, dining, and stay options with travel tips to make the most of your trip to Savannah!
Savannah is often called the most 'European city' in the US, and rightly so! The distinctive cobblestone streets along the waterfront, horse-drawn carriages and the architectural marvel all around make this splendid southern city totally bucket list worthy.
From many world-renowned historic sites, green parks, majestic old mansions to even haunting graveyard landscapes, this charming Georgian city has so much to offer. The heart of the city is the quaint historic district made up of 22 iconic squares and beautiful parks, totally a pleasing sight at every turn you take. To add to this, you will find yourselves in the company of the peculiar live oak trees which are lining the roads throughout.
The excitement doesn't end here. If you're a movie buff, be ready to identify plenty of famous filming spots scattered throughout the city!
As they say, big things come in small packages! For a city of this size, Savannah is sure packed full of endless fun things to do and sights to see. It's hard to choose a few, but here are my top recommendations for your trip to this one-of-a-kind city.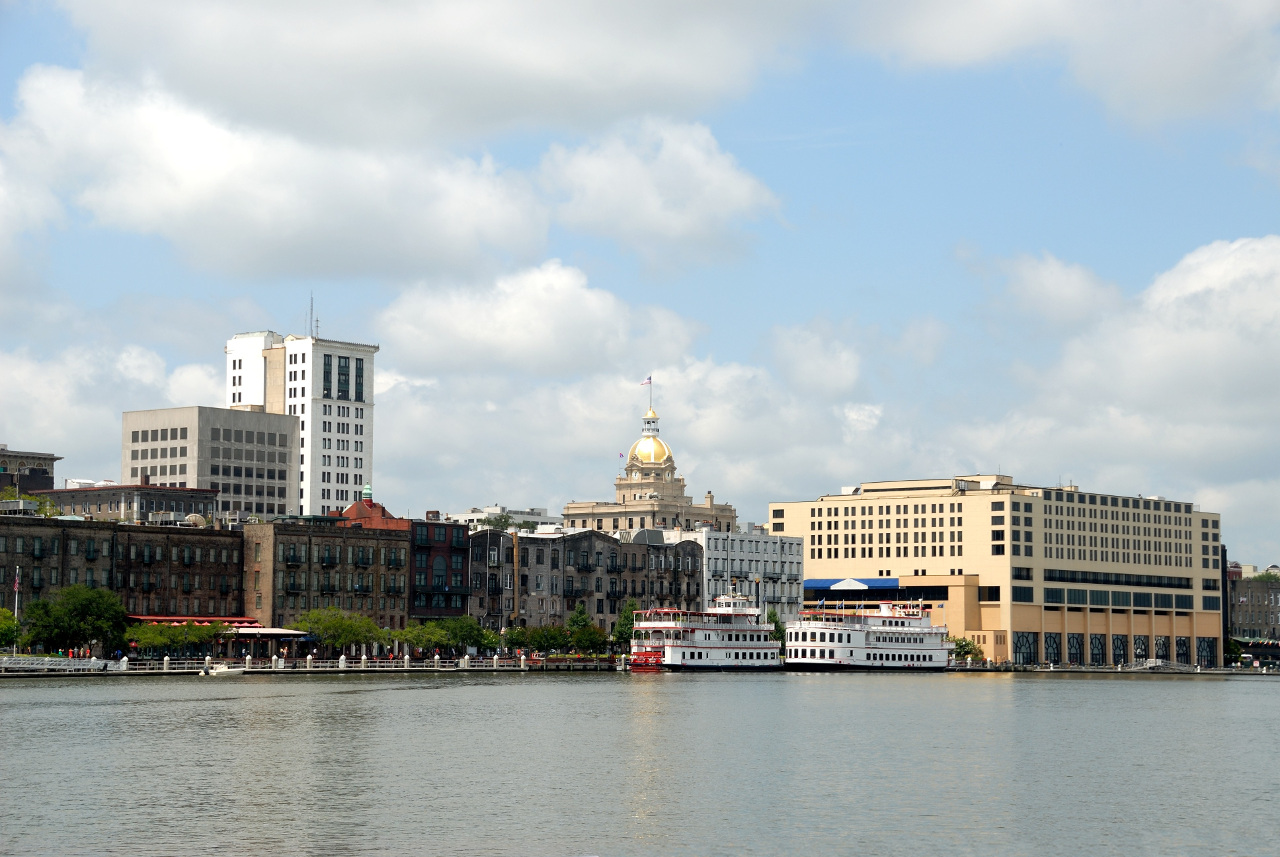 Included in this Savannah travel guide
Savannah points of interest – famous Savannah tourist attractions

Forsyth Park
Mercer Williams House Museum
The Cathedral of St. John the Baptist
Chippewa Square
The Owens – Thomas House
Jones Street
Bonaventure Cemetery
Ellis Square
City Market
River Street

Savannah off the beaten path – unique things to do in Savannah


Daffin Park
Wormsloe Hall
Old Fort Jackson
Fort McAllister State Park
Tybee Island

Where to eat in Savannah

Where to stay in Savannah GA

Savannah travel tips
Savannah points of interest – famous Savannah tourist attractions
The first things in this Savannah visitor's guide are the famous tourist attractions you can find here. These are both indoor and outdoor things to see in Savannah for a complete experience. Also, these are perfect places to visit in Savannah for first-time visitors – and for those who only have a couple of days here. I've also included, below, more activities things to see for longer trips.
Forsyth Park
If New York City has Central Park, Savannah has Forsyth Park! The symbolic oak trees of Savannah with Spanish moss dripping from them make up for a lavish lush green landscape found nowhere else, and simply perfect for a delightful stroll. This is one of the best things to do in Savannah GA so make sure you include it on your itinerary.
This expansive park is located in the historic district and is the largest one in Savannah. The landmark fountain in the center of the park is possibly the most photographed spots in all of Savannah!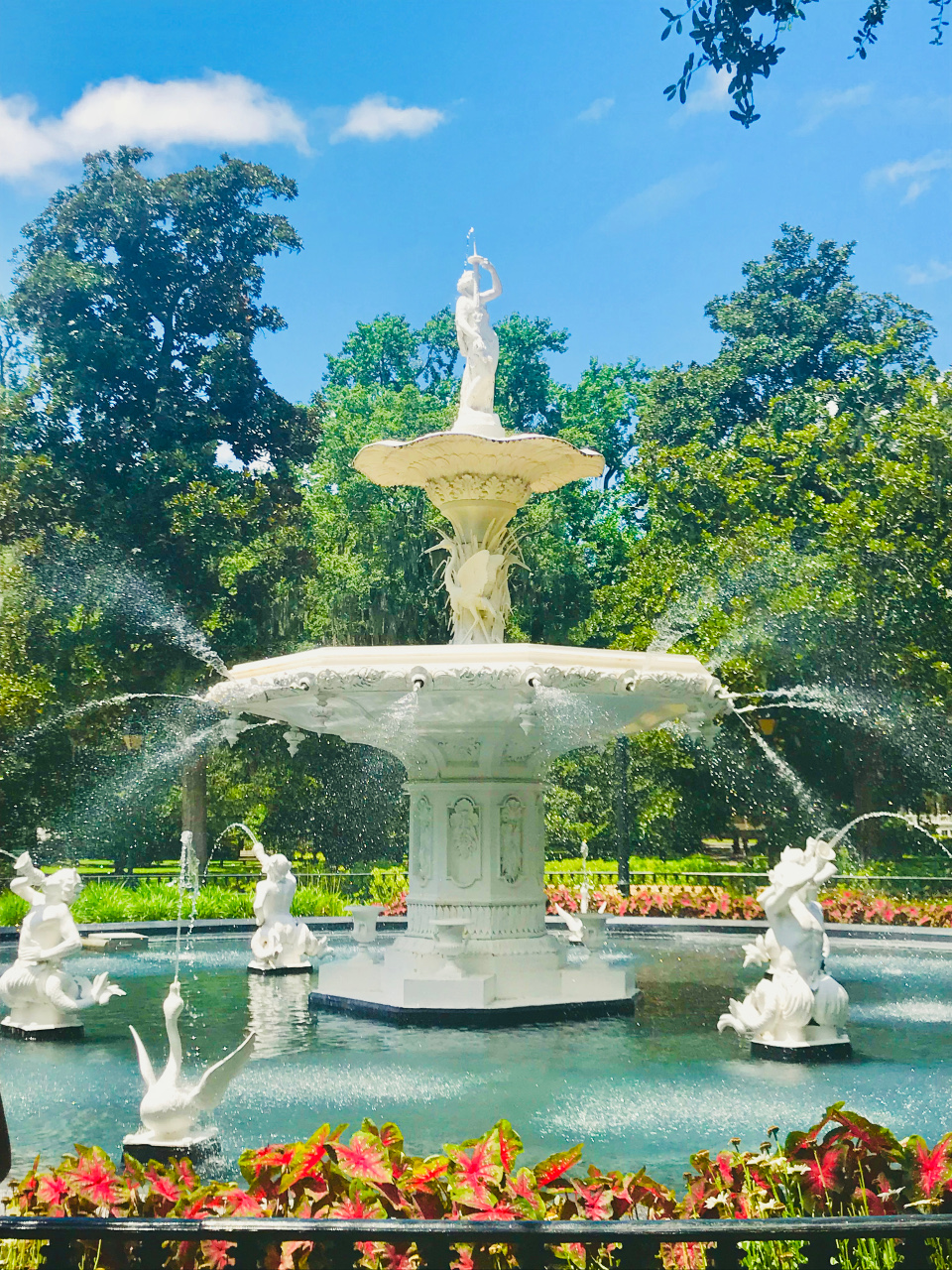 Mercer Williams House Museum
Situated two blocks north of the Forsyth Park, the Mercer Williams House makes it on my Savannah guide due to its interesting dark history. The house is the site of a 1981 murder, and became popular with the mention in the best selling book and film "Midnight in the garden of good and evil". How can you resist including it on your Savannah itinerary?
The Cathedral of St. John the Baptist
The extravagant architecture of this landmark church is bound to take your breath away. The gold-leaf designs, towering spires, and the stunning stained glass windows make this truly an architectural marvel.
My guess is that this ornate Gothic cathedral could be one of the primary reasons why Savannah is often compared to many European cities. This is one of the top 10 historic sites to visit in the United States, so do not miss it!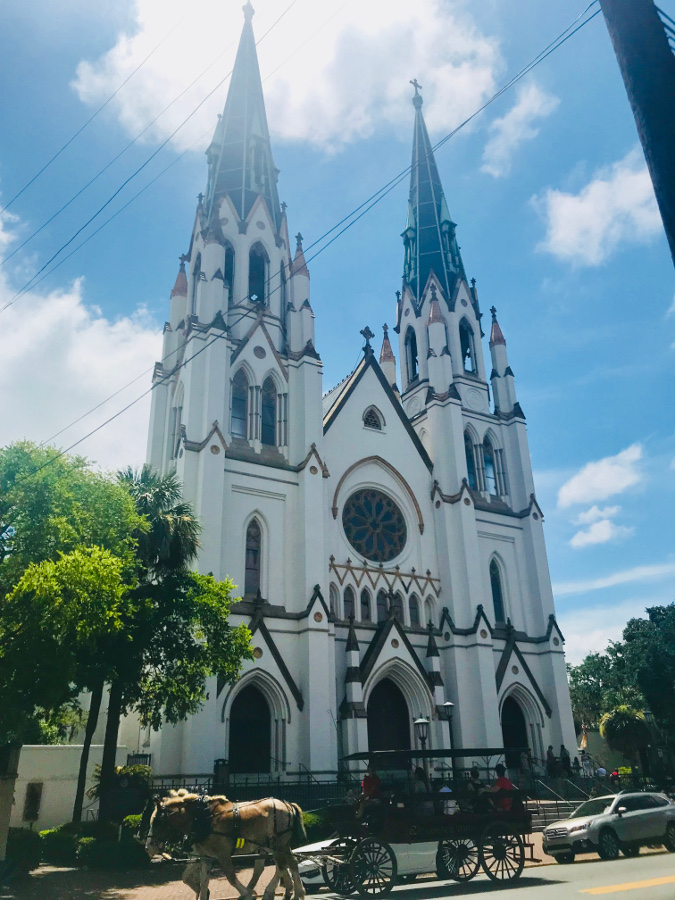 Chippewa Square
Still wondering what to do in Savannah GA? In that case, l I have to tell you that Chippewa Square is one of the most visited squares in Savannah, its claim to fame being the iconic bench where Tom Hanks narrates his saga in the movie Forrest Gump. Sadly, the bench doesn't exist there anymore, but you can identify the square if you've watched the movie! In the corner of a square, there is a monument of James Oglethorpe, the founder of the state of Georgia.
This square is always livelier than others since it houses the famous Savannah theater. You can always find nightlife and entertainment here or even catch a nightly show at the theater.
The Owens – Thomas House
When you explore Savannah, you'll see that the Oglethorpe square houses the Owens Thomas House, which is considered as one of the most sophisticated houses in Savannah and the finest examples of the English Regency architecture in America. Even if you do not go inside, the glimpse of the beautiful gardens visible through the gate is worth a quick stop as it is, indeed, one of the best things to see in Savannah GA.
Jones Street
Jones Street is known to be one of the prettiest streets in the United States, so, when you are on your Savannah Georgia vacation, make sure to see it. The street is lined with a row of high-stooped Greek Revival house, typical of the 19th century Savannah architecture. The shades of the beautiful oak trees and Spanish moss make it such a beautiful spot for a lovely relaxing walk any time of the day.
Discover more
USA travel guides
here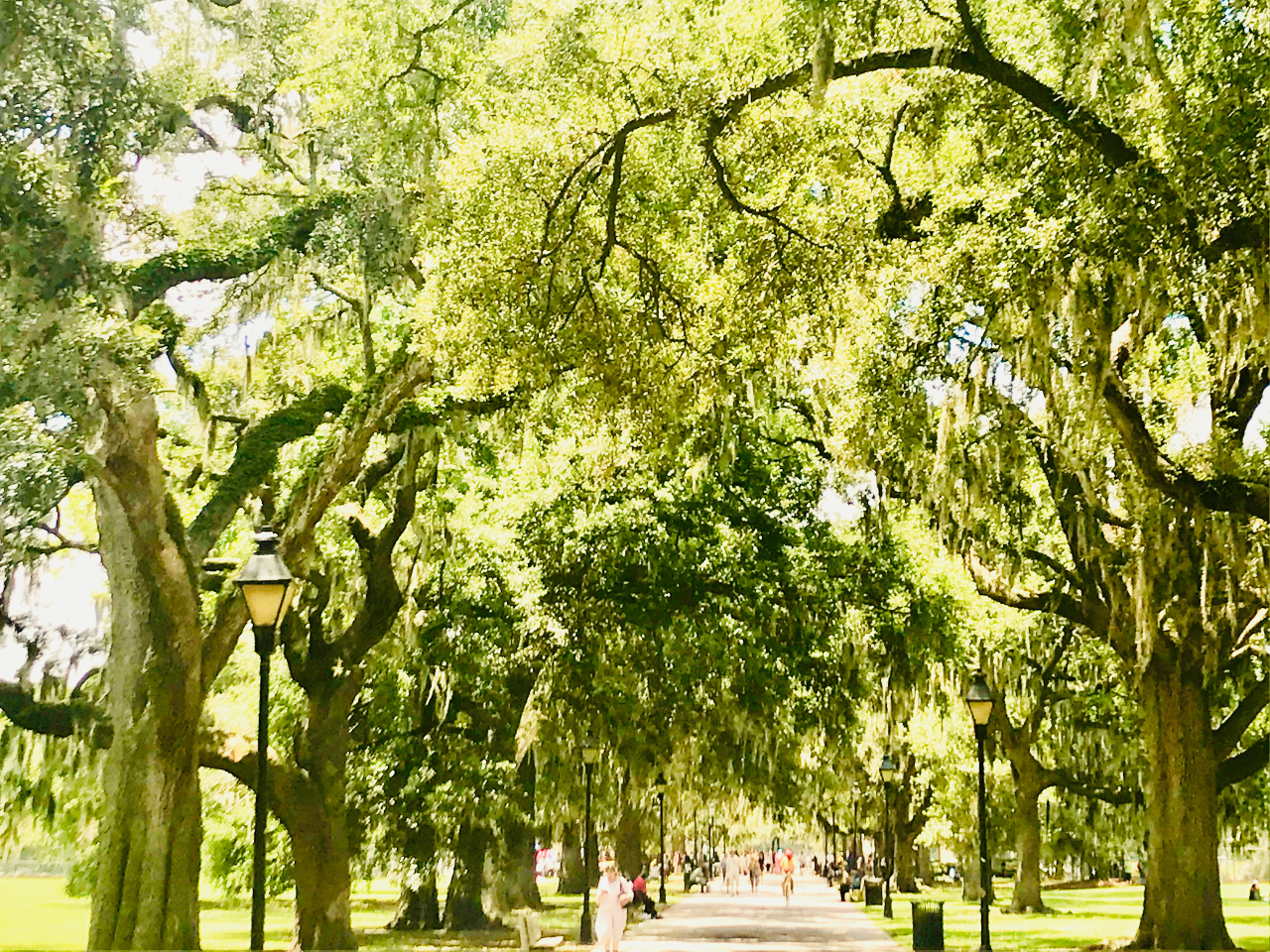 Bonaventure Cemetery
If you haven't had enough of the movie like spots in Savannah yet, Bonaventure Cemetery is another one. Besides being a setting for the "Midnight in the garden of good and evil", the cemetery is also known to be featured in many other movies and shows.
Acres of the landscape filled with old graves, elaborate headstones, and numerous trails make it such an interesting place to wander around. If you're keen on some chills and thrills, you could plan to take a nighttime haunted or cemetery tour to cover the cemetery. It is a totally unforgettable experience.
Ellis Square
Besides plenty of cool shops and restaurants, Ellis Square also houses many of Savannah's top tourist attractions making it possibly one of the busiest squares of Savannah. It also has a beautiful open green lawn, a fountain for the kids and large seating space for people to hang out.
City Market
This bustling lively courtyard is surrounded by candy shops, chic boutiques, galleries, cafes, and restaurants. There is also a popular Art Center in the market which houses so many studios and art displays from local artists which makes it one of the top Savannah Georgia points of interest. You can easily spend a lot of time here indulging in some shopping and eats and also find some great live music in the evening hours.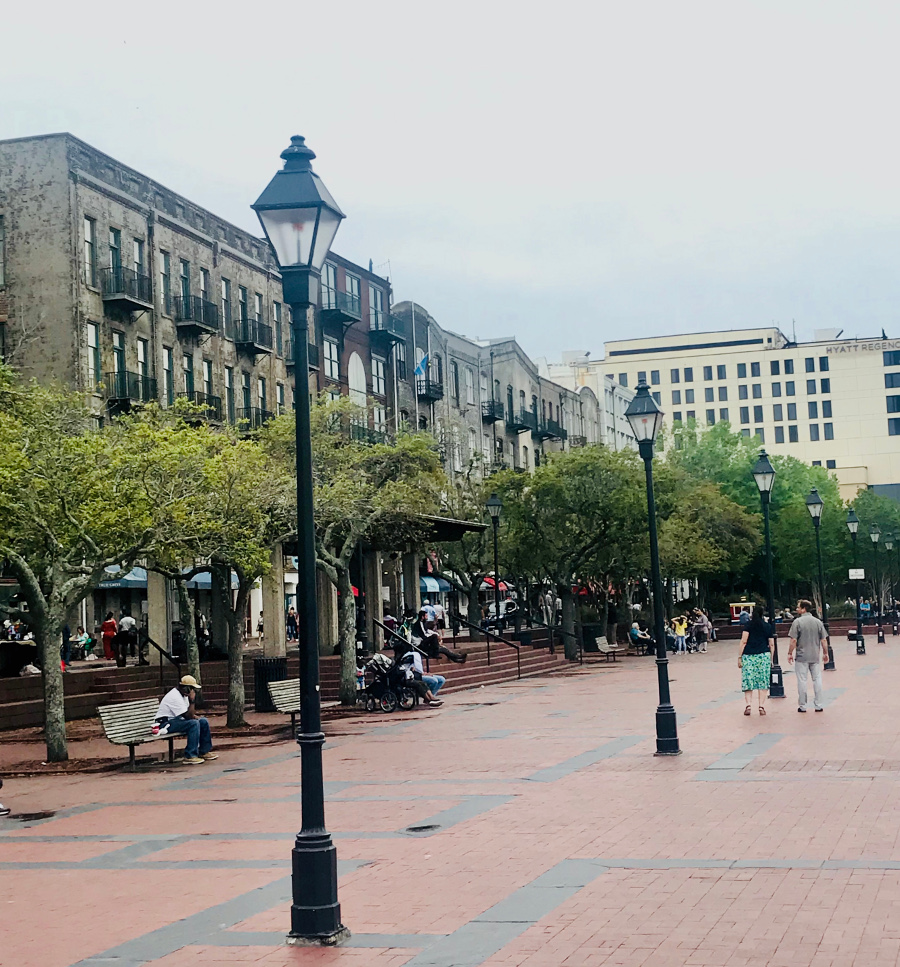 River Street
A perfect day at Savannah cannot be complete without spending a lazy evening strolling the distinctive cobblestone street along the gorgeous Savannah River. This is also the place to indulge in some old style candies or fresh fudge, or even for pub hopping. You can spot street musicians all over the street bringing in such a lively vibe to the place. If you have time, choose to take an enjoyable evening cruise or steamer ride over the river to take a closer look at the majestic suspension bridge.
Pro-tip: Did you know booking completely free trips might be easier than you think? With just a few easy-to-follow steps laid out in this post, you can snag free travel and make your dream trips happen!
Savannah off the beaten path – Unique places around Savannah
If you are spending more than a weekend in Savannah and are willing to tread a little away from the city center, there are plenty of options that you could choose from. You can take a pick based on what you're in the mood for – lounging at a beach, exploring another historic site or simply wandering another cute little town. These are great off the beaten path things to do in Savannah and will allow you to better understand and see the city.
Daffin Park
Going further with the Savannah sightseeing list, you need to know that Forsyth Park isn't the only big park in Savannah. It's lesser known (twin) sister called Daffin Park is as big, but is rarely as crowded as its popular counterpart. Keeping up to Savannah's green reputation, this one too is as scenic. It's the locals favorite and great for a quiet park experience.
Wormsloe Hall
This impressive historic site is one of its kind and noted for the miles of trails lined up with live oaks. You will be amazed as you are welcomed by the incredible canopy formed by the trees when driving through the entrance towards the visitor center and you'll understand why this is one of the cool activities in Savannah GA. Walking trails, breathtaking views, history and lots of Spanish moss add up to such an exciting experience and totally worth a visit.
Old Fort Jackson
Old Fort Jackson is a national historic landmark and the oldest standing brick fort in the state of Georgia. This is located along the Savannah River and the coastal plains make it a beautiful sight and one of the best Savannah attractions. The fort also offers cannon firing demonstrations and other interactive programs over the weekends. This can definitely be considered one of the fun things to do in Savannah GA.
Fort McAllister State Park
This scenic park on the banks of Ogeechee River is another incredibly well-preserved fort and one of the best items in this Savannah Ga visitor's guide. It's hard to believe that this structure and earthwork has sustained relentless attacks during the Civil War. There are numerous cannons, military artifacts, and barracks on display at the grounds as well as an onsite museum, narrating tales of the history of coastal defenses.
With a huge lush green landscape, the park is also a great spot for camping, hiking, kayaking, fishing or simply spending a refreshing picnic day. The typical Savannah live oaks and Spanish moss make up for many interesting trails or opportunities to fix up a hammock.
Tybee Island
Located at about 30-minutes drive from Savannah, Tybee Island is often called as "Savannah's beach" and it's one of the top things to do near Savannah GA. The island is easily the best way to hit the beach while in Savanah and spend a laid back day.
The beach itself is broad and long and generally not too crowded, especially during weekdays. You can easily find yourself a spot to fix up a chair or tent and spend a few good hours. It is also worth exploring this quaint little beach town. There is also a lighthouse at one end of the beach, making it a perfect photo spot.
Near the island is also the famous Fort Pulaski, which is another amazing historic as well as a scenic site. A huge park surrounding the fort is also a popular hiking spot with plenty of unique trails along the coast, a perfect way to spend the day outdoors.
Where to eat in Savannah
You cannot be in Savannah and not taste some of the best Southern goodness available in the country! Included below are the best restaurants in Savannah GA so that you don't need to ask yourself "Where do I eat in Savannah" or "where do I go in Savannah GA for great food" any more.
The Olde Pink House
This restaurant in Savannah is a great choice for an intimate and memorable date. While the food is amazing, this magnificent mansion styled restaurant is worth a visit just for the experience.
The menu comprises of classic Southern dishes and each dish is bang full of flavor. Reservations are a must though, to avoid long waiting times.
Mrs. Wilkes Dining Room
This is another popular family-run restaurant in Savannah GA serving home-style food for many years and is possibly the most sought after brunch spot in Savannah. The lines are always long, considering they are open only for a few afternoon hours, that too only on weekdays.
Huey's on the river
If you're looking for some great food and outdoor seating with a perfect river view in your Savannah vacation, this is the place to be. With a wide variety on the menu, you cannot go wrong with any order. But the beignets are to die for! This is why I simply had to include it in this Savannah GA travel guide!
Leopold's Ice cream
This legendary ice cream shop in Savannah also has a filmy history since it was opened by Hollywood producer Stratton Leopold way back in 1919. This place also is the inventor of the Tutti Frutti flavor! Do you need any more reasons to try their ice cream?
Where to stay in Savannah GA
Here are the best hotels in Savannah GA for different budgets. Depending on where you want to go, these are the best places to stay in Savannah GA.
Luxury Savannah hotels: The Alida Savannah is a luxurious boutique hotel right on the river street. The Olde Harbor Inn is another great choice if you're looking for a place with a Savannah-isque character oozing of history and some great views.
Mid-range hotels in Savannah: Marriott Riverfront offers some unbeatable views of the Savannah River and perfect accommodation for traveling families. Holiday Inn in the historic district is another affordable choice with a great location.
Book your Savannah hotel right now.
Savannah travel tips
Here are some awesome tips to make the most of your Savannah trip:
Slow Down!
The first and most important tip to enjoy Savannah would be to take it slow. The city is best enjoyed strolling around the streets and squares, simply soaking up the vibe of the place. Stop at every square you reach and read the plaques to imbibe some interesting history lessons. Take breaks, grab a bench to sip some coffee and people watch. Simply do not rush.
How to get around Savannah GA?
Savannah is possibly one of the most walkable cities ever. I say this not only because of the ease of walking here but also how much you would relish to simply walk! So, the best way to get around is to walk it up. When you are tired, you can even catch a free shuttle that regularly takes rounds of the downtown.
Recommended Tours
While walking is great, the Hop on/ Hop off Trolley Tour is also an amazing way to cover the entire downtown historic district. Not only can it save you time, but the tour guides totally up the entertainment factor and you also learn a lot about the history of the place.
If there is just one tour you'd want to do while here, it has to be the Cemetery/ Ghost Walking Tour. This twilight tour is unlike any other I have encountered, and you are bound to get some fun creeps! 🙂
If you chose to buy a Savannah Pass, all these tours would be included, along with other attraction tickets.
Do I need a car in Savannah GA?
For the most part, No. You should only consider renting a car if you plan to do a day trip outside the city to either Tybee island or Bonaventure Cemetery. Uber and Lyft are a great alternative too.
When to go? Weather in Savannah, GA
I would consider Spring or Fall as the most pleasant weather to enjoy Savannah. Summer months can sometimes get too humid. While considering your trip dates, keep in mind about the St. Patrick's Day weekend. These celebrations in Savannah are one of the largest in the US so this could be a very busy and pricey weekend to visit.
Final Thoughts on Visiting Savannah GA
Do not let the long list of the "must-see" places overwhelm you or sway you from the laid back feel of the place. The great part about the city is that almost all the attractions are so close to each other. The city is compact and chances are you will cover all of it in the time you have. But even if you miss a few, do not fret. Because that will give you an excuse to come back to this charming city! Use this complete guide to Savannah GA USA when planning your trip!
So, what draws you the most to Savannah? Strolling in the classic gardens, relaxing on the benches or peeking into enchanting historic homes? Do leave your comments below!
About the author
Divs is a digital marketing professional, and a travel blogger at https://travelsavingsaddict.com. She travels the world with her husband, Jazz. Her blog's mission is to inspire people to travel more, and to empower them to become SMART travelers! She shares her travel stories, sprinkled with dollops of ingenious hacks, useful tips, and practical advice to make travel happen. Subscribe to travel.savings.addict for your regular dose of travel inspiration in the form of tips to score the best travel deals, destination guides, and fun ideas!
Follow Divs's stories on Instagram, Facebook, and Pinterest