Beef rendang is a traditional Indonesian dish that you can also make at home. It takes a few hours to make it, but it's not a hard recipe and, in the end, you'll have a delicious meal for you, your family or to impress your friends.
Beef Rendangs is so tasty that it became popular in nearby countries as well, and you'll find it in Malaysia, Singapore, and many more countries.
As we've started to present you international popular dishes, this article brings us to Asia – or, if you're based on a different continent, it can bring Asia to your home, for at least a few hours!
This authentic Indonesian Beef Rendang recipe is presented by James from The Travel Deck and it will be a delight for you!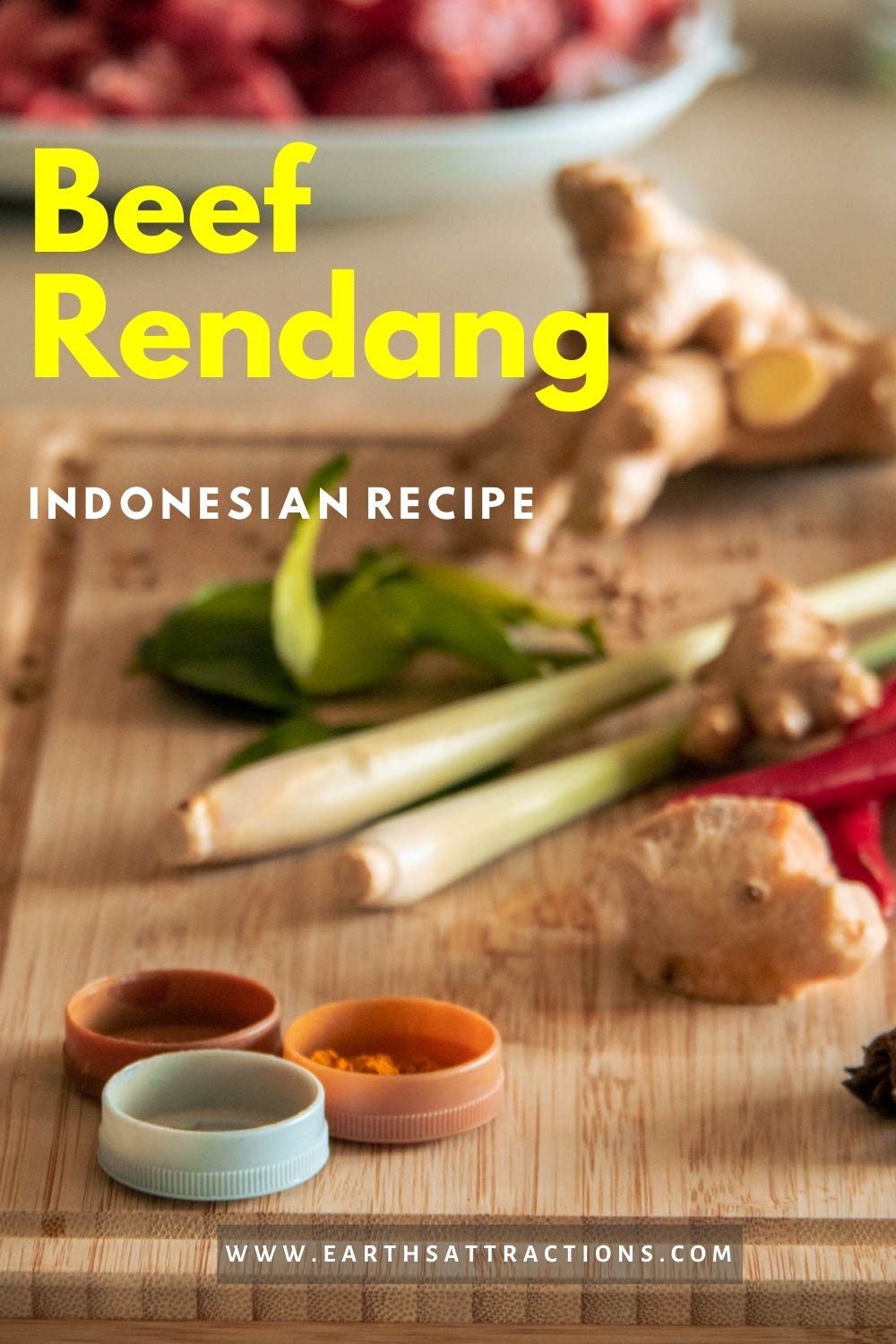 Traditional Indonesian Beef Rendang Recipe
BEEF RENDANG
Beef Rendang is a spicy beef stew originating in Indonesia. Probably the country's most popular dish, rendang has made its way and become popular in Malaysia and Singapore.
Rated by CNN as the number 1 dish in the world, beef rendang is an explosion of flavour and is typically served with plain rice.
Today, with all ingredients found at Asian food stores, this dish that many have agreed to vote number can easily recreated at home. All you need is patience since it will take over 4 hours to create from start to finish.
WHAT IS BEEF RENDANG
Beef rendang is a dish that usually served at special occasions or during festive days in Indonesia.
Originating from the Minangkabau region in West Sumatra, Rendang has made its way throughout the entire country and to neighbouring Malaysia and Singapore.
Beef rendang can easily be found at Masakan Padang restaurants. These restaurants serve a range of dishes that all originated in West Sumatra.
The secret to creating beef rendang is a dry paste made with spices and exotic food like galangal and ginger. This paste is used to infuse the meat while quickly frying it before drowning everything in coconut milk.
From start to finish, beef rendang takes over 4 hours, between preparation and cooking. However, the preparation time is around 30 minutes and the rest of the time the meat simmering over low heat until fork tender.
A GRAB DRIVER OFFERED US RENDANG
Before flying into Indonesia after a 3 month trip in Thailand, I had been searching for traditional food in Indonesia. Being rated number 1 dish, Beef Rendang was high on the list.
Me and my girlfriend landed in Jakarta and made our way to Bandung, a city on Java island in the highlands East of Jakarta.
We arrived in Bandung during the month of Idul Fitri, a festive month after Ramadan.
Idul Fitri is a festive month where the Muslim community in Indonesia take time off work and meet their families. Ceremonies and gatherings are normal during these days.
After a few in Indonesia, me and my girlfriend Jacqueline hadn't got the chance to try Beef Rendang.
One day, we booked a GRAB taxi and after arranging with the driver to hire his scooter, we were both invited to a small ceremony at his house.
I followed the GRAB driver on the scooter into extremely narrow alleys where the scooter almost didn't manage to pass.
We reached the little cosy house painted in bright blue and yellow colours. Along with coffee and biscuits, his wife brought out this dish.
Honestly, I didn't really think that much of it at first appearance but finished my coffee and tried a piece of meat. The explosive taste of spices and coconut milk infused in tender meat was amazing.
This is when I realized this dish must be Beef Rendang. So as it turned out, we where first introduced to beef rendang by a sweet Indonesian family who invited us in their home and that we barely knew.
HOW TO MAKE BEEF RENDANG
Although Beef Rendang's amount of ingredients [many of which you may never of heard] may seem complex to recreate this dish, it is very straight forward.
The main and first step is to blend most of the spices and herbs in a processor creating a dry paste. And later on add the paste, meat and coconut to a wok or pan and leave the stew to simmer until the meat is tender and liquid has evaporated.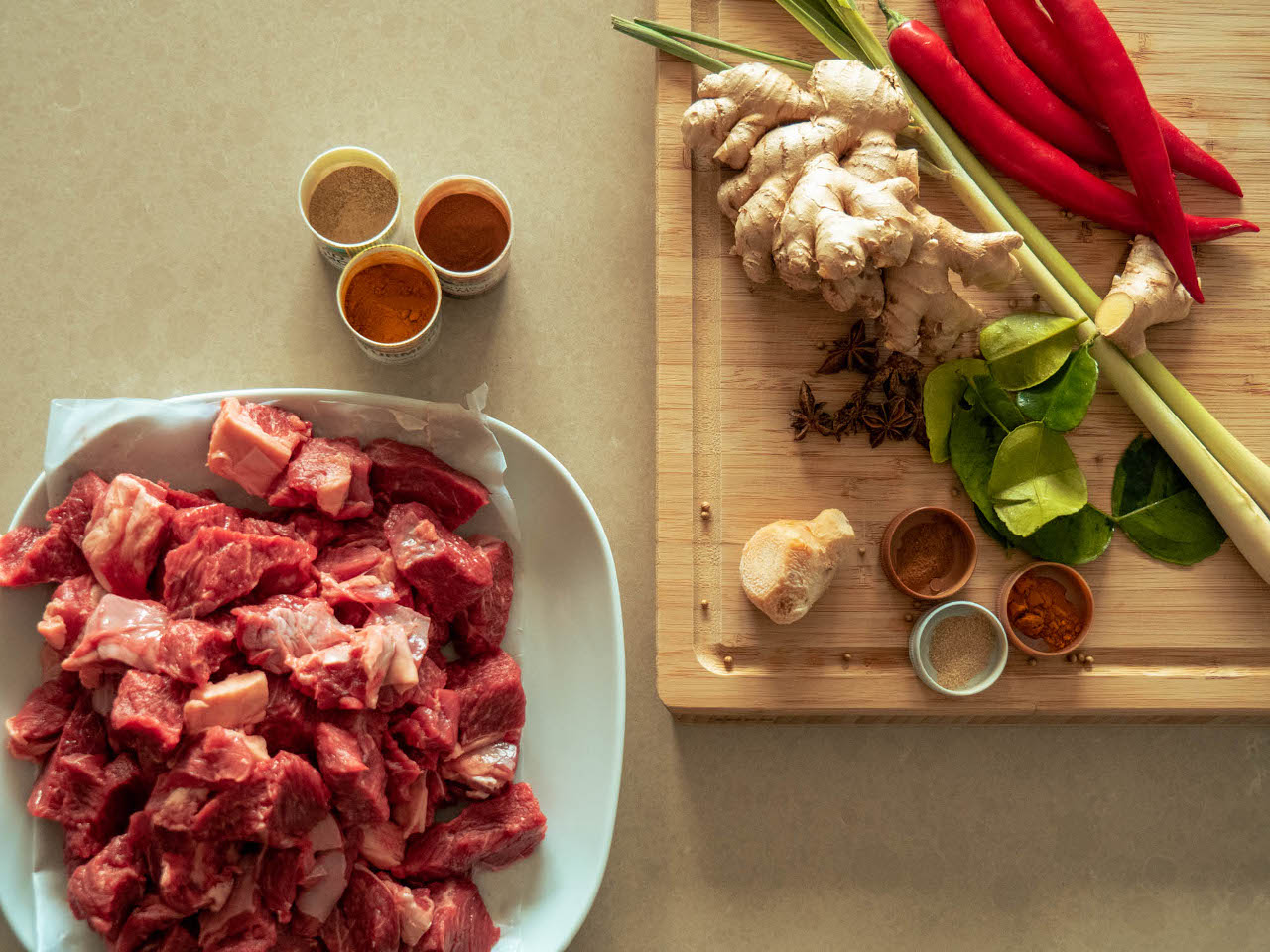 BEEF RENDANG INGREDIENTS
(serves 4 to 5 person)
For the spice paste
3 medium onions
10 cloves garlic
2 pieces 1 inch cube ginger
2 pieces 1 inch cube galangal (I found this frozen)
4 chillies for medium heat and 10 for quite hot (I used 4 normal big red chillies deseeded)
1 tspn ground coriander
1 tspn crushed coriander
1 ½ teaspoon turmeric
½ teaspoon cinnamon
½ teaspoon ground cardamom
1 teaspoon pepper
1 teaspoon salt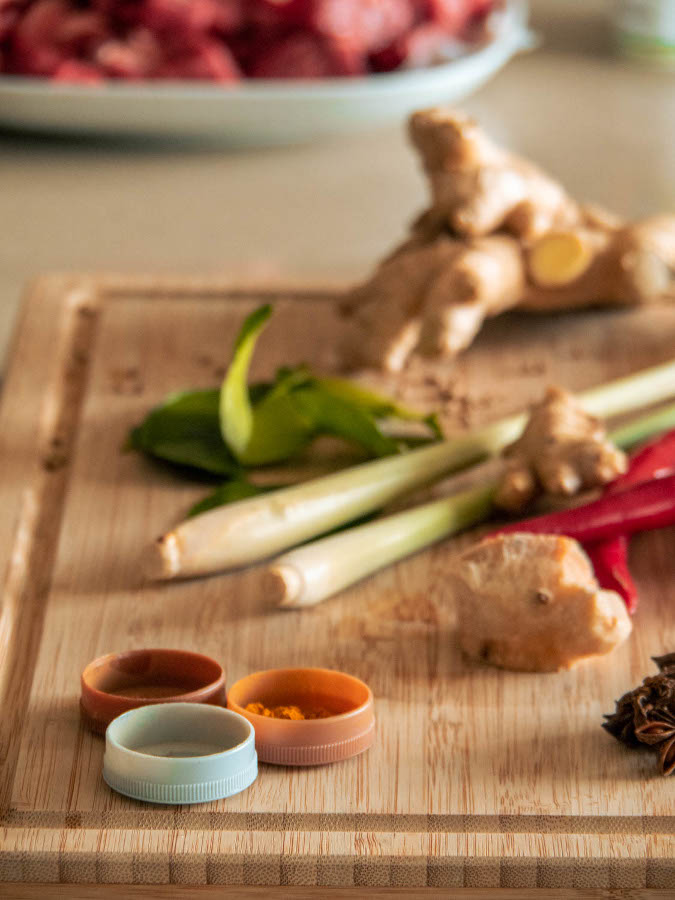 Main ingredients
1 tbsp vegetable oil, canola oil or peanut oil
1 kg beef chuck cut into 3 or 4 cm cubes (skirt, silverside, brisket are all good cuts for slow cooking))
4 stalks lemongrass (white part)
4 kaffir lime leaves (found frozen)
3 star anise
1 can 400 ml coconut milk (for extra curry add an extra can so the liquid won't all soak up)
1 ½ tbsp tamarind paste
1 tbsp brown sugar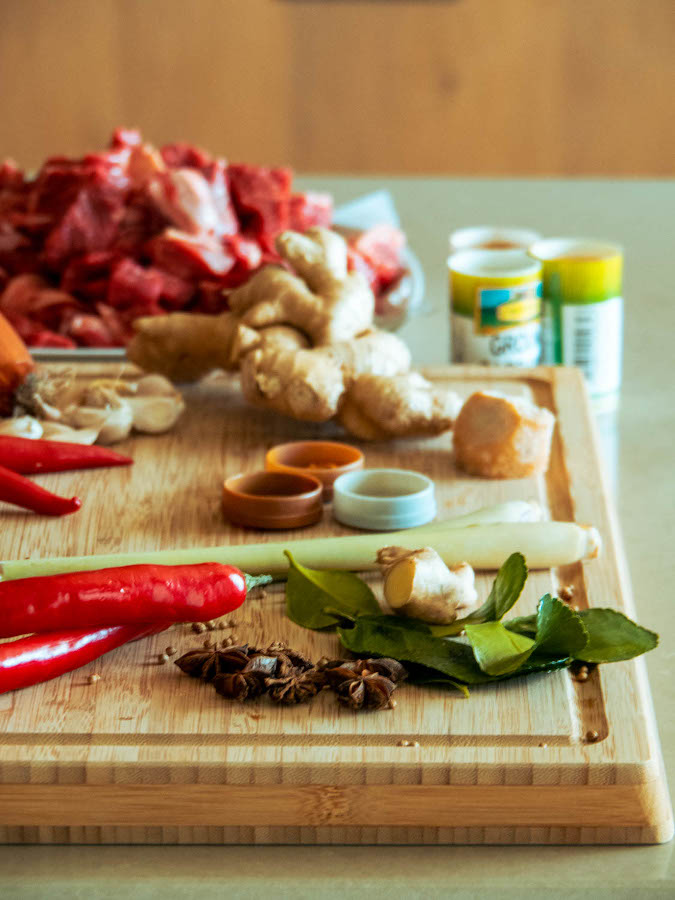 Beef Rendang Recipe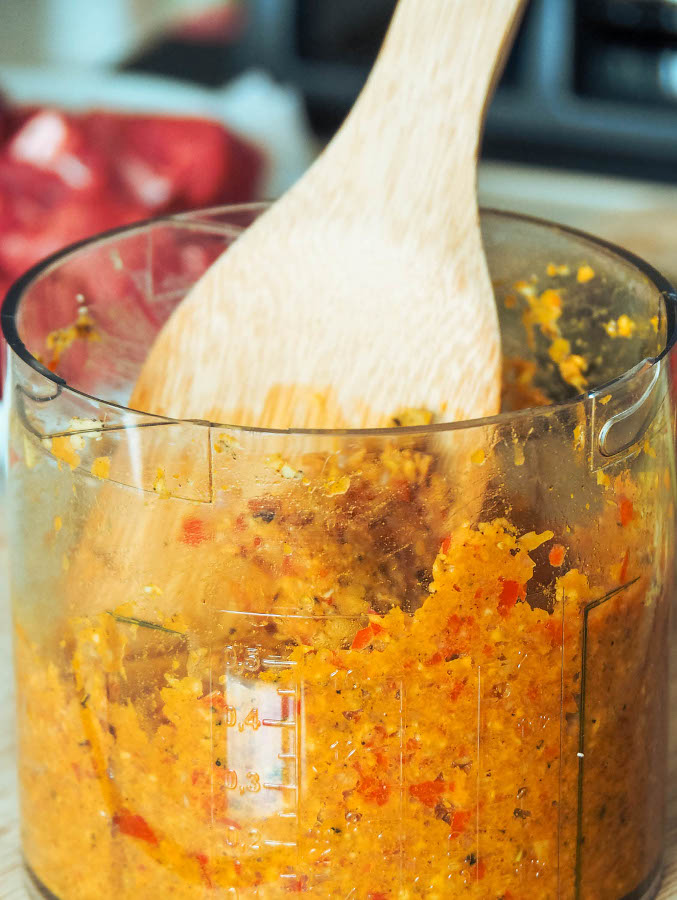 1. Add all spice paste ingredients to food processor. Make sure to cut galangal and ginger into smaller pieces the food processor may find them hard to break up.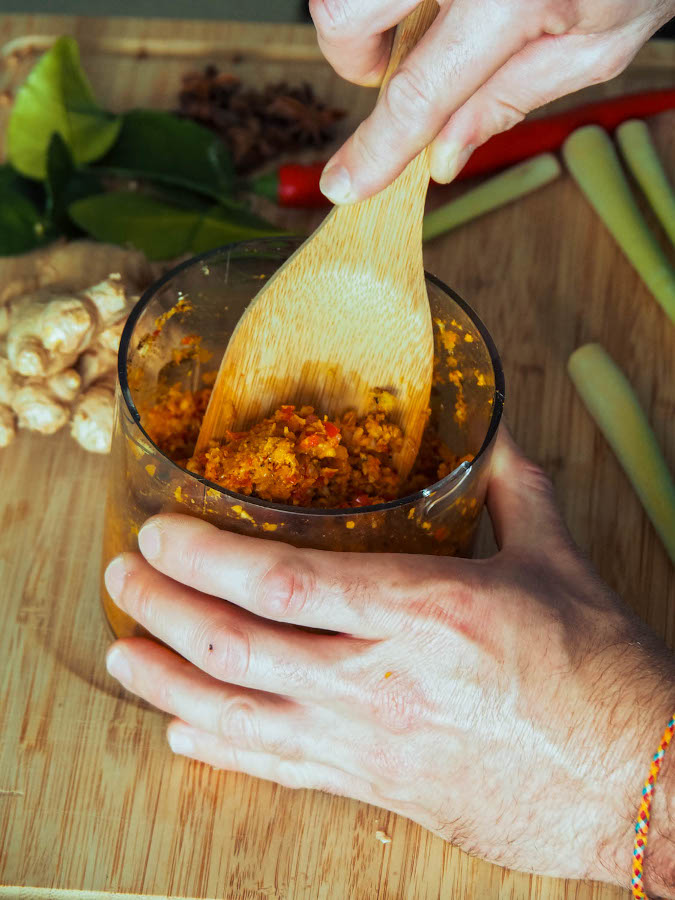 2. Heat oil in a wok or large pan on high heat, add spice paste and leave for around 2 minutes until the paste heats up. In the meantime, bash the lemongrass stalks with back of a knife.
This will release all the amazing flavour. Add lemongrass, star anise and kaffir lime leaves. Leave for 2 minutes.
3. Add in the beef and mix with all the spices and stir until all sides of the meat have taken colour and started to cook.
4. Pour in the coconut milk (either 1 can for the traditional dry end result or 2 cans for extra curry liquid) and leave on high heat until the milk starts boiling.
5. Set heat to medium and leave to boil for 15 minutes, until some liquid has started to evaporate. Next set heat to low and simmer uncovered.
6. Halfway through, about 1 ½ to 2 hours add tamarind paste and sugar. Taste for saltiness and add as needed.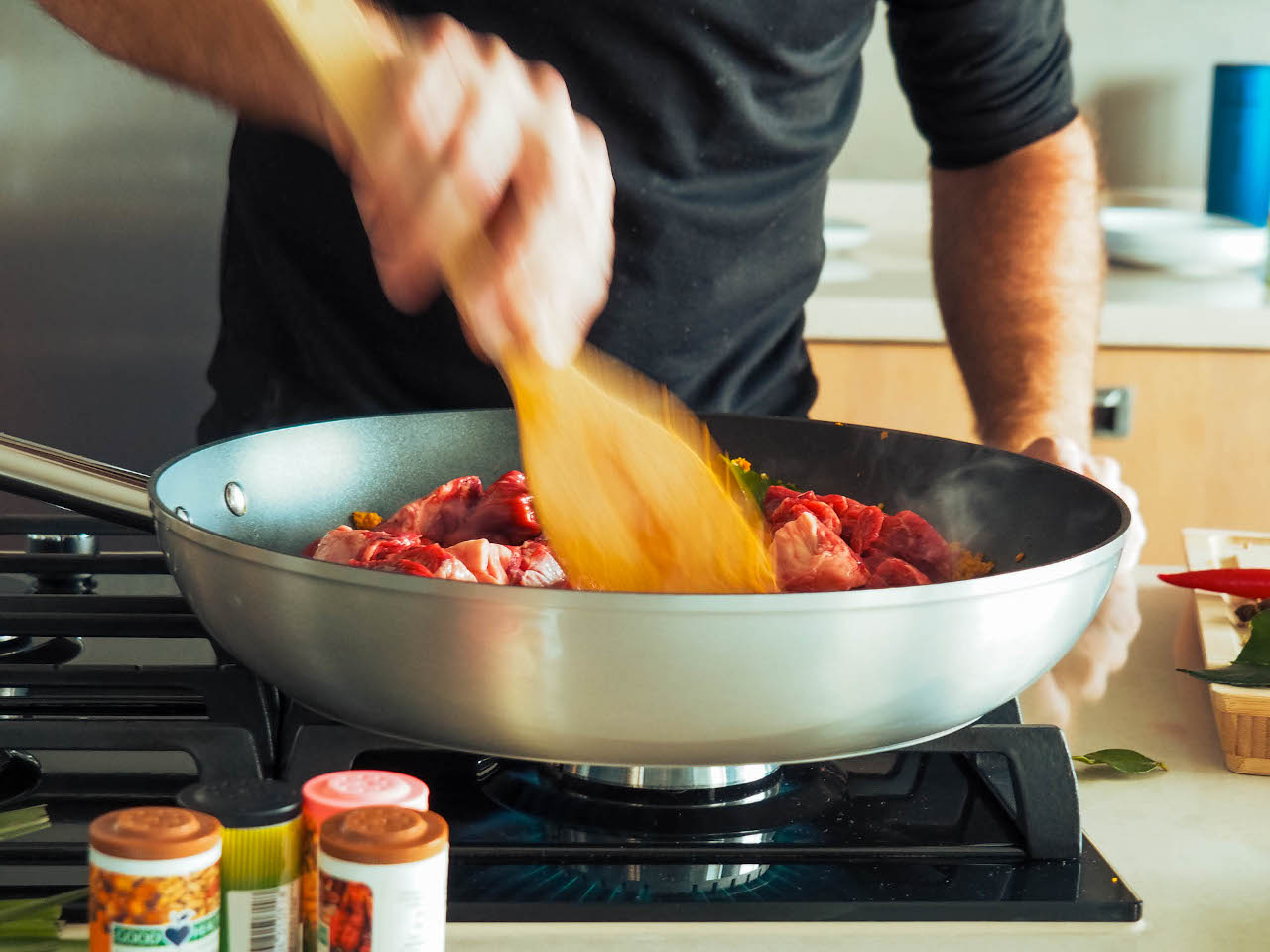 7. Simmering time will be around 4 hours or once the meat is extremely tender.
If you're making the dry Rendang version, add some water if the liquid starts to dry up too quickly.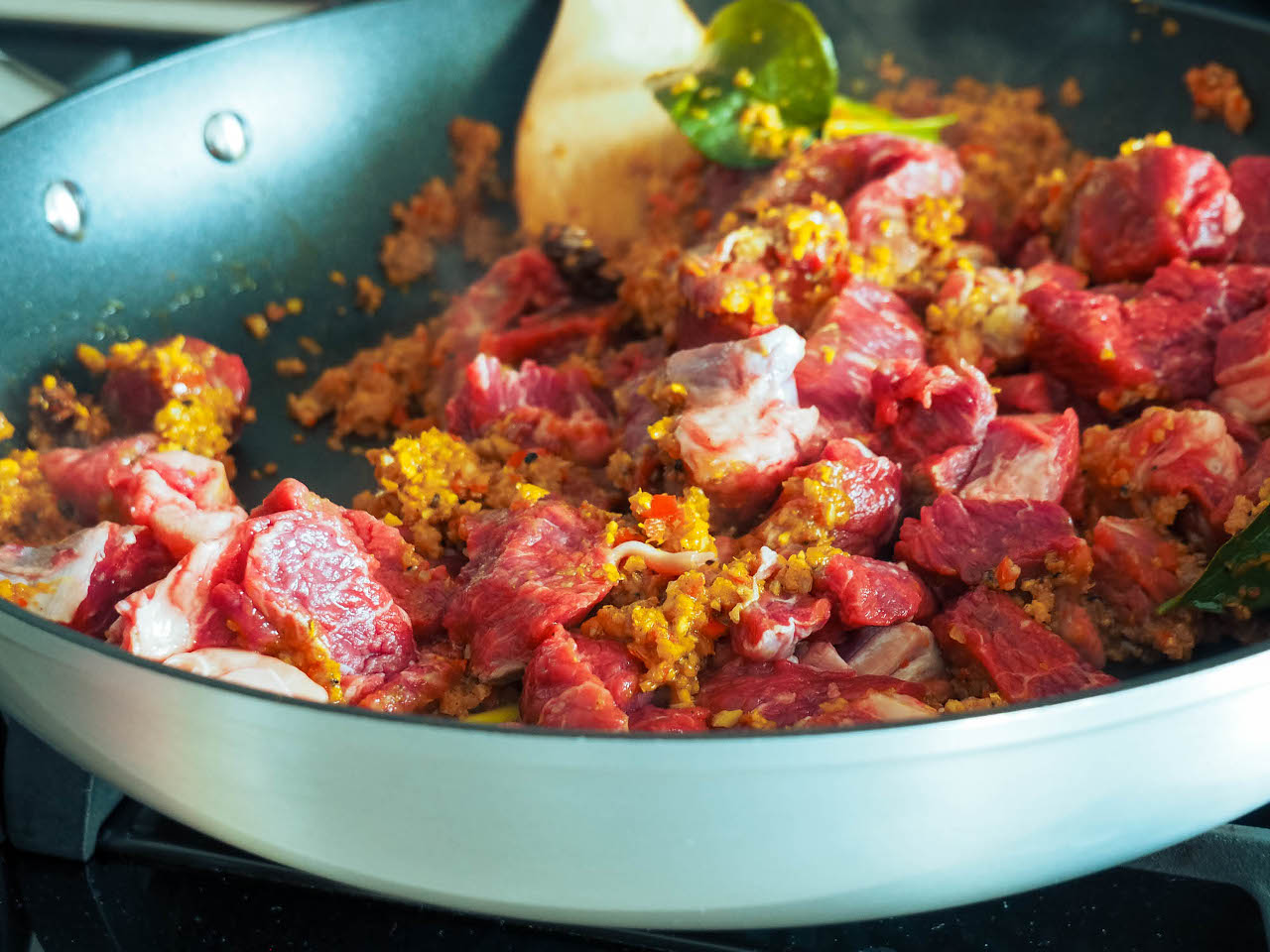 Beef Rendang Serving suggestion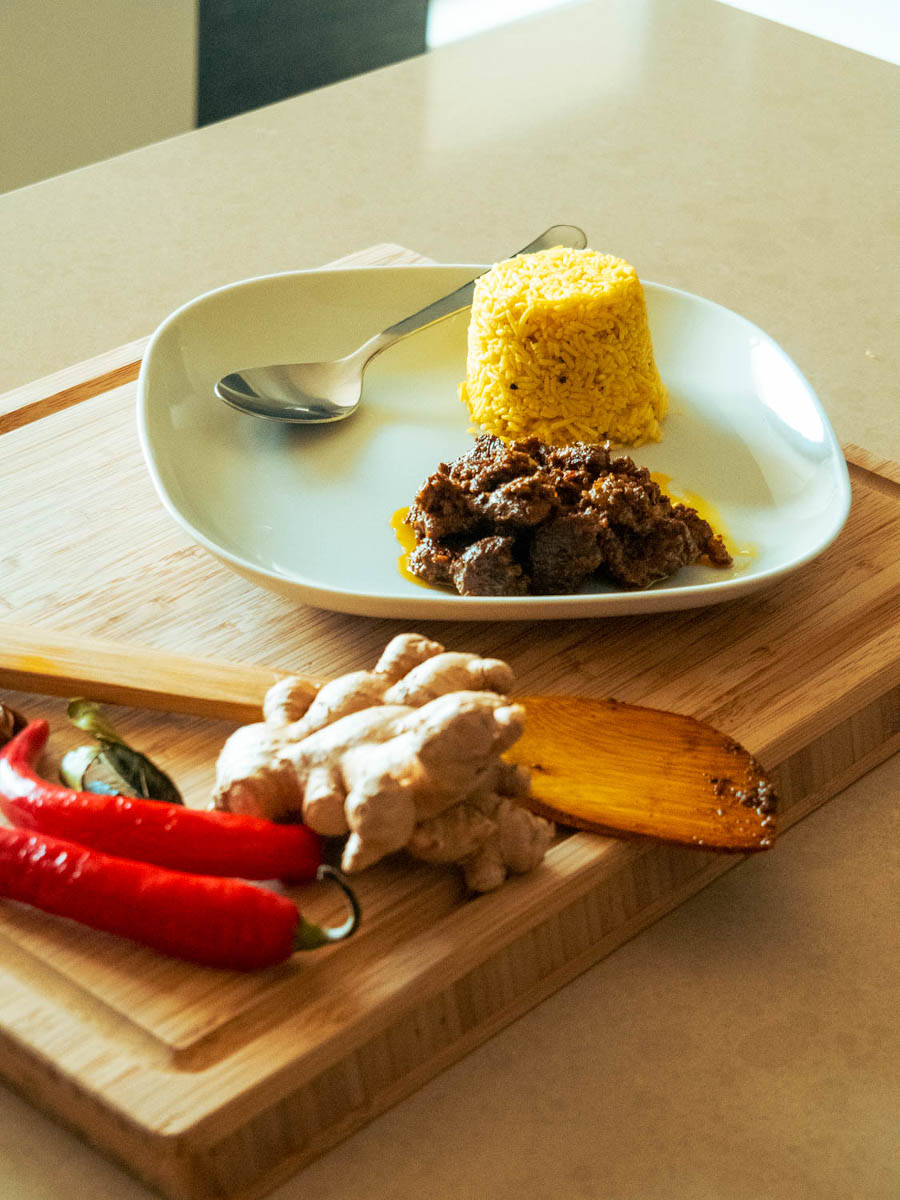 Beef Rendang tends to enhance its flavour if left to sit overnight in the refrigerator. Try preparing the Rendang a day ahead and simply warm up when ready to serve.
As a side, I serve Beef Rendang with rice simmered with 1 teaspoon turmeric, 3 star anise and 4 cardamom pods.
For any amount of rice, add 1 ½ amounts water. I use 400grams rice, thus 600ml water. All spices go in with the rice.
Cover pan, set heat to high and once boiling turn down to minimum and simmer for around 8 minutes or until water has soaked up.
Once ready remove cardamom pods and star anise and fork through.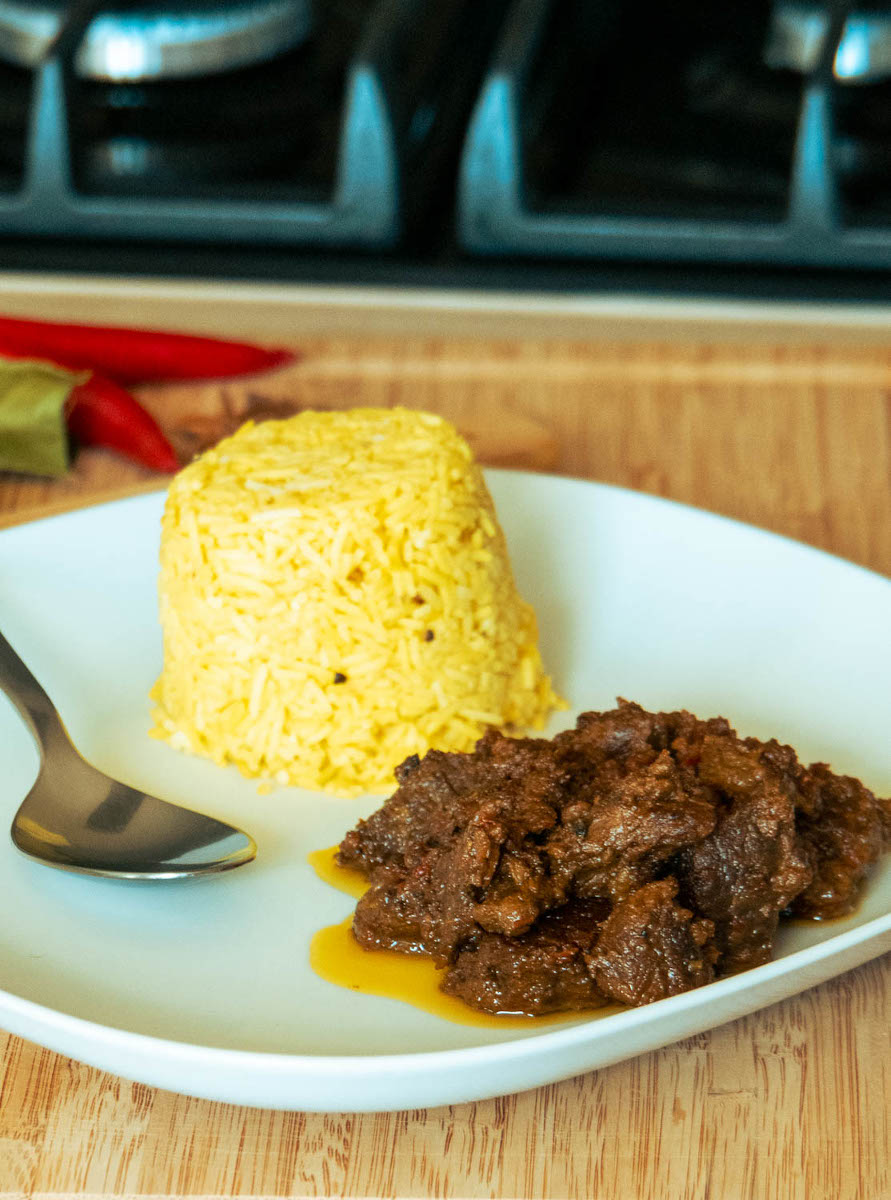 About the author:
James is a creative mind always searching for new and fun things to do on his trips around South East Asia. Along with his girlfriend Jacqueline, they created a travel website focusing on detailed guides and ways to save money while not missing out. Follow him on Pinterest too.