London is one of my favorite cities – and that's not a surprise given the impressive number of great attractions in London, the atmosphere, the history, and the architecture. London is also one of the most visited cities in Europe, so here's your guide to London with the best things to do in London, UK.
Read this article and discover London off the beaten path, London accommodation options, London food, and the best things to see in London, all recommended by David Angel from Delve Into Europe. This guide is part of the free travel guides series on this blog. Include the recommendations below on your London bucket list or on your itinerary for when you plan to tour London.

As we've covered London in previous articles as well, before diving into this amazing London travel guide, I'm also recommending you to:
Included in this guide to London:
Best things to do in London

Tower Bridge
Tower of London
The Shard
St Paul's Cathedral
Westminster
Buckingham Palace
Changing of the Guard
Trafalgar Square

London Off the beaten path

Albert Bridge
Foyles Bookshop
Columbia Road Flower Market
Lincoln's Inn Fields

Where to eat in London
Where to stay in London
Tips for London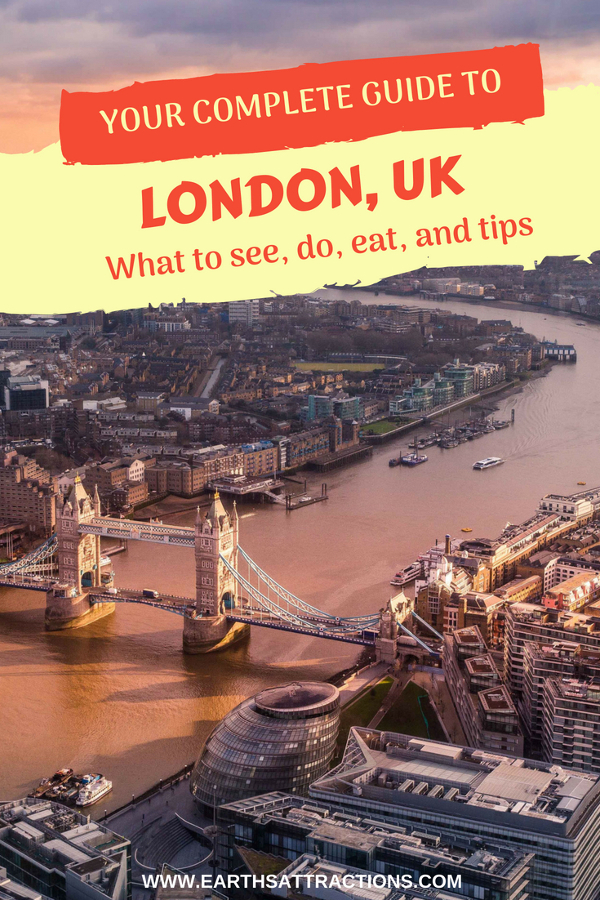 Your guide to London with the best things to do in London, UK
London is one of the best cities in the world to visit. Between us we have lived there for over eleven years, and visited hundreds of times on top of that, and we're still finding new places to see and things to do there.
It's a city of staggering historic and cultural wealth, the most diverse city in the UK. This guide will help you make the most of your time in the city and get around some of the best things to do in London.
Top Attractions in London
Tower Bridge
One of the most iconic sights in London, this graceful bridge near the Tower of London raises its central section whenever tall boats and ships pass through.
Tower of London
This amazing castle and royal prison is almost a thousand years old, and is one of London's must-sees. The Yeomen Warders – better known as Beefeaters – in their distinctive uniforms show visitors around.
You can also see the Crown Jewels in a special exhibition. You can easily see why this is one of the best things to do in London.
The Shard
Your guide to London continues with Renzo Piano's skyscraper, the tallest in Europe, dominates the skyline for miles around. Most people visit for the view, and it's best to watch the weather forecast closely and pick a clear day.
You look down on the city's landmarks from a similar height to the Eiffel Tower in Paris – an amazing perspective.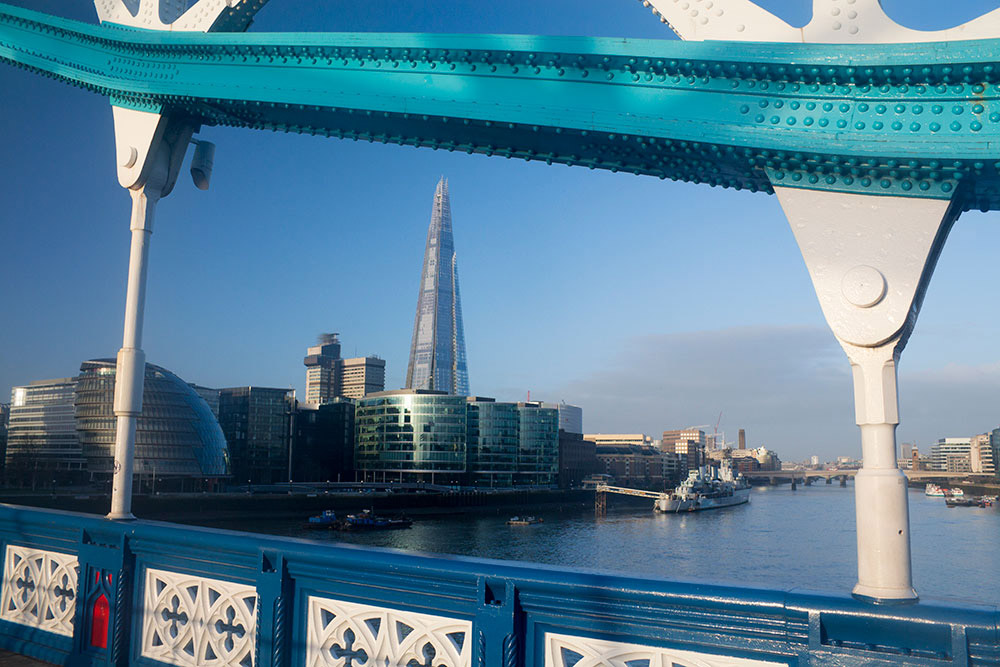 St Paul's Cathedral
It looks small from the top of the Shard, but the domed 17th century is one of the great London landmarks, and it's worth spending half a day there, savouring the rich golden Baroque interior and climbing the dome for extraordinary views of the City of London and beyond.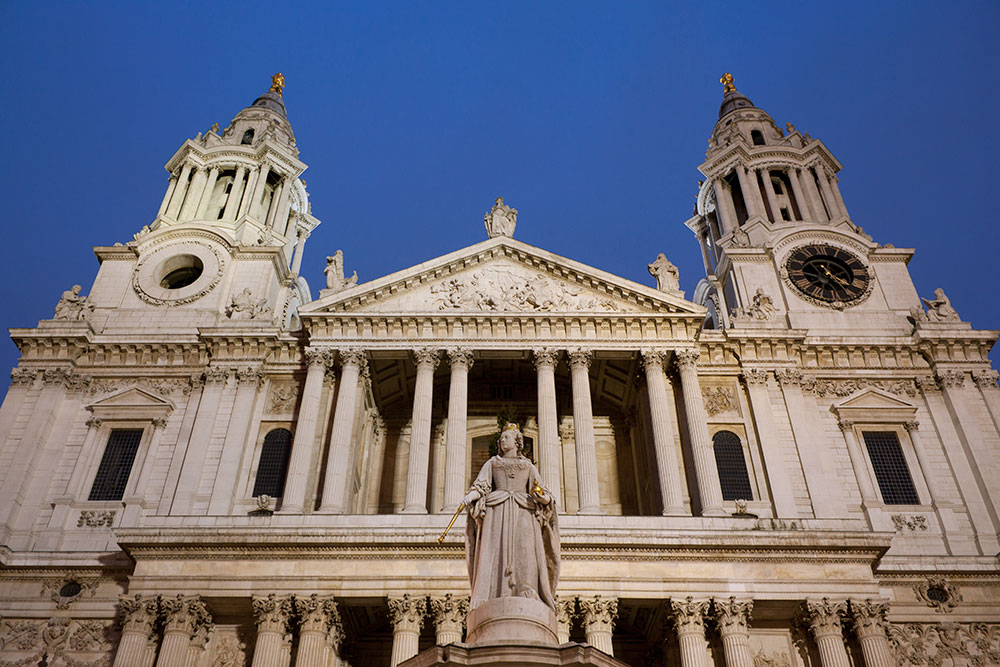 Westminster
Westminster is the UK's seat of political power and royal history, and a must on any London to-do list. Westminster Abbey is crammed with history.
The Houses of Parliament and the clock tower, Big Ben, across the Square are among the most iconic sights in the world, but the latter is going to be covered in scaffolding for the next two to three years.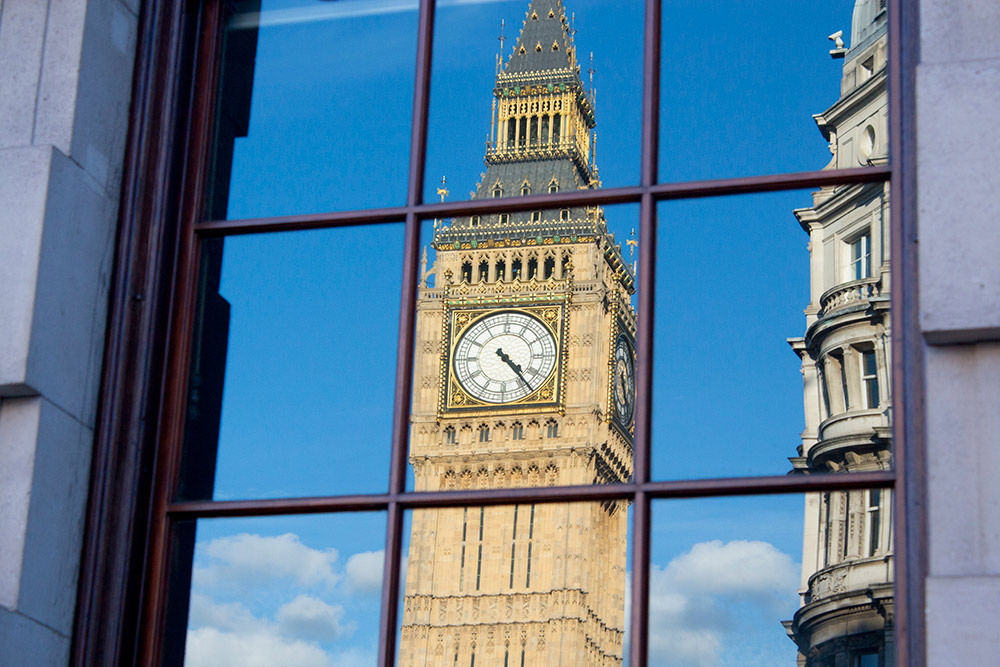 Buckingham Palace
This is the ultimate central London residence, the Queen's official London home. It's open for 10 weeks each year when you can go behind the scenes and visit the State Apartments and galleries. This palace is a must-see in London.
Changing of the Guard
An institution rather than a landmark, the daily Changing of the Guard ceremony is one of the most popular sights in London. Large crowds tend to gather for the Buckingham Palace ceremony, but it's much easier to get a good spot to watch the similar Changing of the Life Guard ceremony on Horse Guards Parade, at the other end of St James's Park.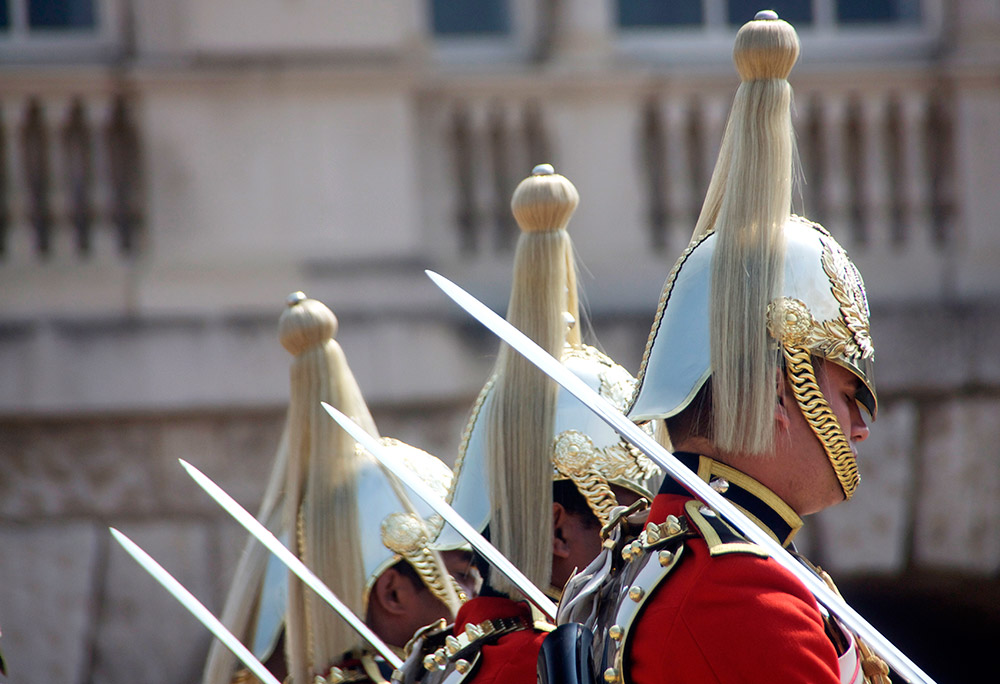 Trafalgar Square
This is the main central hub of London, one of the grandest traffic islands in the world. It's home to Nelson's Column, the famous bronze lions at its base, lovely St Martin in the Fields church and the National Gallery, quite simply one of the best art museums in the world.
London Off the beaten path
Here are some of the best off the beaten path things to see in London.
Albert Bridge
The River Thames is spanned by over thirty bridges from south west London to the North Sea. Tower Bridge and London Bridge are the best-known, but the most beautiful bridge in London is hidden away in Chelsea.
The Albert Bridge dates from the 19th century and looks at its best at night, when it's lit up.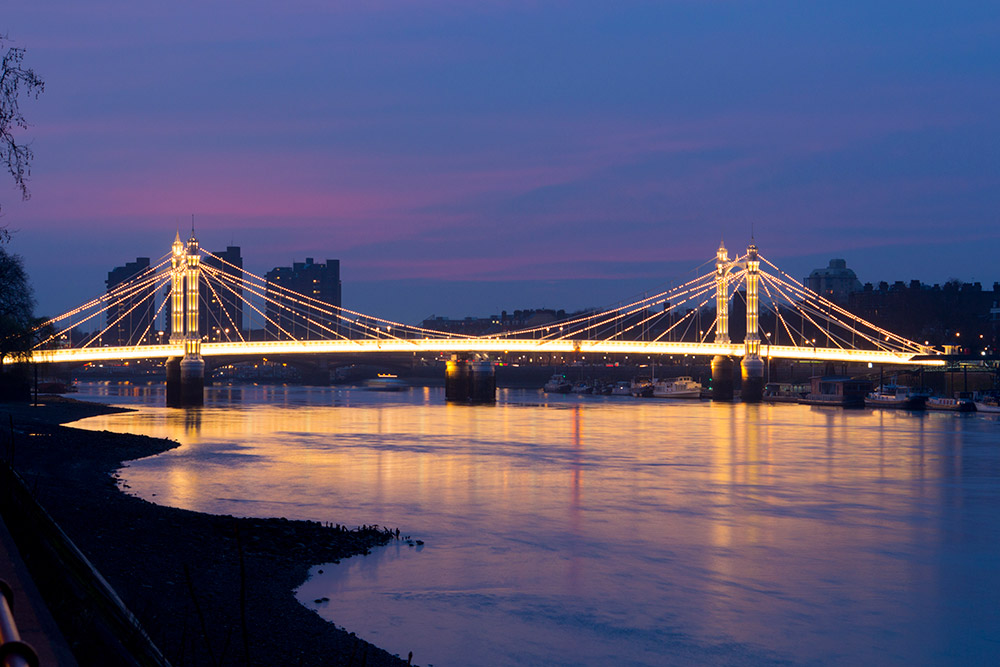 Foyles Bookshop
Foyles is legendary, the biggest and best independent bookshop in central London. It's on Charing Cross Road, a short walk from the theatres and pubs around Cambridge Circus, in a relatively quiet area where several music venues have closed due to the new Crossrail station nearby. This shop seems to have everything, across all genres.
As a side note, there are many great London Theaters and Pub theaters worth checking out, so don't miss the chance of visiting at least one on your London trip.
Columbia Road Flower Market
You may not necessarily want to go shopping for shrubberies on a Sunday morning, but this authentic London East End market is a great experience, as there are plenty of places to eat and drink, listening to the barrow boys bartering or one of the bands playing near the stalls. Great colour and atmosphere, a few minutes' walk from busy Brick Lane.
Lincoln's Inn Fields
Few visitors venture to the oasis of quiet that is legal London, but it's well worth the walk north of Fleet Street to see some of the grand buildings and lovely Lincoln's Inn Fields, one of the most beautiful green spaces in central London.
While there, visit Sir John Soane's Museum, exploring a house untouched in the 180 years since the architect (who built the Bank of England) died.
Where to eat in London?
London has a huge array of restaurants and cafes to suit all tastes and budgets – one of the widest selections you'll find anywhere. That said, London is a vast city, and you can often end up walking a long distance looking for somewhere to eat. Some of the best places to eat in London include:
Ye Olde Cheshire Cheese (145 Fleet Street) – this is one of the oldest traditional pubs in London, a labyrinth of rooms dating back to the 17th century, and was frequented by Charles Dickens among others. Plenty of traditional British pub food on the menu – fish and chips, steak and kidney pie, and so on.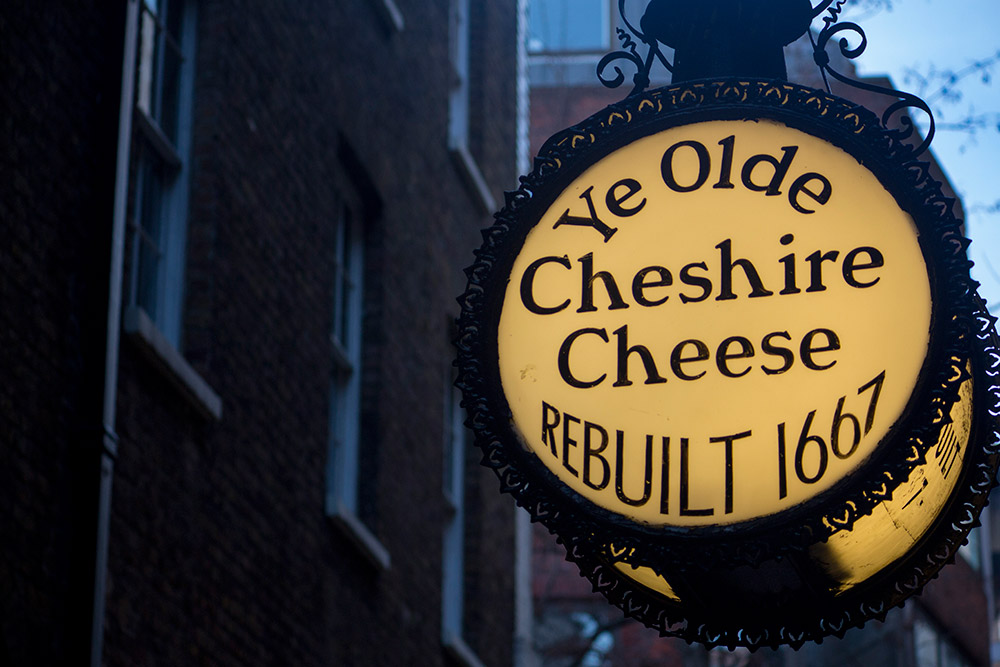 Rossodisera (5 Monmouth Street, Covent Garden) – this is one of our favourite Italian restaurants in London, a short walk from Seven Dials in Covent Garden.
They specialize in cuisine from the Le Marche region (on the east coast of central Italy), beautiful country food including roast duck leg with red cabbage and sour cherries.
Babaji Pide (53 Shaftesbury Avenue) is a new Turkish restaurant near the corner with Wardour Street in Soho. They specialize in delicious Turkish pizza (pide). It's a great place to eat before or after a West End show.
Where to stay in London?
Again, London has a vast range of places to stay, and these are a few of our recommendations.
Arosfa (83 Gower Street, Bloomsbury) A lovely hotel in a Georgian townhouse once owned by the Pre-Raphaelite painter Sir John Everett Millais. It's only a short walk to the British Museum from here so definitely an option for where to stay in London.
Meininger Hotel London Hyde Park (65-67 Queen's Gate, Kensington) This is a fantastic budget choice right opposite the Natural History Museum in South Kensington. It's ideal for families or backpackers, with some dorm accommodation as well as standard private rooms.
YHA London Central (104 Bolsover Street, Fitzrovia) The YHA's flagship central London hostel is in a great location in Fitzrovia, a few minutes' walk from the shopping hub of Oxford Circus, and only a short distance from many of the main sights.
YHA London St Paul's (London EC4V 5AB) Another YHA hostel, housed in a remarkable old building that served as a school for the choristers of St Paul's Cathedral (which is right next door) for over a century. Private rooms start at just £45.
Tips For London
The Tube is a great way to get around, but in the central part of the city try to take the bus instead. It's often slower but you see much, much more. The number 11 from Victoria is one of the best routes, passing Westminster, Whitehall, Trafalgar Square and St Paul's Cathedral on its way to Liverpool Street station.
London is generally a safe city to visit and explore, but exercise the same precautions you would anywhere else, trying to avoid dark, isolated back streets at night if you're alone.
The biggest hassle we've seen living there is pickpocketing, with Victoria Coach Station probably the worst place we've seen for this.
About the author: David Angel

David has been a professional photographer, art director and writer for twenty years. He's originally from Wales and currently lives in Australia with his wife and son. He is the owner of delveintoeurope.com and travelwithlittleone.com. Follow his travels on Facebook, Twitter, and instagram.